Homelessness is an increasing problem in nearly every major U.S. city, with the most recent data showing that the national unhoused population has grown every year since 2017. The U.S. Department of Housing and Urban Development reports that the economic toll of the COVID-19 pandemic has only compounded this crisis, which disproportionately affects people of color.
One of the greatest challenges for this population is finding accessible, affordable health care. Unhoused individuals are more likely to experience diabetes, heart disease, HIV/AIDS, and other conditions requiring regular medical treatment, according to the National Alliance to End Homelessness. A 2019 report from the National Health Care for the Homeless Council reveals that people who are homeless have a life expectancy that is 12 years shorter than that of the general population.
The University of Houston College of Nursing (UH CON) is working to improve these numbers. It recently launched a nurse-managed health clinic specifically designed to serve homeless individuals in the centrally located Houston neighborhood of Midtown.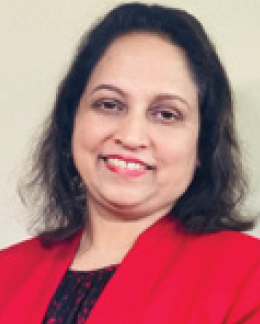 The facility is housed in the Abraham Station of St. Paul's United Methodist Church (UMC), which provides clothing and a food pantry for the homeless community through its Emergency Aid Coalition (EAC). The location is ideal because individuals who are grabbing lunch or clothes from the EAC can simply walk to the other side of the building to visit the clinic, according to Shainy Varghese, PhD, the clinic's director and an associate professor at UH CON.
"With the homeless population, you have to take health care to them," Varghese explains. "Some homeless people have transportation issues, and that's one of the reasons they can't go anywhere to get health care, so this is the best way to do it."
The clinic opened in September and is staffed entirely by UH CON faculty and alumni. It offers free basic services including immunizations, screenings, and treatments for minor injuries and illnesses. Clinic staff also assist with telehealth services for doctor referrals. A contract with a local pharmacy enables them to help patients obtain free or discounted medications.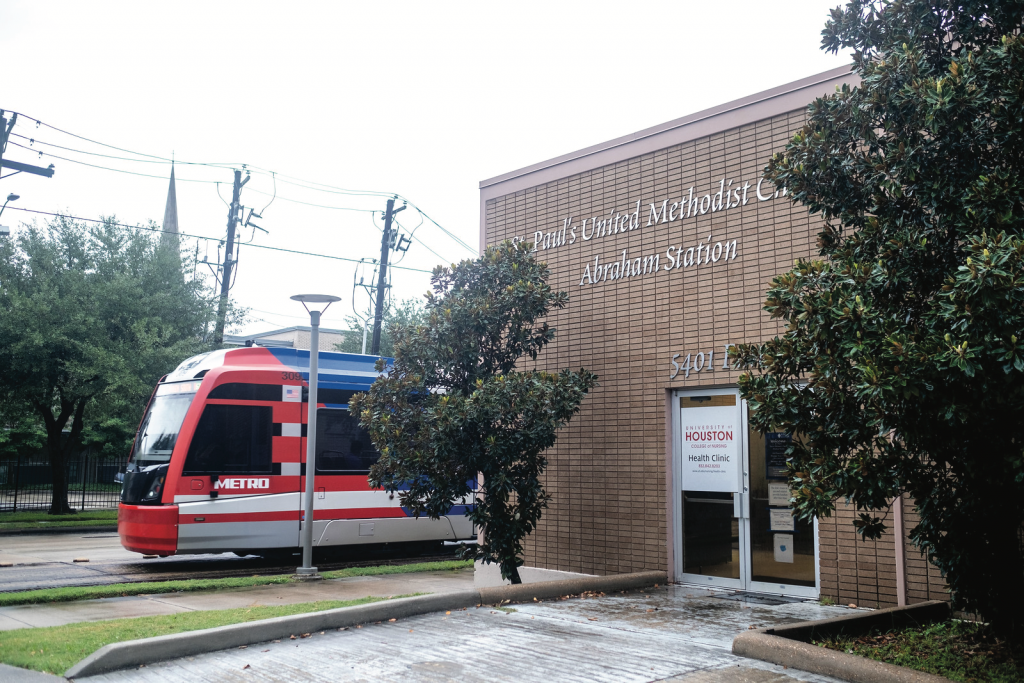 The college plans to begin recruiting graduate students enrolled in the family nurse practitioner and nursing administration tracks to work at the clinic in summer 2022. This direct interaction with patients will count as clinical hours for the students and allow them to see firsthand how social determinants of health, such as a lack of transportation, affects vulnerable communities, according to Kathryn Tart, EdD, the founding dean and a professor for UH CON.
"Students will learn how to create and develop a nurse-managed clinic and learn the management and leadership involved," she says. "When working through referrals, students will learn about telehealth and its important use in the care of the person and their health outcomes."
Varghese says she hopes the clinic can be opened two days a week by spring and eventually expand to four days a week; however, this timeline all depends on grant funding and resources. Currently, the endeavor is grant-funded through private donations, the Humana Integrated Health System Sciences Institute, and the Texas Methodist Foundation.
Partnering with the church to operate the clinic was a logical choice because its EAC has been "doing this ministry for 30 years, so it is a very a trusted and reliable source in the community," Tart says. "The piece that was missing [from their services] was health care."
Rev. Andrew Wolfe, an associate pastor of congregational care at St. Paul's UMC, worked closely with UH CON to develop the clinic after the church and the college signed a memorandum of understanding in 2018.
"It is really humbling to open clinic doors and have people come in who you know are trying to get by day to day," Wolfe says. "The clinic has shown me there's a need for health care for those who are low-income and uninsured — and not just any health care, but quality care with a holistic approach."
In the future, the clinic plans to collaborate with different schools across the UH campus to provide a wide range of services for the unhoused community. Possibilities include partnering with the UH Law Center to ensure patients have proper documentation and the UH College of Social Work to help them access Medicaid and other resources. The nursing college also expects to eventually recruit students from the university's medical, optometry, and pharmacy colleges to complete clinical hours at the facility. These partnerships will help Varghese and the clinic's currently small team to expand their outreach with the city's unhoused population — which numbers at more than 3,000, according to county data.
"I was just telling my staff we cannot make a difference in everybody's life who is going through homelessness," Varghese says, "but we can make a difference in the few people that visit the clinic."●
Mariah Stewart is a senior staff writer for INSIGHT Into Diversity. University of Houston College of Nursing is a 2016-2019 and 2021 recipient of the INSIGHT Into Diversity Health Professions Higher Education Excellence in Diversity (HEED) Award.
This article was published in our December 2021 issue.