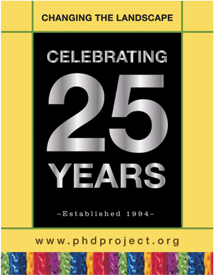 On November 22, PhD Project members and supporters will attend the organization's 25th anniversary celebration in suburban Chicago.
In 1994, when the nonprofit first launched, there were fewer than 300 Black, Latinx, and Native American business professors in the United States. To address this problem, the KPMG Foundation — a nonprofit dedicated to systemic change in business — established The PhD Project. Since then, the organization has helped over 1,500 members become professors of business in academia. More than 300 universities as well as several businesses and organizations sponsor The PhD Project.
Recruiting and retaining diverse faculty is vital to attracting students from underrepresented groups and preparing them for a professional work culture, according to a news release from the organization.
"The PhD Project's 25th anniversary is a moment to reflect on our progress, commemorate our achievements, and look towards the future," Bernard J. Milano, president of The PhD Project and KPMG Foundation, stated in the release.
Highly qualified professionals attend their annual conference each year to explore the idea of leaving their careers to pursue doctoral programs in business. Deans, professors, and underrepresented doctoral students talk about the benefits of pursuing a PhD.
To learn more about The PhD Project, visit phdproject.org.
Mariah Stewart is a staff writer for INSIGHT Into Diversity. This article ran in the November 2019 issue.