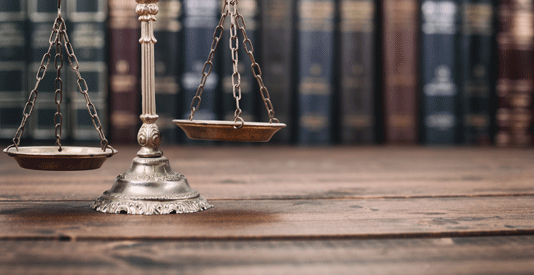 For decades, the legal industry has fallen behind in diversity and inclusion representation. Year after year, statistics show little change in demographics, and law firms that serve the federal government as contractors are no exception.
But this year, the federal government's contractor watchdog announced it will hold those contractors accountable by auditing them for instances of pay inequity and discrimination.
Law firms "need to get their houses in order" before the audit, Office of Federal Contract Compliance Programs (OFCCP) director Craig Leen said at a town hall in April, legal news website JD Supra reports. "There is a big problem at law firms for women and women of color."
The U.S. Department of Labor agency is a civil rights entity responsible for ensuring contractors and subcontractors comply with affirmative action and laws that bar discrimination based on race, color, religion, sex, sexual orientation, gender identity, national origin, disability, or status as a protected veteran. The agency's announcement is expected to motivate firms across the country to increase diversity within their ranks.
Attorneys who serve as federal contractors provide legal services to government agencies. They help negotiate or secure contracts and come from "a variety of practice settings," both boutique and major firms, according to Georgetown Law. Depending on the work they do, those firms could be required to comply with affirmative action requirements just like any other federal contractor or employees. Lawyers who serve the federal government "should ensure that they are aware of, and comply with, the laws enforced by the OFCCP," according to Pillsbury Law.
Universities have an opportunity to bridge the disparity by providing a pipeline of more diverse law school graduates. Understanding how firms plan to boost diversity can help law schools set up their students from underrepresented groups for success in the workforce.
Nearly one in four American workers is employed by 200,000 federal contractors, according to the OFCCP website. Every year, the agency compiles a list — known as the Corporate Scheduling Announcement Letter (CSAL) — of those contractors that will be audited for compliance review.
The selection process is executed differently each time, but OFCCP chooses contractors based on industries found to have the highest rates of discrimination. For the fiscal year 2019, which ends in September, the list names 3,500 contractors and subcontractors.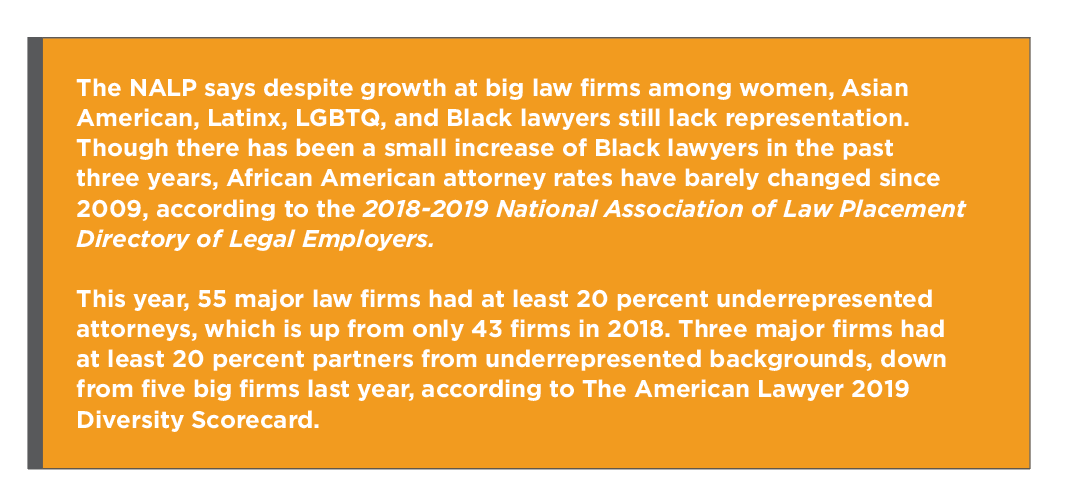 Law firms make up only a small percentage of this year's list, but Leen, who previously worked as an attorney, told attendees at the town hall that law firms can expect to be the focus of the 2020 CSAL list.
The consequences for law firms or any contractor not complying with an OFCCP review can mean loss of government business. In 2014, New Jersey law firm Shapiro, DiCaro & Barak, LLC, refused to submit the required information OFCCP requested. As a result, the law firm signed a consent decree which ordered that it could not participate in federal contracts for two years, according to Bloomberg Law.
When businesses and organizations recognize they have a diversity and inclusion problem, they sometimes recruit outside help from experts who provide instruction on conscious and unconscious bias training and sexual harassment prevention. Mauricio Velásquez, CEO of the consulting agency Diversity Training Group, says he isn't surprised about the federal government's plan to investigate law firms. 
"This is nothing new," Velásquez says. "Some law firms will be more proactive. But most firms either don't care or realize it's going to take some heavy lifting, and they don't have the capital or the energy or the time."
It's not clear whether law firms have a valid excuse for a lack of diversity when statistics show law schools are already diverse. Thirty percent of students who attended law school in the past 20 years were not White, according to the American Bar Association (ABA). Nearly 8 percent of the 2018 student body at law schools most popular within the American Law 200 are Black, according to ABA data. But Black students have a lower chance of being accepted to law schools than White students with similar scores, according to 2016 data by the Law School Admissions Council. 
Velásquez says firms aren't looking in the right places for hiring. 
"They're not committed to widening the net to recruiting from a broader set of law schools," Velásquez says.
Taking a Step in the Right Direction
For firms looking to improve, the ABA offers diversity and inclusion resources on its website. There are also organizations like the National Association of Minority and Women Owned Law Firms (NAMWOLF) that work to increase the retention of underrepresented and women-owned law firms.
Several big law firms share their diversity efforts on their webpages, such as Haynes and Boone, LLP, which is listed on this year's CSAL. The firm, which is located in several cities throughout the U.S. and around the world, told INSIGHT in an email it plans to cooperate with the OFCCP review.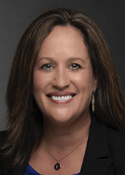 Ellen Clinton is a member of the diversity and inclusion committee at the Association of Legal Administrators (ALA), an organization that serves more than 8,500 legal professionals worldwide who are responsible for operations of management in law firms. ALA provides a variety of training and networking opportunities relating to professional development and management solutions.
Clinton says the first step firms should take is to "check their own front door" for diversity and inclusion issues. "Simply because you don't see blatant intentional discriminatory issues doesn't mean that they don't exist," Clinton says.
The second, Clinton says, is to monitor diversity statistics regularly and at all levels. Clinton suggests firms analyze various steps of an employee's life cycle, beginning with the candidate pool and internal interviewing practices.
"All too often we hire people who we have an affinity for as opposed to maybe who is the best candidate," Clinton says. "Most likely, those that we have relationships with are very similar to us and come from the same neighborhoods or the same law schools."
Posting positions on diversity job boards can help expand the hiring pool, and having a panel of diverse attorneys who are involved with both the selection and the interview can help make the recruiting process more objective, Clinton says.
The most indicative measurement for firms to analyze is turnover, according to Clinton, who says if firms aren't measuring that, it's going to be difficult to plan for improvement.
Mariah Stewart is a staff writer for INSIGHT Into Diversity. This article ran in the July/August 2019 issue.