Colleges and education leaders try to find solutions for recruiting and
supporting male students, especially those who are already underserved.

In October 2021, researchers at the Brookings Institution declared that the gender gap in higher education has widened to the point of becoming a "male college crisis," with many men lacking the support necessary to achieve a postsecondary degree.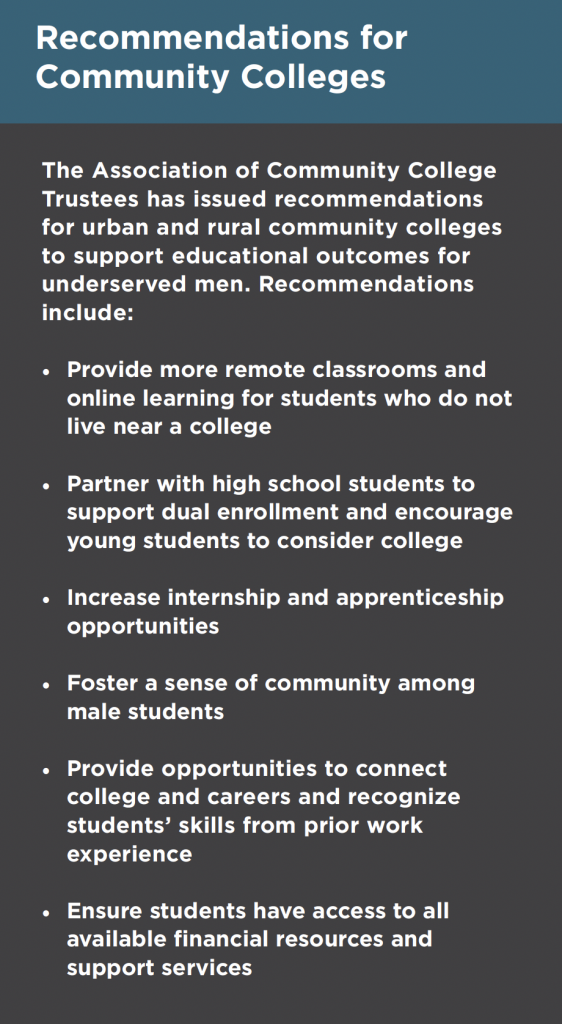 While women have outpaced men in college enrollment and completion rates for decades, the pandemic appears to have worsened this disparity, especially for men of color and those from underserved backgrounds in both urban and rural areas. 
In fall 2021, the gender gap hit its peak, with men representing only 4 in 10 college students. Now, more advocates and education experts are joining in the call for policymakers to pay heed to this problem as growing numbers of young men — primarily those who are already low-income and disadvantaged — find themselves left behind academically and financially. 
"We had a problem before the pandemic hit, but the pandemic has exacerbated problems profoundly," Donald Guy Generals, president of the Community College of Philadelphia, said during a national webinar on Black male students hosted by the National Alliance of Community and Technical Colleges in July 2021. He listed "finances, preparedness, and community support" as three factors preventing this demographic from enrolling and finishing degree programs. 
Brookings researchers have stated that "[c]losing the gender gap in education will require interventions every step of the way," and many experts agree that better support must be provided for male students starting in early childhood. Some theories suggest the decline in underrepresented men begins in K-12 education, as boys overall are more likely to be held back, drop out, and struggle with reading skills. By high school, young men across demographic groups tend to earn lower GPAs than young women in English, math, social sciences, and science, according to research by ACT Inc.  
In Florida, where the number of men in college decreased by more than 20 percent between the fall 2019 and 2020 semesters, the state education department has taken official steps to better support male students. The state launched the Task Force on Closing the Achievement Gap for Boys to examine evidence-based strategies for improving literacy rates and more. The Florida College Access Network, a statewide organization hosted by the University of South Florida System, and the Helios Education Foundation have issued joint recommendations that include focusing on early literacy and providing boys with challenging, college-level coursework. They also state that families "need more and better information about planning for college and college costs, a step that is too often overlooked. This includes reaching out to ensure that more families know about the Free Application for Federal Student Aid and can get help completing it."
On a smaller scale, individual colleges, systems, and campuses have taken steps to address the issue. In November 2021, the Compton Community College District in California hired an inaugural director of Black and Males of Color Success. The American Rescue Plan-funded position is "responsible for offering strategic direction in improving academic success, retention, and graduation rates" according to the school's website.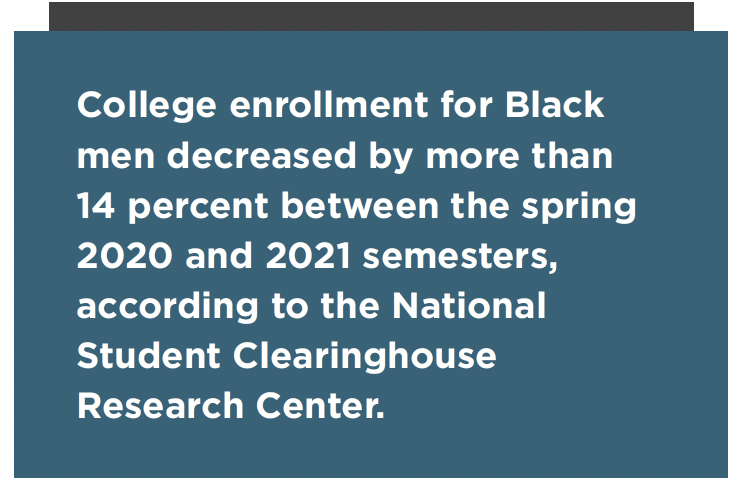 While large colleges and universities have long hosted unique support programs for men of color, adopting this focus at two-year institutions may be key to improving educational gender equity. These schools "serve as the primary pathway into public institutions for male students of color," according to the Postsecondary National Policy Institute. Black, Latinx, Native American, and Pacific Islander men are all more likely to attend community college. 
Others see the problem as requiring intervention on a broader scale. In a September 2021 article, the USA Today Editorial Board called on the White House to recognize the urgency in the educational gender gap and what it means for the future of many young American men. "The Department of Education, under the Biden administration, needs to launch the search for answers," the board wrote, "and Congress should ensure potential remedies that emerge are put into practice."●
Mariah Stewart is a senior staff writer for INSIGHT Into Diversity. 
This article was published in our April 2022 issue.