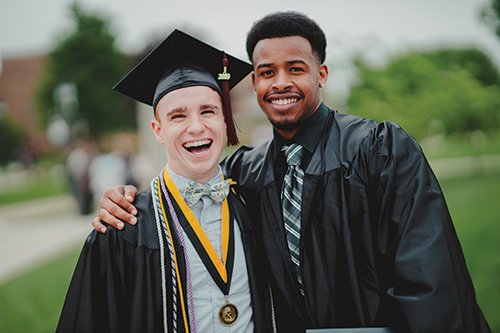 As nontraditional student enrollment increases, so do the number of years it takes to graduate. Now, some colleges and universities are changing their ways to help students earn a degree faster.
Traditionally, earning a bachelor's degree within a four-year timeframe was considered the norm. These days, the academic, social, and financial strains of completing college have made that timeline nearly impossible for many students — with the majority of degree seekers reaching graduation after six years, according to the National Center for Education Statistics (NCES).
[Above: Graduates of Shawnee State University in Ohio] 
Additional data from the National Student Clearinghouse Research Center (NSCRC) shows that 60 percent of students who initially enrolled in bachelor's degree programs in 2012 had yet to graduate by 2018. And while the statistics may vary by source and year, a vast body of research finds that most of America's undergraduates can expect to spend a minimum of five academic years in school.
"It's like we're tolerating this idea that it should take so long [to graduate], which is a problem because every additional year of schooling costs money, and it's one more year you're not in the workforce and not getting a chance to begin to build your career," says Jim McCorkell, founder and CEO of College Possible, a nonprofit that supports underserved students.
College Possible
College Possible's latest program, Catalyze, employs a "near-peer" coaching model that involves recent graduates offering mentorship to 3,000 students across nine universities. Multiple studies have shown that those who receive coaching from mentors close to their own age perform better in school, are more aware of and likely to use campus resources, and have higher retention and graduation rates.
"We're trying to solve the problem that there's a huge gap in America between who's earning a college degree and who's not," says McCorkell, who is a first-generation college graduate. "It's especially pronounced by income and race."
Prolonged graduation is tied to larger systemic issues within higher education, such as the fact that colleges and universities were not designed to serve the needs of low-income students, he says.
At many higher education institutions, completing a degree program within four years requires students take approximately 15 credit hours — typically the equivalent of five courses — per semester, according to the nonprofit Complete College America (CCA). Most schools and states, however, only require a course load of 12 credit hours in order to be considered a full-time student.
For low-income students, who may be less prepared for college-level coursework than their peers and more likely to shoulder additional responsibilities such as working, adding an extra three credit hours per semester to meet the four-year graduation timeline may seem insurmountable. CCA data and other research shows that income (as defined by Pell Grant eligibility), high school GPA, race, and employment status all tend to correlate with enrollment hours and time to graduation.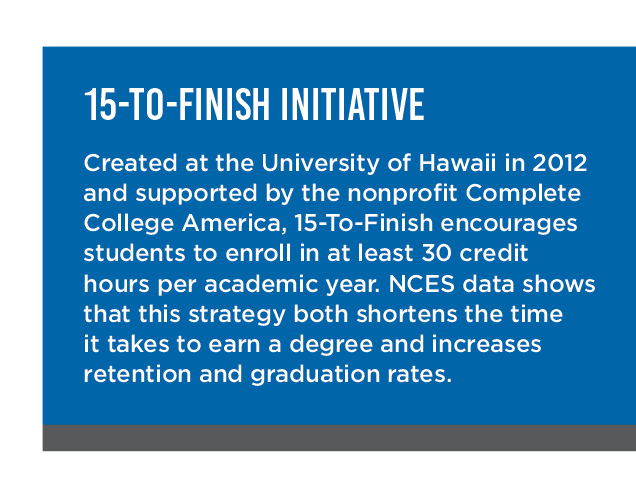 Approximately 22 percent of undergraduate students were parents during the 2015-2016 school year, according to the National Postsecondary Student Aid Survey. A 2017 study from the Journal of Higher Education found that students who are parents earn higher GPAs on average but are 10 times less likely to complete a bachelor's degree within five years than their peers who don't have children. The research pointed to complex scheduling conflicts that don't allot the time for student parents to complete coursework as the main reason for retention problems.
Changes in Ohio
Some states have begun addressing the systemic roadblocks that prevent students from graduating on time or earning a degree. Ohio has seen significant growth in graduation rates in recent years thanks to a number of proactive measures taken by its higher education leaders. Students who first enrolled in the state's two-year and four-year institutions in 2013 had a graduation rate of 62 percent, which is a nearly 10 percent increase from the 53 percent completion rate for students who started in 2009, according to NSCRC and Georgetown University's Center on Education and the Workforce.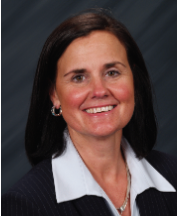 Stephanie Davidson, PhD, vice chancellor of academic affairs for the Ohio Department of Education (ODHE), says one reason the state has been successful in raising graduation rates is the fact that it began limiting the number of credit hours required for degrees. The majority of bachelor's degree programs in Ohio's public institutions are limited to 126 hours and associate degrees are capped at 65 hours.
ODHE makes some exceptions to this rule, as in the case of engineering programs, which tend to take somewhat longer, Davidson explains.
The state's other proactive measures include making sure colleges and universities have the appropriate numbers of advisers, count military experience as course credit, and offer corequisite remediation, she says. This model eliminates the need for remedial students to take time-consuming developmental courses, instead offering them extra support while enrolled in regular classes.
Gov. Mike DeWine also increased support for student counseling services, and the state's recent budget includes funding to provide vocational rehabilitation counselors for college and university disability services offices.
"It speeds up the ability to graduate, but the other thing it does is prevents drop out," Davidson says.
The College of New Jersey
As of 2018, The College of New Jersey (TCNJ) in Ewing Township had the sixth highest four-year graduation rate among public colleges and universities in the U.S., with 75 percent of students earning a bachelor's degree on time.
TCNJ President Kathryn A. Foster, PhD, says what makes the university unique is that its advisers pay particular attention to students who have selected complicated degree pathways or switch majors.
"When the pathway to the degree is unclear or particularly complicated, you might go that four-and-a-half years or you might go five because either you didn't get a required course in the right order or something got in the way that just required that additional semester," Foster says.
Nationwide, the college adviser-to-student ratio is 375-to-1, according to the National Academic Advising Association. At TCNJ, the adviser-to-student ratio is 26-to-1.
Foster believes students play the largest role in ensuring that they graduate on time, but the structures in place are key. She suggests colleges and universities consider three major components for supporting degree seekers: build a culture of expectations around four-year degree completion, invest in advising, and provide students with adequate information. Specific steps can include auditing degree programs or using student focus groups to assess what may be confusing about graduation requirements, she says.
"We know that certain cohorts are vulnerable — what you might call the 'at-risk population' — for graduating on time," Foster says. "And so having programmatic structures in place for students in those areas is essential."
Mariah Stewart is a senior staff writer for INSIGHT Into Diversity. This article ran in the May/June 2020 issue.