The American Bar Association (ABA) has become a leading voice in advancing diversity, equity, and inclusion (DEI) within the legal profession and in law schools. Since 2008, one of the association's primary goals has been to eliminate bias and enhance diversity within its membership, the attorney workforce, and the legal system overall. 
One of the most important aspects of meeting this goal is promoting DEI in the area of legal education.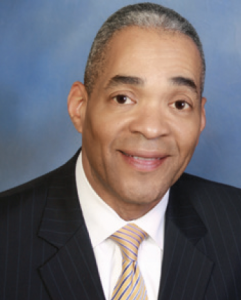 In recent years, the ABA has instituted numerous programs and initiatives and changed accreditation policies to make law school more attainable for underserved populations. These efforts are especially important to outgoing ABA President Reginald Turner, JD, who is only the fourth Black person to lead the association in its 144-year history. Having served as chair of the ABA Commission on Racial and Ethnic Diversity in the Profession and worked as a longtime DEI advocate, Turner says that he wants to ensure the organization is doing all it can to live up to its commitment to enhance diversity and eliminate bias.
"The full panoply of diversity issues are now major programs through the American Bar Association," he says. "We continue to support those entities to ensure that we are increasing the opportunities for people from all backgrounds. It's very personal to me, but it's also an ethic and one of the four goals of the [association]."
The ABA Center for Diversity and Inclusion in the Profession includes numerous commissions and coalitions that touch on nearly every aspect of DEI. Specific issues addressed include disability rights, ethnic and racial justice, Hispanic and Latinx rights, sexual orientation and gender identity protections, and support for women in the legal profession. 
The center also features the Council for Diversity in the Educational Pipeline, which facilitates several scholarships and recruitment programs that help marginalized students pursue legal careers. One of these offerings, the Judicial Clerkship Program, connects underrepresented students with judges and law clerks to improve diversity within clerkship opportunities through training and networking. 
Having served as a member of the Michigan and Detroit boards of education and as a law clerk for Dennis Archer — a former Michigan Supreme Court justice, former Detroit mayor, and the ABA's first Black president — Turner recognizes the importance of empowering and encouraging students from all backgrounds to enter the legal profession.
"The education of all students from all backgrounds and creating programming that helps level the playing field with respect to racial and ethnic diversity is a passion of mine," Turner says.
The council also organized the Community College Pathway to Law Toolkit, a guide for two-year colleges seeking to build a legal education pipeline program. The toolkit provides detailed instructions on how to conduct feasibility studies, establish an advisory group, and secure funding for a pre-law program. Given that community colleges are generally more accessible to underserved and economically disadvantaged students, these programs are vital to increasing diversity within legal education and advancing the conversation around institutional racism, according to the ABA.
"Many community colleges have launched 'calls to actions' to reduce the effects of structural racism," a March 2022 ABA article reads. "One of the ways to accomplish this goal is through the legal system. Creating a pre-law program provides opportunities for students to discuss structural racism and eventually work toward dismantling this system."
Along with the association's direct initiatives to support underrepresented law students, the ABA Council of the Section of Legal Education and Admissions to the Bar recently approved a resolution that made several DEI-related changes to law school accreditation standards. These include a new curriculum requirement focused on bias, racism, and cross-cultural competency. Under the new standard, institutions must provide DEI-focused education and training to all students upon entering law school and at least once more prior to graduation. This can be achieved through various courses, lectures, orientation programs, and other educational experiences. This requirement reflects the priorities of modern law schools, as the deans of ABA-accredited colleges have called on the association in recent years to incorporate anti-racist practices into its accreditation standards.
The ABA's resolution also requires law schools to adopt and follow a nondiscrimination policy that includes updated language regarding ethnicity, gender identity, and military status. ABA-accredited institutions must now provide certain resources that promote student well-being, including support services for mental health and substance use disorders as well as access to food pantries and emergency financial assistance. Making these types of supports mandatory aligns with the recommendations of multiple legal scholars and organizations that have called for schools to be more proactive in protecting student wellness.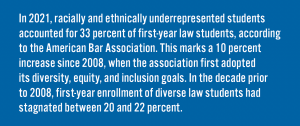 In addition to these revisions, the ABA's Strategic Review Committee recently recommended that JD-granting institutions move to standardized test-optional policies for their admissions processes. Opponents of standardized admissions tests, and specifically the Law School Admission Test (LSAT), argue that they are inequitable to economically disadvantaged students and those from underrepresented communities. A 2019 study by Florida International University legal researchers found that on average, Black test-takers scored 11 points lower on the LSAT than their White and Asian peers.
While the ABA's recommendation is not binding and law schools still have significant latitude in their admissions policies, it contributes to a growing shift against the LSAT. More than a dozen law schools, including those at Columbia, Cornell, and Harvard Universities, had begun accepting Graduate Record Examination (GRE)scores in lieu of the LSAT even prior to the ABA's announcement.
Although the ABA's recent initiatives have been vital to advancing DEI within legal education and the profession, Turner hopes to see the association expand its efforts even further in the future.
"There is still more to do yet, and we will keep doing it," he says. "We are committed, and we've made, in my view, significant progress over the course of time. I'm confident that our efforts have borne fruit for people who would not have had the opportunities to matriculate into law school and the legal profession."●
Erik Cliburn is a senior staff writer for INSIGHT Into Diversity.
This article was published in our July/August 2022 issue.