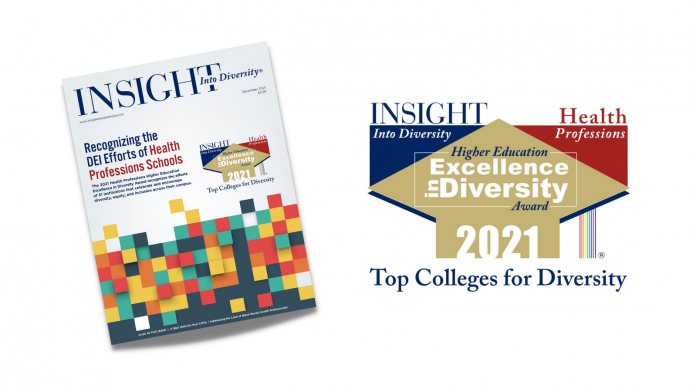 As the U.S. prepares to enter its second year battling the COVID-19 pandemic, it is no secret that the health care workforce faces dire challenges. Staffing shortages persist across the sector, marginalized communities remain in need of accessible care, and diverse professionals continue to be

underrepresented in nearly every field.

Yet, there are higher education institutions working diligently to overcome each of these challenges and more. By devising innovative policies, dedicating needed resources, and committing to the principles of diversity, equity, and inclusion (DEI), these schools are committed to ensuring that today's health care students are knowledgeable about and reflect the diversity necessary to address health disparities as they move into their respective fields.

The INSIGHT Into Diversity Health Professions Higher Education Excellence in Diversity (HEED) Award recognizes those colleges that prioritize DEI and go above and beyond for their students, faculty and staff, and communities. This year, we are thrilled to announce that 51 schools have proven their commitment to this work and are being honored with the 2021 Health Professions HEED Award.
Now in its sixth year, this award evaluates each institution's dedication to DEI across their entire campus. Their programs and strategies encompass all aspects of diversity, including racial and ethnic background, veteran status, disability, nation of origin, gender, religion, sexual orientation, gender identity, age, first-generation, life circumstances and experiences, and socioeconomic status.
Eligible institutions include:
Allied Health Schools
Dental Schools
Health Centers
Medical Schools
Nursing Schools
Osteopathic Schools
Pharmacy Schools
Schools of Public Health
Veterinary Schools
In a time of unprecedented strain, the 2021 INSIGHT Into Diversity Health Professions HEED Award recipients have remained invested in recruiting and supporting underrepresented students and employees. Their missions are based on improving health care delivery and outcomes for all patients, especially those who are marginalized and most in need. Through these merits and more, they stand as exemplars for other health professions schools and higher education institutions.
INSIGHT Into Diversity commends and congratulates each recipient of the 2021 Health Professions HEED Award for their unyielding dedication and service to all.●
Mariah Bohanon is the senior editor and Lisa O'Malley is the assistant editor of INSIGHT Into Diversity.
This article was published in our December 2021 issue.