Equitable Adelphi Action Team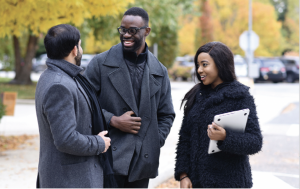 The Equitable Adelphi Action Team at Adelphi University is amplifying student voices in its fight against racism. The new team is made up of more than 20 students who meet monthly to recommend strategies and initiatives to dismantle racism and all forms of oppression and bias. One of the group's first accomplishments was the creation of a diversity pledge that commits those who sign it to do their part to make their campus a safe and affirming place for people of all identities and to speak up when they witness inequality. The pledge was introduced to first-year students during orientation in summer 2021.
Social Justice Summit and Symposium

 
California State University San Marcos (CSUSM) offers two interconnected social justice programs. The Social Justice Summit is a retreat for undergraduates that provides training in campus leadership, community engagement, and change activism. Participants explore and challenge personal perceptions and social norms through experiential activities, individual reflections, and group dialogues. After attending the summit, students are encouraged to participate in the Social Justice Symposium, a more expansive two-day conference for the CSUSM community. The program allows students to grow their social consciousness and skills by offering critical dialogues focusing on cultural, economic, and political issues. 
Stand for Racial Justice Alliance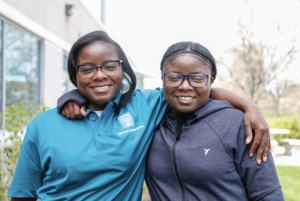 The Stand for Racial Justice (SRJ) program at Cuyahoga Community College (Tri-C) is an alliance of employee and student volunteers effecting positive change within Tri-C and throughout the Cleveland metropolitan area. The group builds upon the college's work in conflict resolution and social justice to engage with students, employees, and community in several ways. These include ensuring an atmosphere of inclusivity and respect by reviewing and revising policies and guidelines for academic departments and programs, building upon the college's DEI training and education, coordinating campus events and activities, and issuing calls to action to eliminate systemic racism and social injustice. 
Pledge to ACT Against Racism and Injustice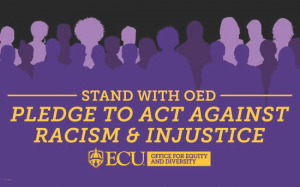 The Office for Equity and Diversity at East Carolina University (ECU) launched a social justice campaign to help individuals stand against racism. The campaign aims to educate the ECU community and to commit to standing against racial injustice. More than 1,000 campus community members have signed a pledge to educate themselves on these issues, including systemic and interpersonal racism, discrimination, and privilege. The initiative also created a grant program that includes six mini grants that were awarded to academic departments and employees who proposed projects dedicated to ending racism at ECU and in the region.
Freedom Summer of '64 Award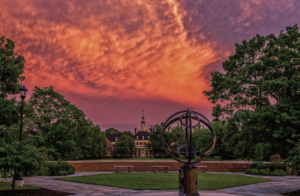 In 1964, hundreds of students completed Black voter registration training at Western College for Women, now part of Miami University, before going to Mississippi as part of the Freedom Summer movement. The annual Freedom Summer of '64 Award was created to honor this legacy by recognizing champions of civil rights and social justice. The first award recipient was the late John Lewis, the longtime U.S. Representative and civil rights icon. In 2021, the university honored alums Wayne Embry, an NBA executive, and his late wife, Theresa Embry, for providing mentorship, breaking racial barriers, and having a lifetime commitment to social justice.
Brave Space Reading and Discussion Group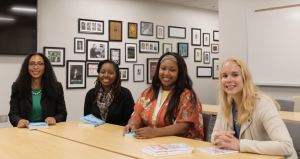 As an outcome of uplifting racial healing, the Diversity Department at North Hennepin Community College designed a number of intentional spaces that engage the college community in race-based discussions. The Brave Space Program is an employee community reading series that extends beyond a reading circle by prompting participants toward action. It calls on its participants to engage with discussions of race, privilege, and the deconstruction of racism in education. The Brave Space initiative helps broaden awareness and teaches how to take actionable steps toward racial equity. 
Deans Committed to Anti-Racism Efforts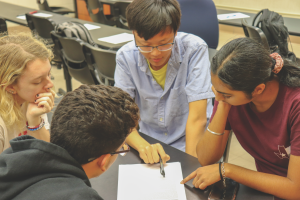 In response to the increasingly urgent national calls for racial and social justice in 2020, the Texas A&M University (TAMU) Council of Deans formed the Deans Committed to Anti-Racism Efforts (Deans CARE) program. The council unanimously adopted two broad agendas that form the program's mission. The first is to communicate unambiguously their dedication to improving the university's campus climate. The second is to engage in sustained, systemic, collective action for anti-racism efforts at TAMU and beyond. The group has launched two initiatives, the Deans CARE Undergraduate Internships program and the Deans CARE Virtual Summit. 
Total Tiger Program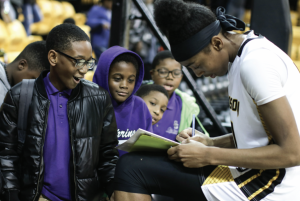 The Total Tiger Program in the Towson University (TU) Athletics Department takes a 360-degree view of the development of student-athletes through education, advocacy, mentoring, and service. In 2020, the program oversaw a number of new initiatives focused specifically on social justice, equity, and access, including TU Athletes Vote, which provided nonpartisan education on voting, voting rights, and civic participation. The program TU Athletes for Inclusion, Diversity, and Equity was also created in 2020 to provide a platform to seek sustainable change in addressing social injustices. 
Muhammad Ali Scholars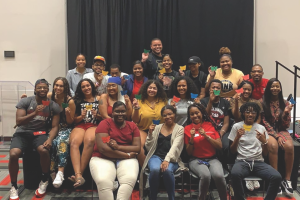 The University of Louisville Muhammad Ali Institute engages in research, training, and service related to social justice and peacebuilding. It is dedicated to advancing Muhammad Ali's legacy of activism in multiple ways. These include the Muhammad Ali Scholar Program, which inculcates Ali's core principles in young student- and scholar-activists. The institute also collaborates with the Muhammad Ali Center in Louisville on events and programming that take place at the center and on campus.●
This article was published in our November 2021 issue.