Understanding the Black Student Experience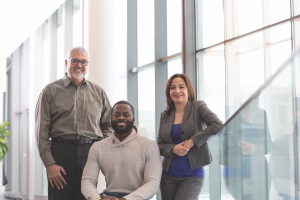 This free virtual event at Case Western Reserve University (CWRU) offers underrepresented students the opportunity to explore student groups and organizations and build community with faculty, staff, and peers with similar racial, ethnic, gender, or first-generation identities. It is made possible through a collaboration between the Office of Inclusion, Diversity, and Equal Opportunity; African and African American Studies Minor; Office of Multicultural Affairs; CWRU Counseling; Student Affairs; Disability Services; New Student Orientation; and others. The event has increased the number of students enrolled in the African and African American Studies minor by 60 percent.
LGBTQ+ Guide: Resources to Foster an Affirming Community

 
for LGBTQ+ Faculty, Students, and Staff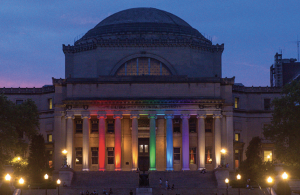 The Office of the Provost at Columbia University in the City of New York recently published a comprehensive guide that serves as a one-stop repository of resources and recommendations on how to foster a more inclusive campus climate for LGBTQ+ members. The guide, which was informed by faculty and student interviews and focus groups, also offers a companion website to help the university community be better, more visible allies to this community.
President's Task Force on Anti-Racism, Equity, and Inclusion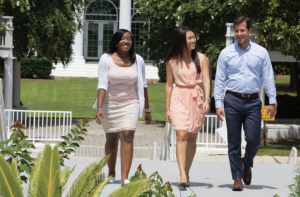 In July 2020, Florida State University (FSU) President John Thrasher convened the President's Task Force on Anti-Racism, Equity, and Inclusion. The task force comprised 25 faculty, staff, students, alumni, and community members and was chaired by a senior faculty member with an executive committee representing student affairs, academic affairs, and human resources. The group was charged with advancing FSU's DEI goals, specifically addressing campus climate, the university's historical legacy, and recruitment and retention in all sectors. The task force identified racial and ethnic disparities on campus and developed a range of initiatives that are currently being implemented to improve these areas. 
Task Force on Racial Equity 
The Task Force on Racial Equity was designed to address all aspects of life at James Madison University (JMU), including deepening understanding and relationships across the entire campus and transforming institutional culture. One of its goals is to foster broad participation from faculty, staff, students, alumni, and community members in a holistic and thorough review of educational programming, institutional policies, practices, and climate. The task force sought input from interdisciplinary experts at JMU to assist in creating action-oriented solutions to identify and address racial inequities. 
Sustained Dialogue Program
The Sustained Dialogue (SD) program was brought to Northwestern University (NU) by student activists to promote courageous conversations across the institution. It was born out of a need to build relationships, learn more about how others experience campus, and find ways to illuminate the similarities and differences in individuals' identities. SD groups are facilitated by trained student moderators and culminate in collective actions to make NU a more just and equitable place for all.
Make Respect Visible Campaign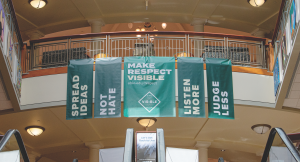 Ohio University's (OU) Make Respect Visible campaign is designed to provide the university community with guidelines and expectations for engaging across differences. The campaign highlights the following expectations for communication and conduct: spread ideas, not hate; listen more, judge less; encourage dialogue, not division; and more. Through a collaboration between the Division of Diversity and Inclusion, Division of Student Affairs, and University Communications and Marketing, these expectations have been made visible across the campus and integrated in various ways into the ethos of the OU community.
Honoring Nancy Randolph Davis
In January 2019, Oklahoma State University (OSU) installed a sculpture of its first enrolled African American student, Nancy Randolph Davis, who broke the color barrier when she was admitted to OSU in 1949. In November 2020, the Oklahoma A&M Board of Regents voted to rename the two core OSU College of Education and Human Sciences buildings surrounding the courtyard where the sculpture stands as the Nancy Randolph Davis building and the Nancy Randolph Davis West building. As the university continues to broaden its commitment to sustaining a culture of inclusion, Davis' legacy remains a meaningful and transformative aspect of OSU's progress.
Student Senate Diversity and Inclusion Committee
Stockton University's Student Senate formed a diversity and inclusion committee to reinforce DEI efforts. The standing committee was two years in the making and centers on supporting diverse groups through actively engaging members, ensuring underrepresented students are properly included in every discussion on campus, and giving all students the security they need. The new committee includes one senate member from student affairs, academic affairs, governmental affairs, finance, and public relations committees. 
African American Cultural & Research Center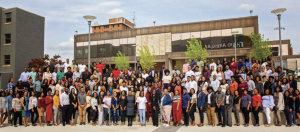 Nestled in the heart of the University of Cincinnati (UC) campus, the African American Cultural Resource Center opened 30 years ago with the mission of assisting Black students with matriculation through the university toward graduation. It is a space that cultivates community and a sense of belonging for many students. It also helps to educate those from various backgrounds about the richness and vibrancy of Black culture. Various groups visit the center to learn about what it's like to be Black in America. 
The Council for LGBTQ+ Access, Equity, and Inclusion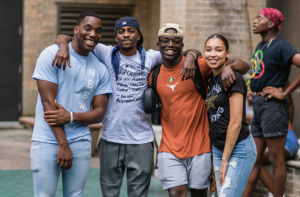 The Council for LGBTQ+ Access, Equity, and Inclusion (Q+AEI) was established in spring 2019 to serve in an advisory capacity to The University of Texas at Austin's (UT Austin) executive vice president and provost. The council works in collaboration with UT Austin colleges and departments to support the development of programs that improve campus climate as it relates to gender and sexuality, including supporting queer people of color. Q+AEI develops actionable policies for academic leaders and monitors progress through data collection and benchmarking.●
This article was published in our November 2021 issue.