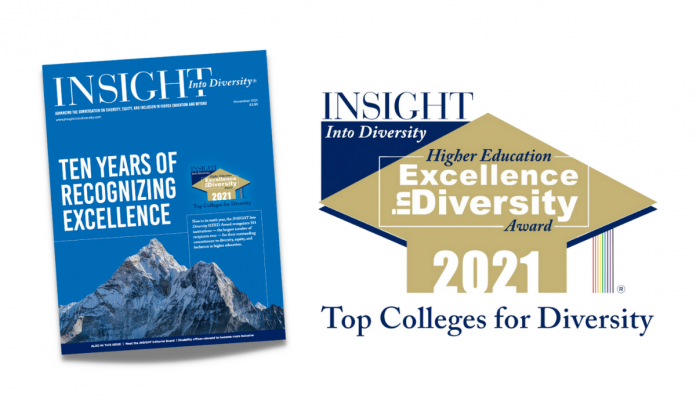 With the gradual reopening of college and university campuses in 2021, there has been increased urgency in the drive to advance diversity, equity, and inclusion (DEI) among the country's higher education institutions. This intensified commitment toward improving campus climate and propelling social justice was no doubt influenced by last year's burgeoning racial justice movement along with the inordinate losses suffered by underrepresented communities due to the COVID-19 pandemic. With these tumultuous events fresh in the minds of Americans, the national conversation around DEI has greatly expanded.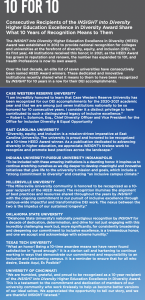 Colleges and universities are expected, now more than ever, to be exemplars of how organizations can implement effective DEI strategies and foster important, albeit sometimes uncomfortable, dialogue that leads to a more welcoming and inclusive environment for all.
This year is also significant in that it marks the 10th anniversary of the annual INSIGHT Into Diversity Higher Education Excellence in Diversity (HEED) Award. Over the past decade, INSIGHT Into Diversity has witnessed the number of colleges and universities submitting HEED applications grow significantly each year. In that time, INSIGHT has seen firsthand the extraordinary progress many institutions have made in promoting DEI principles throughout every aspect of higher education.   
"We created the HEED Award 10 years ago to highlight the difficult and often unrecognized work being done by diversity leaders across higher education. The past year or two has brought systemic racism to the forefront on college campuses, making this work more critical than ever," says Lenore Pearlstein, co-publisher of INSIGHT. "Every student and employee on campuses today, no matter what their background, has the right to be heard, supported, feel safe in their environment, and above all be welcomed and have the opportunity to succeed."
Despite the incredible progress made in support of DEI, colleges and universities at the forefront of this work understand that there is still much to be achieved, Pearlstein adds. "While HEED Award institutions are doing amazing work toward reaching these goals, each one also understands their work is never done, and their commitment is steadfast and ongoing. We have been told many times over the past 10 years that the HEED Award application itself and the recognition are tools used by every winner to help them in their effort to move the DEI needle."
Co-publisher Holly Mendelson agrees, noting the elevation of the chief diversity officer role and increased prioritization of DEI in institutional long-term strategic plans in recent years. "As we see the landscape in higher education constantly evolving, so does the HEED Award application," she says. "We also raise the standards each year as we receive so many more applications. It's important to recognize those schools whose leaders are willing to support the human and financial resources necessary to meet their internal goals along with our high expectations."
This year's HEED Award celebrates 101 colleges and universities — the largest number of recipients ever.— that demonstrate an unwavering dedication to meeting the needs of diverse students, faculty, and staff, even while dealing with the continuing impact of a global pandemic. These efforts go beyond merely increasing diverse representation and "checking off boxes." Rather, they account for the entire campus experience. 
The 2021 winners undertook a wide range of initiatives to foster DEI, including promoting anti-racist education in their communities; ensuring constituents are recognized by their proper gender identities; establishing new affinity groups to serve as collaborative spaces for underrepresented faculty and staff; hosting campus celebrations that teach about diverse cultures; and much more. 
In this special HEED Award section, INSIGHT highlights just a few of these efforts as they relate to the following categories:
Campus Climate

Community Outreach

Events and Celebrations

Health and Wellness

Innovative Diversity Education

Policy

Recruitment and Retention

Social Justice and Activism

Support

 
Among this year's HEED Award-winning institutions, a select number have also earned the added designation of Diversity Champion. This title signifies that a college or university has gone above and beyond in their DEI work to rank in the top tier of HEED Award applicants. Known for their visionary leadership, Diversity Champions serve as models of excellence for others in their dedication, vision, and commitment to ensuring DEI is in their very foundation. They exceed everyday expectations, often eclipsing their own goals. 
By recognizing colleges and universities that serve as role models for their outstanding commitment to DEI practices, the INSIGHT Into Diversity HEED Award and Diversity Champion designations provide encouragement and inspiration to schools no matter where they are in their DEI journeys. With each passing year, the scope of what higher education institutions are capable of achieving in this area continues to grow at an astonishing rate. It is with great pride that INSIGHT has been able to highlight the accomplishments of so many institutions over the last decade, and we look forward to many more years of celebrating the accomplishments of colleges and universities throughout the U.S.●
Lisa O'Malley is the assistant editor and Mariah Bohanon is the senior editor of INSIGHT Into Diversity.
This article was published in our November 2021 issue.