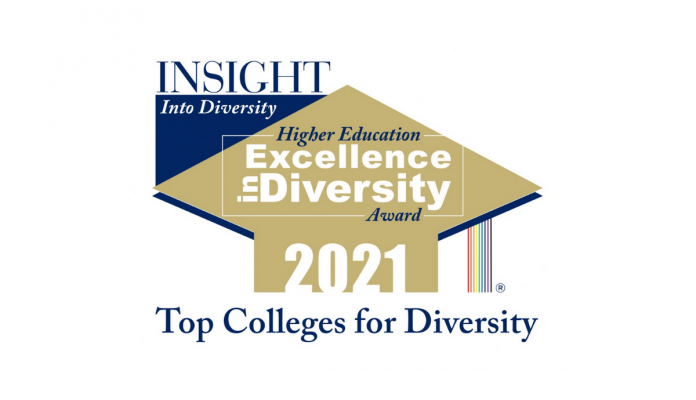 Case Western Reserve University
"Case Western Reserve University views the INSIGHT Into Diversity HEED Award, a nationally recognized achievement, as a prestigious honor. To receive the award brings recognition and credibility to the diversity, inclusion, and equity work taking place on campus."
Columbia University in the City of New York
"We appreciate INSIGHT Into Diversity's continuous leadership and engagement in this area, especially during the past year, which has brought tremendous challenges to us collectively and individually."
El Paso Community College District
"For the past eight years, the El Paso Community College and our Diversity & Inclusion Programs Office have experienced the excitement and sense of accomplishment that come with receiving the INSIGHT Into Diversity HEED Award. 
… We are proud to wear the seal of the HEED Award on our correspondence and other communication outlets [so that] our college family, our business and educational partners, and our entire community know that diversity and inclusion are important to our institution. … It gives [DEI] importance, purpose, relevance, and respect to focus on the great strides where each area of the institution can contribute."
Grand Valley State University
"The INSIGHT Into Diversity HEED Award is one example of our narrative in working together through this unprecedented time. The application for the award is amazing. Congratulations to those who worked on big enhancements."
Hillsboro Community College
"This is the preeminent award for diversity and inclusion in higher education in America. It provides an excellent means to benchmark our achievements with other institutions nationally, especially when it comes to evidence-based practices."
Indiana University Bloomington
"Indiana University continues to value the opportunity to apply for the prestigious INSIGHT Into Diversity HEED Award. Thank you for the work you do to advance the national conversation around diversity, equity, and inclusion."
Kent State University
"We strive to improve our initiatives each year. This award application is a reminder of where we are and the areas in which we can strive to be better."
Metropolitan State University
"This award enables Metropolitan State University to communicate to its students, faculty, staff, and community tangible evidence of our commitment to equity, inclusion, and anti-racism. It is a means of accountability to our campus community. It further enhances our institutional profile as well as provides an opportunity to build on brand awareness and provide a competitive advantage. It is a great source of pride for us and a valuable opportunity to assess our positional relationships as compared with our peers and competitors. While arduous and extremely competitive, it also helps us define who we are and differentiate ourselves from other institutions."
Millersville University
"This application is an excellent tool for our office to continue to assess the needs of the campus and understand the areas that we should be focusing on so that we may better serve and foster an inclusive campus community. We appreciated the questions surrounding our response to the pandemic and how we were able to uplift our community and center the needs of historically underrepresented students, faculty, and staff."
Northwestern University
"The process of completing the INSIGHT Into Diversity HEED Award application proved to be enormously beneficial. Responding to the application's questions provided university leadership with the opportunity to further examine the ways in which we have "moved the needle" and where we still have work to do regarding diversity, equity, and inclusion on campus. The data collected for the application will inform how the university will proceed with the development and utilization of annual Diversity Accountability Reports, a strategic effort that evaluates progress made regarding DEI."
Santa Rosa Junior College
"The HEED award has greatly enhanced our repertoire in our faculty recruitment advertising, outreach, and events this year. Thank you for this great opportunity!"
Southern Illinois University Edwardsville
"The INSIGHT Into Diversity HEED Award has been an annual guide for us to improve what we do as an institution in the DEI space. Every year, we use the application and the benchmark report to see what new programs we can implement and how we can improve to truly embrace inclusive excellence. We used the pandemic to really grow as an institution in the DEI space, and many of the questions included in the HEED Award application over the years were used to help us as we were discussing how to become an anti-racist, diverse, equitable, inclusive, and accessible campus."
Stetson University College of Law
"Thank you to INSIGHT Into Diversity for your contribution to this work and for your review of our achievements and our continued calls to action. … The HEED Award application process continues to inspire us. We have already identified some priorities to highlight as part of our 2020 climate study strategic plan based on some of the concepts addressed in this year's application."
Stockton University
"The HEED Award application questions are always relevant, current, and leave room for interpretation by colleges and universities for their specific institutional context. They also continue to provide benchmark questions based on college/university programs that work to improve diversity and inclusion quantitative and qualitative data. The organization of the questions into topical headings has made the application easier to complete and enhances its structure."
Towson University
"We appreciate the revised online HEED Award application process as well as the new questions. We have appreciated how much of a valuable resource INSIGHT Into Diversity continues to be and are excited to get to work with the Viewfinder surveys we recently were able to purchase.— another sign of the support and leadership from our leaders [for valuing] diversity, equity, and inclusion as a campus priority."
University at Albany
"The receipt of the prestigious HEED Award has been leveraged to reflect that the University at Albany champions and supports diversity and inclusion and is vested in its commitment to make the university community more inclusive by offering additional programming, including the annual Rev. Dr. Martin Luther King Jr. program, panel discussions, and colloquia on various topics such as implicit bias and microaggressions."
University of Dayton
"We are honored to receive the INSIGHT Into Diversity HEED Award; it [is] a very useful tool that will convey to both internal and external stakeholders or potential stakeholders the level of our commitment to DEI. It will signal the extent to which we understand and believe that DEI are inextricably tied to excellence. … Thank you for the extraordinary service and support you provide to so many who are laboring to advance diversity, equity, and inclusion within and beyond higher education!"
The University of Texas at Austin
"The HEED Award online system has become a well-tuned machine the past couple of years!"
The University of Tulsa
"Thank you for your continued mentorship and support. We are grateful for the opportunity to share our achievements in the areas of diversity and inclusion."
West Chester University of Pennsylvania
"The INSIGHT Into Diversity HEED Award and application provides annual benchmarking on best practices for diversity and inclusion in higher education. In addition, it provides perspective on a university's performance when compared to other colleges and universities. Finally, it goes beyond the United States to collect data on best and innovative practices for diversity and inclusion to further advance DEI efforts."●
This article was published in our November 2021 issue.