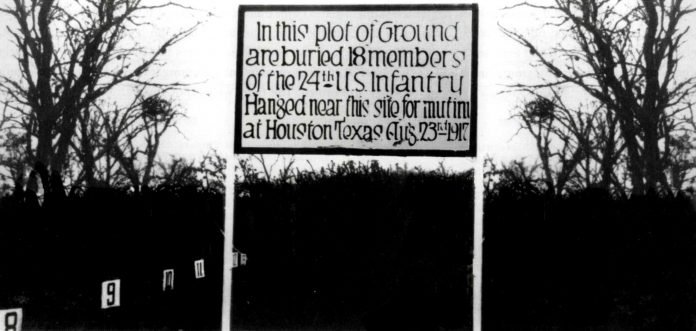 The South Texas College of Law Houston (STCL Houston) and a local NAACP branch recently signed a legal agreement pledging to push for clemency for the 110 Black soldiers convicted in the 1917 Houston Riot.
"For the Camp Logan soldiers who were convicted in the absence of due process, and particularly for those who then were executed as the result of those wrongful convictions, the denial of justice can never fully be undone," said Michael F. Barry, STCL Houston president and dean, at a press event.
The @NAACPHOU and STCL Houston signed an MOU today to continue fighting for #justice for the 24th Infantry Regiment of Buffalo Soldiers stationed at Camp Logan who were unjustly convicted and punished in 1917. Watch the historic event https://t.co/CBEj7nSxZr #BuffaloSoldiers

— STCL Houston (@STCL_Houston) December 17, 2021
A few months after the U.S. entered World War I in August 1917, racial tensions at Camp Logan, a military training base in Houston, escalated into a riot involving White police officers and members of the 24th Infantry, a predominantly all-Black regiment. Nineteen people died during the hours-long riot, including four Black soldiers and 15 White residents, five of whom were police officers, The Houston Chronicle reports.
Law enforcement blamed the Black soldiers for the riot, calling their actions premediated. However, advocates say the Black regiment was provided inadequate due process, a rushed military court process, and a lack of witnesses, ABC News reports.
The court-martial indicted 118 soldiers, all of whom were represented by one lawyer. Of the indicted soldiers, 110 were found guilty in what is described as the largest murder trial in U.S. history, according to the Texas State Historical Association. Ultimately, 19 soldiers were hanged and 63 were given life sentences at a federal prison. Two White police officers were court-martialed but eventually released, and no White civilians were brought to trial.
"We are on a quest to obtain justice for the 24th Infantry Regiment … that organized group of men who died with shameful reputations at the hands of those who had the power of the government, the courts and the power of the media," said Bishop James Dixon, board president of the NAACP Houston Branch, during a press conference.
"We and the @NAACPHOU are committed to the Camp Logan soldiers. This effort benefits us all helping ensure that the violations of due process of a century ago will never be repeated," said @DeanMikeBarry https://t.co/sdAQJZCIsp#Justice #NAACPHouston #24thInfantry #STCLHouston pic.twitter.com/l0p4zaBaZZ

— STCL Houston (@STCL_Houston) December 17, 2021