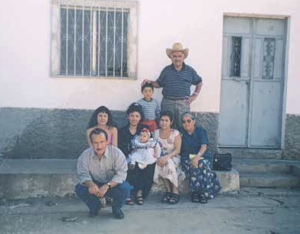 As a young girl, Briseyda Barrientos Ariza spent summers visiting her grandparents in Guatemala, where her parents had grown up and where storytelling is a revered cultural treasure. She listened attentively and held close the many folktales and personal narratives shared during family gatherings. 
Those intergenerational stories will take on even greater meaning this fall as she begins her studies as a Gates Cambridge Scholar at the University of Cambridge in Oxford, where she will pursue a master's degree in philosophy in European, Latin American, and comparative literatures and cultures.
Barrientos Ariza, a first-generation college student, is one of only 77 individuals worldwide selected this year for the full-cost scholarship, a postgraduate award with a rigorous application process. She is the first recipient from Towson University, where she studied English literature and psychology in the Honors College.
Her honors thesis, supported by an undergraduate fellowship, involved conducting fieldwork in various regions of Guatemala to capture additional folktales and narratives. She explored the stories through the lens of collective colonial trauma experienced during the Guatemalan genocide, which targeted people of Mayan descent in the early 1980s as part of the nation's civil war. 
In particular, Barrientos Ariza examined the roles of two folklore characters who often appear in the stories: La Llorona (the Weeping Woman), who drowns her children and wanders the region mourning and wailing for their souls, and La Siguanaba (no translation), a seductive woman who lures men into secluded places, where she then transforms into a monstrous figure and traumatizes them to the point of muteness, madness, or death. 
La Llorona can be viewed as a symptom of child loss — children were often the victims of mass killings — and La Siguanaba as a symptom of the sexual violence that took place during the war, says Barrientos Ariza. The figures drive the counternarratives that push back on government denials of the atrocities and serve as empowering strategies of resistance, she says. 
"I argue that there is no such thing as postcolonialism if we continue to experience the unresolved trauma that colonization put on us," she says. 
"While oral histories and the interpretation of folk figures in terms of war and colonialism isn't new, [Briseyda] examined an underrepresented area and produced fruitful observations about generational trauma, the ongoing consequences of historic colonization, and the manner in which those effects reverberate in folk traditions and art," says Jennifer Ballengee, PhD, professor of English and director of Towson's Global Humanities graduate program. Ballengee was an adviser for Barrientos Ariza's thesis work. 
"This is the commitment and innovation that has impressed me since I've known her, and I'd guess it's what impressed the Gates Foundation too — that commitment to her roots and to authenticity combined with intellectual vigor and dedication," Ballengee says. 
Barrientos Ariza plans to expand her studies at Cambridge to include the broader Central American diaspora.
Erin Fehskens, PhD, professor and acting chair of Towson's Department of English, served as co-adviser for Barrientos Ariza's thesis. She touts her student's theoretical knowledge. 
"She's able to think fluidly across a lot of different and difficult theoretical ways of understanding how we construct meaning in the world and how people respond to power," says Fehskens. "But more than that, Briseyda is an excellent interpreter of text. I mean, that's the bread and butter of a literature scholar."
"It's really important to frame just how challenging it is, not only for a student to be a first-generation college student, but how exponentially difficult it becomes to be a first-generation graduate student." 

Erin Fehskens, PhD
She does not take her academic success lightly, Barrientos Ariza says, recalling her early, frightening days as a first-generation student. 
"Coming from the very Black and Brown community [of Hyattsville, Md.] to predominantly White Towson was … paralyzing," she says. She relied on high school teachers who rooted for her success, and she connected quickly with other first-generation students.
"Navigating the process was super scary … it's unlike anything else because there's so much pressure for you to figure it out and not fail," she says. "It's a lot of knowing when to pivot and when to ask for help, a lot of relying on the kindness of others, and culture shock, and there's also a lot of labor that other students comparatively do not have to undertake and undergo." 
For additional support, Barrientos Ariza became involved in peer communities on campus. She founded Honorables of Color — a group for students of color in the Honors College.— and joined the Latin American Student Organization, along with other student associations.
Her story serves as inspiration for other first-generation students who must overcome barriers to education, says Fehskens.
"It's really important to frame just how challenging it is, not only for a student to be a first-generation college student, but how exponentially difficult it becomes to be a first-generation graduate student," says Fehskens.
Even before she received confirmation of her Gates Cambridge Scholarship, Barrientos Ariza was proud of how far she had come in academia. 
"I didn't even think I'd graduate college, let alone apply to Oxford's Cambridge," she says. 
Of course, Barrientos Ariza won't be alone during that Cambridge journey. She'll travel with the voices of family members and others who have shared with her their personal stories and folktales.
"Everything I do and participate in, especially regarding this work, is a love letter to my Central American community," she says.●
This article was published in our July/August 2023 issue.