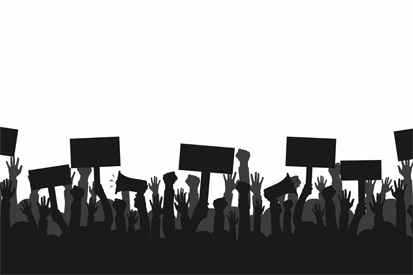 Update: Wed. May 1, 2019, 5:15pm: The only two fraternities on Swarthmore's campus announced Tuesday evening they will disband.
Phi Psi Fraternity announced in a Facebook post that it and Delta Upsilon unanimously voted to end the chapters.
"We were appalled and disgusted by the content of these minutes, which led us to question our affiliation with an organization whose former members could write such heinous statements. We cannot in good conscience be members of an organization with such a painful history," the post said.
Swarthmore College students staged a sit-in at the Phi Psi fraternity house over the weekend after internal fraternity documents containing derogatory language about women, people of color, and LGBTQ individuals were leaked to two campus publications. Included in the leaked documents, which are dated between 2010-2016, are casual descriptions of sexual misconduct and abuse of female students.
 Over 100 students participated in the demonstration over the weekend and many are still protesting in and around the Phi Psi house, demanding that it and the college's other fraternity be permanently shut down. The protesters are asking that the college terminate the fraternities' housing leases and allow groups that have been historically marginalized to use the buildings instead, according to The Washington Post.
 Swarthmore has temporarily suspended all fraternity activities. Valerie Smith, the college's president, said in a statement to students that she condemns the actions described and the language contained in the documents. The administration has received information regarding the names of the alleged authors of the Phi Psi documents and is conducting an investigation, according to the school's statement.
Students began protesting after two student-run newspapers, Voices and The Phoenix, received 116 pages of documents from an anonymous source that allegedly chronicle Phi Psi activities between 2010-2016. Referred to by the authors as fraternity "minutes," the messages were reportedly distributed to Phi Psi members via a Listserv and contain lewd, misogynistic, homophobic, and racist commentary, according to The Phoenix. They also contain graphic descriptions of members' sexual encounters and references to sexual assault, including mentions of a "rape attic" and "rape tunnel" in the Phi Psi house, the newspaper reported.  
In at least one message, a fraternity member mentions the potential consequences of outsiders seeing the documents. "For all you newcomers out there, if you show these to anyone outside the frat, you are dead to me. Leaks will probably get my room in Mertz [Hall] burned down while I'm sleeping so just don't do it," a member wrote in a 2014 email.
There is no evidence to suggest that all events, both described and insinuated, in the documents actually occurred, The Phoenix reports. However, Swarthmore alumni say many campus members knew about Phi Psi's "minutes."
"[Other students] attempted to get access to the Phi Psi listserv with a fake Gmail account as early as April 2013," Allison Hrabar, who graduated in 2016, told Voices.
Another Swarthmore alum, Priya Dieterich, has created a  "No Donation Pledge" that calls for donors to freeze financial contributions to the college until the fraternities' housing leases are terminated. It has received over 400 signatures, Voices reported.
Swarthmore's SwatTeam, a student-led organization that works as safety personnel at campus events where alcohol is served, released a statement saying its organization "cannot, in good conscience, staff a fraternity party" while cycles of violence are ongoing.
"We call for Swarthmore College to immediately and permanently revoke the fraternity leases. SwatTeam Leadership refuses to staff any fraternity party while the fraternities and their members still hold positions of power, especially in owning their own premises," the statement said.