A new report on chief enrollment management officers (CEMOs) reveals that there has been little progress in diversifying this leadership role on U.S. college campuses despite high turnover rates in recent years.
CEMOs are responsible for "developing and implementing comprehensive strategic enrollment management efforts focused on retention, recruitment, and admissions," according to the American Association of Collegiate Registrars and Admissions Officers (AACRAO), which produced the report based on a survey of 300 respondents.
The authors of the report note that despite having high levels of turnover, diversity among the CEMO profession has remained stagnant. The majority of survey-takers, at 56 percent, reported being in their current position for less than five years. Just over 80 percent of CEMOs in 2020 identified as White.— a figure that is "virtually the same" as survey results from 2014 and 2017, the report states. Representation among other ethnic and racial groups also remained stagnant, with 12 percent of CEMOs identifying as African American or Black, 6 percent as Latinx or Hispanic, and 1 percent as Asian American.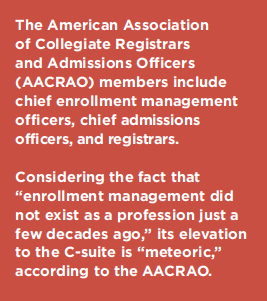 The representation of women, who account for significantly fewer top leadership roles overall in higher education, fluctuated between 2014 and 2020. Women made up 40 percent of the CEMO profession in 2014, 48 percent in 2017, and 43 percent in 2020.
Nearly 40 percent of CEMOs reported that their responsibilities include participating on diversity committees. Yet only 4 percent of respondents included "understanding of diversity and inclusion issues" among the top three most important skills and attributes of their job.
Seven in 10 CEMOs say they are solely responsible for identifying their institution's enrollment goals. Three in 10 are solely responsible for target market identification, while half say they delegate and supervise this responsibility. The majority of CEMOs, at 83 percent, also delegate and supervise the duties of new student recruitment.
Thirty percent of CEMOs delegate and supervise student retention, success, and completion efforts, while 50 percent say they participate in but are not in charge of these efforts.
Notably, the AACRAO predicts that there will be "several hundred" CEMO openings over the next three years.