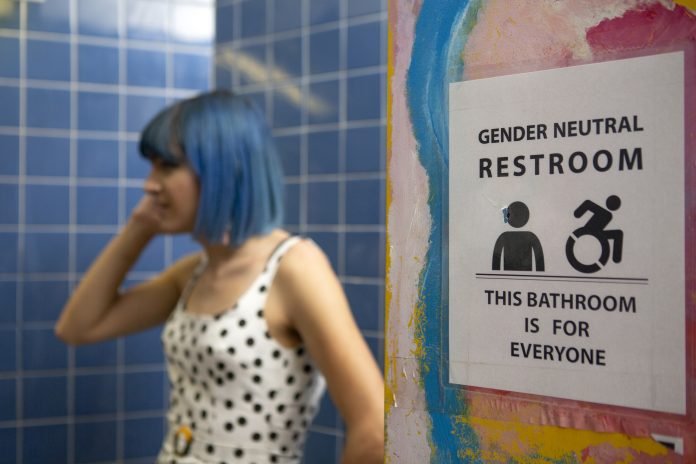 On Monday, the U.S. Supreme Court upheld a previous lower court decision that declares a Virginia school district cannot force transgender students to use bathrooms that do not conform to their gender identity.
The seven-year-long case involved Gavin Grimm, a transgender man who originally filed a lawsuit against the Gloucester Country, Virginia school district in 2015 when he was a high school student. The Supreme Court rejected the school board's appeal of a lower court decision that found its transgender bathroom ban is unconstitutional.
While a student, Grimm was allowed to use the boys' restroom for a brief period until community members complained, CNN reports. In turn, the school board adopted a discriminatory policy that prohibited students "with gender identity issues" from using regular restrooms, forcing Grimm to use the bathroom in the nurse's office and other single stalls.
I was barred from the bathroom at my highschool 7 years ago, when I was 15. 6 years ago, at 16, myself with the @ACLU/@ACLUVA filed suit in response to that discrimination. Twice since I have enjoyed victories in court, and now it's over. We won.

— Gavin Grimm 🏳️‍⚧️ (@GavinGrimmVA) June 28, 2021
"Being forced to use the nurse's room, a private bathroom, and the girl's room was humiliating for me, and having to go to out-of-the-way bathrooms severely interfered with my education," Grimm said in a statement on Monday. "Trans youth deserve to use the bathroom in peace without being humiliated and stigmatized by their own school boards and elected officials."
Since graduating high school, Grimm's case has gone through the federal court several times. A federal 4th Circuit Court also twice ruled that Grimm's rights were violated under Title IX and Title VII of the Civil Rights Act.
The move follows the U.S. Department of Education's federal decree earlier this month that stated Title IX protections extend to transgender students. Experts believe additional lawsuits concerning LGBTQ students, specifically bans on transgender athletes in team sports, are expected in the coming months.