The annual INSIGHT Into Diversity Higher Education Excellence in Diversity (HEED) Award is the only application-based higher education award that recognizes colleges and universities that demonstrate an outstanding commitment to diversity and inclusion.
[Above: MARTIAL program coordinator Candi Harris and Harold Woodard, program director for Strategic Retention Initiatives, at the University of North Texas in Denton (Photo courtesy UNT)]
Promising preliminary data from three universities show African American male students earn better grades and graduate at higher rates if they participate in peer-support programs.
Year after year, data from the National Center for Education Statistics indicates that Black men face steeper challenges than do their Black female and White peers. Only 9 percent of the bachelor's degrees earned by U.S. male students in 2016 were earned by Black men, while 67 percent of the degrees were awarded to White men and 11.9 percent to Hispanic men. African American women earned 11.8 percent of degrees conferred in that year to women.
The percentage of Black men earning a bachelor's degree has slowly increased over the years, up from 5.2 percent in 1977, but their dropout rates remain higher than those of their counterparts. Just 35 percent of those who enrolled at a four-year institution in 2008 completed a bachelor's degree within six years, compared with a 45 percent completion rate for Black women and 60 percent for White men.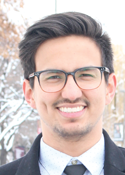 Those concerning statistics push universities across the country to promote programs that specifically support Black male students, but leaders from three of those programs say the message in their classrooms isn't about the numbers. It's about including young Black men in the campus community and giving them the confidence they need to believe they can do more than they thought possible, says Sam Gutierrez, president of the Brother 2 Brother program at Central Washington University (CWU).
"Somewhere along the line someone convinced you that you didn't have a voice," Gutierrez says of peers in his group. "My life's work at this point is to convince you otherwise."
University of North Texas
Harold Woodard remembers when the Ku Klux Klan held rallies and cross burnings along Route 301 near his hometown of Sharpsburg, Va., and the segregated public spaces. As program director for Strategic Retention Initiatives at the University of North Texas (UNT) in Denton, Texas, Woodard says those memories help him "add that level of experience" to his lectures, which focus on how African Americans persevered despite radical opposition to their rights.
Students in UNT's Male Alliance for a Rigorous, Transformative and Interdisciplinary Approach to Learning (MARTIAL) program pay "a little more attention" to Woodard because of his experiences. The program aims to provide social and academic support to Black men at UNT through an intensive first-year course and continued encouragement throughout their time at the university.
Woodard wants young men in the program — known as MARTIAL Eagles — to consider what he and other African Americans faced historically and then ask themselves, "If they succeeded facing what they did, what can I not do?" Using this approach, Woodard says his students "understand and appreciate the distance we've come and the distance we've yet to go. It gets real."
Learning about resilience is key to overall confidence, but confidence alone won't finish an essay due in 24 hours or read the three chapters required for an exam. Adjusting to the loaded workflow of college life is one of the main challenges for Eagles. Program staff teach students to master the basic processes that help them "get through the tough times" step-by-step, Woodard says.
Those "College 101" skills are just one part of the MARTIAL first-year course. The other part focuses on the history and culture of African American men in the United States through the lens of music. "For many, it's the first time they've actually had a course that deals with historic Black experience other than slavery and maybe the modern civil rights movement," Woodard says. "My focus when I teach the Black experience is to try to focus on what people did for themselves and less what was done
to them." 
Woodard and program coordinator Candi Harris give assignments in which students can express feelings about their own problems through music. In one of them, each Eagle develops a playlist of contemporary music that speaks to him. At the end of the semester, they perform a song or recite a poem they wrote.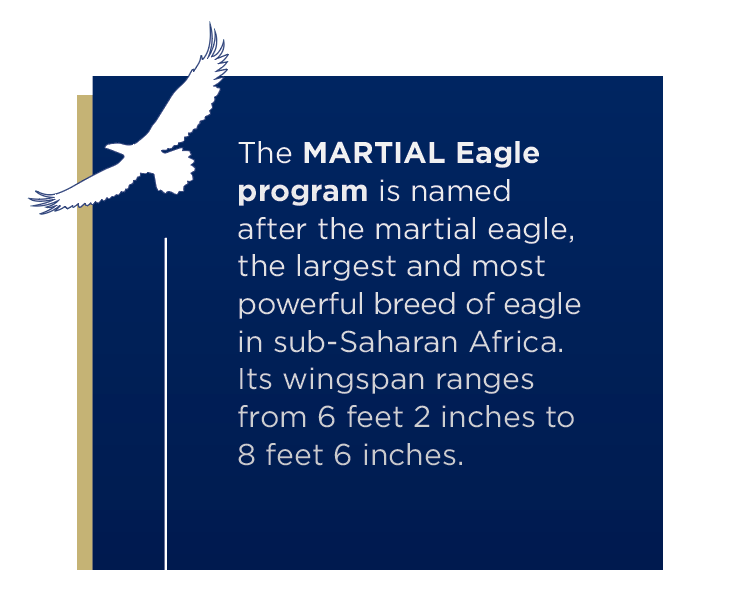 The messages in those performances are about the transition into new experiences, separation from family, spanning "the whole gamut of what you expect a student to experience going away to college," Woodard says. But each Eagle is reminded of his history and how humans "carve out a meaningful existence" despite the odds.
"It can be inspiring — whether you are of African descent or not — just to know the human spirit has that resilience, to know if they succeeded, so can I," Woodard says.
Preliminary data show the program is working. Eagles had earned a higher average GPA than a comparison group — 2.46 versus 1.84 at the end of the fall 2017 semester, according to UNT's Data, Analytics, and Institutional Research office. They also completed more credit hours than students in the control group with an average of 13.27 versus 9.95 hours. As of fall 2018, more Eagles had returned for their second year than those in the other group.
Woodard hopes to hire another full-time MARTIAL staffer, which would allow the program to accept an additional cohort. But the main goal is to push Eagles to fill leadership roles on campus and not just in groups for underrepresented students.
"We want them to experience the full breadth of what the university has to offer," Woodard says. "We want them to research with faculty, study abroad, land quality internships. We're starting to see that happen."
Central Washington University
With support from the Brother 2 Brother program, students at CWU in Ellensburg, Wa., succeed in leadership roles, says Andre Dickerson, director of the Center for Leadership and Community Engagement.
"We've seen [the program] be transformative," Dickerson says.
As part of the Student African American Brotherhood (SAAB) organization, the extracurricular Brother 2 Brother program recruits roughly 45 new students each year out of CWU's total undergraduate enrollment of 11,000. Research shows 86 percent of SAAB participants graduate, exceeding the average five-year graduation rate for African American men in the U.S.
Most participants are recruited at summer orientation. When they arrive on campus, Brother 2 Brother staff greet them with a welcome session, create networking opportunities with upperclassmen, and connect them with peer mentors.
"We're able to capture those students before they arrive to give them as much guidance as we can," Dickerson says. "So, when you get here, you know who you can contact with questions or concerns. They have someone they can connect with if they ever need it."
In addition to guaranteeing access to information and support, the program focuses on ensuring all young men — male students of any race are encouraged to participate in the program — feel welcome on campus. Each comes with their own personal identity.
"When you step foot on campus, you think, 'I'm a Black man, a first-generation college student, and now I have to navigate the stereotypes people may have,'" Dickerson says. "But then you also have to find confidence and a sense of belonging. You have to break through these theories and models to believe not only do you belong here, but you have value." 
Gutierrez, who has served as president of the program since spring 2018, says he became involved after approaching a group of "well-dressed Black men" who caught his eye on campus. The evolutionary biology and ecology major had been struggling with his identity as a Latino and with concepts of White privilege. So on a whim, he decided to approach them to seek their opinion on his predicament.
The men turned out to be involved in Brother 2 Brother. One was Dickerson and another was SAAB founder and CEO Tyrone Bledsoe. The conversation turned into an invitation to a luncheon and that led to Gutierrez attending the national conference in Detroit. Sitting in a room with 500 Black men and listening to some speak about their experiences, Gutierrez says, "broke my world view."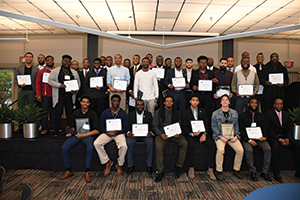 From then on, he worked on "self-actualizing," or the realization that he was capable of achieving his goals and making his identity a part of that process. Seeing men who looked like him in leadership roles at subsequent conferences also helped. In the Brother 2 Brother program and after graduating this spring, he hopes to be the role model for other young men of color seeking self-actualization.
"To anybody reading this who feels like they are burdened with representing a marginalized population, that is not bad," Gutierrez says. "Embrace it. Pull it into perspective. It's heavy sometimes, but there is light at the end of the tunnel."
Old Dominion University
As at CWU, Brother 2 Brother chapter leaders at Old Dominion University (ODU) in Norfolk, Va., rely on data as well as anecdotal evidence to prove their program's success.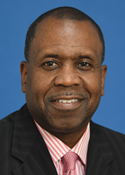 Between the founding of the chapter in fall semester 2017 and the end of spring 2018, members showed a higher average GPA than Black and Brown men not associated with the program, says Johnny Young, EdD, associate vice president for Student Engagement and Enrollment Services. Those students are on track to complete their degrees in four to five years based on the number of credits they received in spring semester 2018.
At the end of 2019, another report will look at the same population. Young says he expects to see the same positive trend. "What we attribute that [success] to is simply the fact that Brother 2 Brother is based on the peer cohort model," Young says. "Members support one another, mentor one another, some come from similar backgrounds and experiences. … Those are the types of things that bond them together."
Support from university leadership also plays a key role in the success of Brother 2 Brother, which at ODU includes 160 members. Austin Agho, provost and vice president for academic affairs, attended an orientation session when the chapter was first initiated, and Brian Payne, academic affairs vice provost, attended a minority male symposium last year that included athletes and chapter members. The university's president, John Broderick, comes to retreats to "give words of encouragement," Young says.
"When you see the leadership stopping by and encouraging and showing their interest and their support for initiatives like this, it makes the difference," Young adds.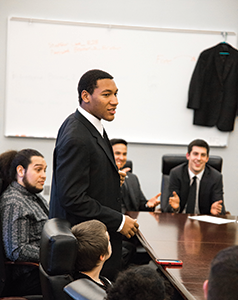 Seeing leaders who look like themselves is essential to Brother 2 Brother member success, but watching peers achieve their goals is just as important, Young says. "It's seeing people who look like you with similar backgrounds who are progressing, doing well, and overcoming obstacles that makes a peer group I can turn to, that I can talk to, that I can depend on," Young says.
Chapter members also offer the leadership skills they acquire to children in the community. They go to local elementary schools a few times a week to tutor and engage with students there. "[The elementary students are] seeing young Black and Brown men that are perhaps where these kids will be in the next 10 to 13 years when they hopefully go to college," Young says.
As with most programs, however, the proof is in the data. "I'm confident the data will continue to show that programs like this do make a difference," Young says. "Having this as a part of what I do is just pure joy." 
Kelsey Landis is the editor-in-chief of INSIGHT Into Diversity. The University of North Texas is a 2018 HEED Award recipient. Central Washington University is a 2014, 2015, 2017, and 2018 HEED Award recipient, and Old Dominion University is a 2018 HEED Award recipient. This article ran in our May 2019 issue.