Dual enrollment programs, those that allow students to be enrolled in two separate academically related institutions at the same time, are an acknowledged successful tool for high school students seeking postsecondary education or a good-paying career. A new study published by the University of Utah finds these programs are not as accessible to diverse populations. 
The study, "Research Priorities for Advancing Equitable Dual Enrollment Policy and Practice," is a collaboration of educational policy leaders and dual enrollment researchers, funded and supported by The Joyce Foundation, a private, nonpartisan philanthropy that funds initiatives to advance racial equity and economic mobility. One of their goals is to encourage additional studies that could lead to more equitable dual enrollment systems.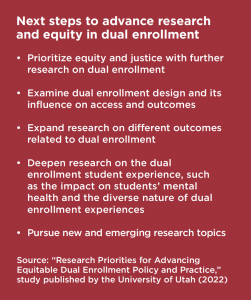 College enrollments have declined significantly over the past few years due to the COVID-19 pandemic, a historically low unemployment rate, and the high cost of college, the study finds. However, it is estimated nationally that 1.4 million — or 9 percent of all high school students — are enrolled in college courses, and that this number has grown exponentially. While national data is difficult to evaluate, state data affirms this. In California, participation in community college dual enrollment increased from 72,000 in the 2015-2016 graduating class to more than 112,000 in the 2019-2020 class, according to the Public Policy Institute of California in their 2021 report "Dual Enrollment in California: Promoting Equitable Student Access and Success."
The number of dual enrollment credits students take in high school is also rising, according to the University of Utah study — in Oregon, the average number increased from 6.8 in 2010-2011 to 10.4 in 2017-2018.
The study shows that those who participate in dual enrollment at lower rates are students of color, males, low-achieving students, English language learners, and students with disabilities. In addition, the study found that dual enrollment is not as available at schools with higher proportions of students of color and those located in low-income areas. 
Research on the outcome of equity in dual enrollment is mixed. Some models show programming reduces inequities and others show it sustains them. For example, state policies often use standardized testing to evaluate who is accepted into these programs, but students that could benefit most from dual enrollment may have greater difficulty passing placement tests.
"Current research tells us that dual enrollment has positive student outcomes, but it does not tell us the full story about why," the study concludes. "States, colleges, and school districts are working hard to close equity gaps through implementing a number of policy and practice reforms, but research has not yet been able to tell us which of those reforms has yielded the most progress."●
Nikki Brahm is a senior staff writer for INSIGHT Into Diversity.
This article was published in our October 2022 issue.