Over the course of the COVID-19 pandemic, many faculty members learned to rely on innovative software and virtual services to maintain a sense of normalcy for students in online classes as well as to uphold educational standards. One of the most convenient and popular methods for doing so is the use of automated test proctoring, which is designed to prevent cheating when professors cannot directly monitor students as they would in the physical classroom. 
Companies such as ExamSoft and Proctorio that offer these services experienced a spike in demand after many colleges and universities moved courses online last spring. An April 2020 poll by the nonprofit organization Educause found that 54 percent of higher education institutions were using remote proctoring software. A recent report by the firm Blueweave Consulting and Research projects the market for these products to reach $915.6 million by 2027.
This technology, however, is far from perfect when it comes to ensuring that online exam proctoring is fair and equitable for all. Underrepresented students and those who already face disadvantages such as learning disabilities have reported unique challenges with virtual exam software. Others claim that the technology violates student privacy.
The software works by recording students through their webcams during exams as well as tracking the websites that they visit while they are taking tests. A combination of artificial intelligence (AI), machine learning, and biometrics — or physical characteristics used to identify individuals — monitors test takers and flags behavior that may be indicative of cheating, such as speaking aloud, typing too slowly, or moving one's eyes away from the screen for too long. Professors can review the footage later and decide if flagged incidents actually involved cheating.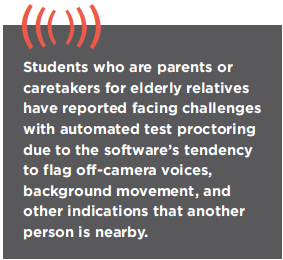 Students with disabilities struggle with this technology because it prohibits movement. A neurodivergent student may be flagged for fidgeting or exhibiting physical symptoms of stress, such as facial tics. Some with physical disabilities may not be able to sit still for long periods of time. Students with impaired eyesight can run into problems with the eye monitoring component of the software. Furthermore, those with medical conditions that require them to self-administer medication also have the potential to be flagged.
Test proctoring technology has presented other challenges for underrepresented students beyond false accusations of cheating. A transgender student at the Georgia Institute of Technology told Teen Vogue in October that they felt discriminated against while using Honorlock, an extension of Google Chrome that monitors exams. The student had to use their state-issued photo ID to verify their identity, which meant providing their birth name and thus outing themselves as transgender to their professor.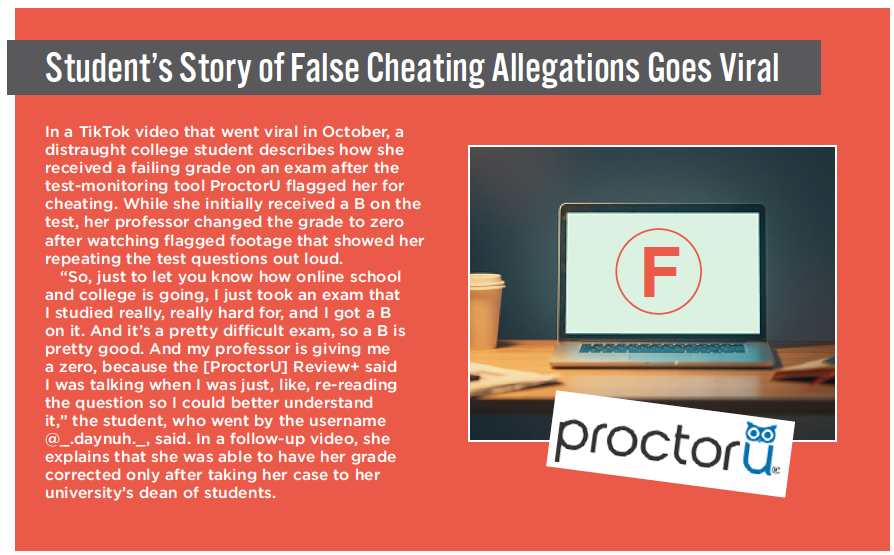 The ExamSoft platform has been accused of exhibiting bias against students of color. After taking the bar exam online, many law school graduates used the hashtag #barapocalypse to post about their negative experiences with ExamSoft on social media. Several Black test takers claimed they were asked to shine more light on their faces so the program could detect their physical features and verify their identities, while White counterparts did not have the same issue.
The American Civil Liberties Union wrote a letter to the Supreme Court of California in July opposing the use of ExamSoft, citing the software's "inherently biased" facial recognition technology and its potential violation of the California Consumer Privacy Act. The advocacy group Lawyers' Committee for Civil Rights Under Law told officials at the State Bar of California that it would file a lawsuit if the state continued to use remote monitoring for the bar. Despite these objections, officials say they plan to continue using the technology.
Privacy is also a central concern. The exam software grants faculty members access to video and audio recordings of students; some programs allow them unlimited access to this footage even after an exam is completed. Some also provide students' IP addresses, which can be used to identify their specific locations. Data breaches are another worry. In August, ProctorU announced that more than 440,000 students' personal information — including addresses, phone numbers, and passwords — had been leaked online.
The numerous problems with these services have raised red flags with lawmakers. In December 2020, a group of Democratic senators led by Sen. Richard Blumenthal (CT) contacted ExamSoft, Proctorio, and ProctorU to request information about how their products ensure equity and protect privacy. The companies denied claims of discrimination, saying that it is the responsibility of the professor, not the software, to make the final decision about whether a student is cheating.
Mike Olsen, CEO and founder of the popular testing service Proctorio, responded in a statement to Blumenthal that his platform helps "preserve the integrity of coveted degrees and certifications earned online." 
"Proctorio also helps expand educational access for learners who would otherwise find it difficult to accommodate a more traditional academic system — whether they are busy managing work and a family, located in a remote environment, or facing accessibility barriers," Olsen stated. 
Some colleges and universities, however, have heeded students' concerns with these technologies. After several months of complaints and a petition that gained over 1,000 signatures, the University of Illinois at Urbana-Champaign announced in February that it would no longer use Proctorio after its contract with the company expires in summer 2021. While the university will still allow the use of remote proctoring, it plans to select a new platform with accessibility as a priority in mind, according to a letter sent to faculty.●
Lisa O'Malley is the assistant editor of INSIGHT Into Diversity.