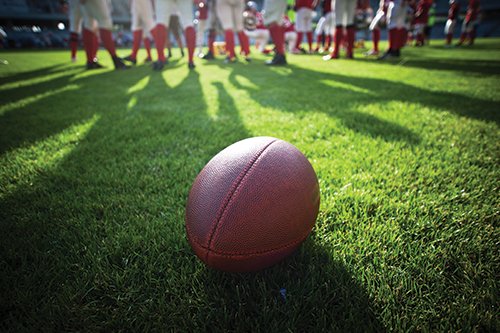 On September 2, nearly 800 peaceful protesters marched across the University of Missouri (MU) campus bearing Black Lives Matter signs and chanting demands for racial justice. The sizable protest, called the March for Mizzou, was organized by the newly formed Missouri Black Student-Athlete Association and consisted of players, coaches, and students alike. 
The athletes-turned-activists at MU are far from alone. Student-athletes on nearly every major university campus have led protests and issued demands for social justice in recent months. Their concerns include eradicating Confederate symbolism on campuses, eliminating racist coaches and personnel, and requiring colleges and universities to address systemic inequalities, just to name a few. 
At the University of Texas at Austin, student-athletes played a central role in demanding the removal of building names and monuments that honored individuals who supported slavery and the construction of a new statue honoring the school's first Black football player. At the University of Iowa, strength coach Chris Doyle was fired after more than 60 former and current football players came forward to accuse him of encouraging racial disparities in the treatment of team members. 
At a multitude of colleges and universities around the nation — including the University of Michigan, the University of Florida, and the University of Alabama — players have been on the frontlines of demonstrations against systemic racism and police brutality.
This surge of activism includes calls for student-athlete welfare in the midst of the coronavirus pandemic. Players in the Pac-12 and Big Ten conferences united to demand better health and safety precautions ahead of the fall 2020 football season. According to statements released by the players, officials did not adequately consult with student-athletes before making decisions regarding whether or not to play in the fall, which they say underscores concerns about athlete autonomy and labor conditions that have long surrounded college athletic programs. 
The push for social justice and better treatment extends beyond high-profile sports like football. Student-athletes in 23 varsity sports from colleges across the U.S. banded together in the days following the police murder of George Floyd in May to form an advocacy group known as the College Athlete Unity (CAU).   
The group's mission is to "empower the student-athlete to speak out against injustice and amplify the platform that they are given through college sports," according to the CAU website. It is unique in that it includes members from all the major athletic conferences, including NCAA divisions, the National Association of Intercollegiate Athletics, and U Sports, which governs Canadian college sports. 
"We saw all the conversations surrounding Black Lives Matter," Hunter Reynolds, a University of Michigan cornerback and founder of CAU, told Yahoo Sports. "We wanted to do something that would continue that conversation in the months after it died down. Because we feel like, in America, a lot of things are trends. We didn't want the civil rights of people to be a trend."
Student-athletes have also formed advocacy groups on individual campuses. At Louisiana State University (LSU), the Student-Athlete Council on Diversity & Inclusion focuses on ensuring that all student athletes have a voice, including those individuals who may be underrepresented in their sport.
"If you're the only woman of color on a gymnastics team or softball team, it can be tough," explains Dereck Rovaris, PhD, vice provost for diversity and chief diversity officer at LSU.
"Another concern the student council has addressed is not being silenced. The Black Lives Matter movement led athletes to speak up and create safeguards so they could be allowed to express their stances on social issues without repercussions," Rovaris says. 
The possibility of losing scholarships or facing retribution for participating in social justice activism has historically been a concern for student-athletes, many of whom rely on scholarship dollars to pay for tuition and room and board. Guaranteeing protections for players who join in marches and other forms of protest is one advancement that student-athletes have made by banding together.  
At Ohio University, a small but growing number of players and employees recently formed Bobcats Lead Change to tackle issues like allyship, voter registration, petitions, protests and marches, and education.
"The mission of this group is to build a community of college students and local residents who will use their voice against racial injustice, educate the community, and lead change in southeast Ohio," says Katie Garrity, a senior student and member of the university swim team.
With approximately 50 members, Bobcats Lead Change has been successful in gaining attention on campus and in the community. The university's president has been supportive of their efforts, and the group has been able to meet with the local mayor and the chief of police for open dialogues on the causes they are fighting for, according to Garrity.
Like many of the students and athletes who are pushing for more concrete steps toward social justice, however, Garrity recognizes that there is still a long road ahead to guarantee real change. "Our group is only in its infancy, at just three months old, yet we have accomplished so much thus far, but we all realize there is still much to be done," she says.●
Lisa O'Malley is the assistant editor of INSIGHT Into Diversity. This article was published in our October 2020 issue.