To improve representation in medicine and better address health inequities in underserved populations, the Stanford University School of Medicine (Stanford Medicine) has created the Racial Equity to Advance a Community of Health (REACH) Initiative, which is comprised of existing and new programs. 
"The REACH Initiative will help ensure that we continue building on our progress in a coordinated effort to diversify our academic community while enhancing academic opportunities in health equity research and clinical practice," writes Terrance Mayes, EdD, associate dean for equity and strategic initiatives. "The impact will prepare more [underrepresented] and first-generation students for admission to medical schools across the country while sharing learnings and perspectives in a deepened relationship with our nation's HBCUs [historically Black colleges and universities]."
Prominent among REACH's existing efforts is the Postbaccalaureate Experience in Research program, which offers research opportunities and training to bolster medical and graduate school applications from recent college graduates from underserved communities. Participants receive mentorship from current medical students, MCAT tutoring, and access to courses concerning racial equity in medicine. 
"The mentors pull you up onto the mountaintop to survey the landscape of career options, and that's been one of the biggest impacts on my career so far," says Stanford graduate student Timothy Johnson. "I wanted to go somewhere I felt wanted and where I felt I could be my authentic self. I feel like I'm getting that with REACH."
Another initiative is the REACH-HBCU Visiting Student and Faculty Exchange Program, which facilitates collaboration between Stanford Medicine and HBCU medical schools. As of 2023, the program includes students from all four participating HBCU medical schools: Meharry Medical College, the Morehouse School of Medicine, the Howard University College of Medicine, and Charles R. Drew University of Medicine and Science. Students participate in an eight-week research program, work with Stanford Medicine faculty mentors, receive academic credit, and earn an $8,000 stipend. In 2022, 48 HBCU medical students were involved in the program.
"While we have made much progress at Stanford weaving a culture of diversity, equity, and inclusion into the fabric of our institution, there are still many opportunities for improvement," writes Lloyd Minor, MD, dean of Stanford Medicine. "We must be vigilant about keeping our pipelines filled with talented students and faculty that reflect all segments of our society while sending a clear signal that every student at Stanford Medicine is responsible for developing the necessary knowledge, skills, and behaviors to fight health disparities."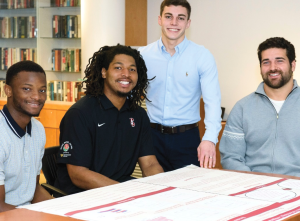 The REACH Bioscience PhD Fellowship encourages racially underrepresented and first-generation students to pursue academic research careers by offering significant financial support. The fellowship provides full funding for up to four years of PhD study for two or three students each year. This allows students to pursue the fields they are most passionate about, which can include immunology, biochemistry, and a variety of other research-focused studies in academic medicine.
In addition to its current programs, the REACH Initiative will add three more programs over the next year, including the MD/MS Program in Health Equity Research, which will pay for medical students to pursue a master's degree in health equity while also earning their medical degree. This is meant to ensure that graduates have direct experience and interest in addressing health care inequity.
Other upcoming programs are the Scholarly Concentration in Health Equity and Social Justice Research and the Clinical Clerkship in Community Health of the Underserved. The scholarly concentration will require that first- and second-year Stanford Medicine students participate in several courses focused on social and health care inequity and promoting change through medical practice and community engagement. The clerkship will be a four-week outpatient experience during which students treat and care for underserved patients, including homeless individuals, refugees, migrant farmworkers, and uninsured patients throughout California's Bay Area.●
This article was published in our May 2023 issue.