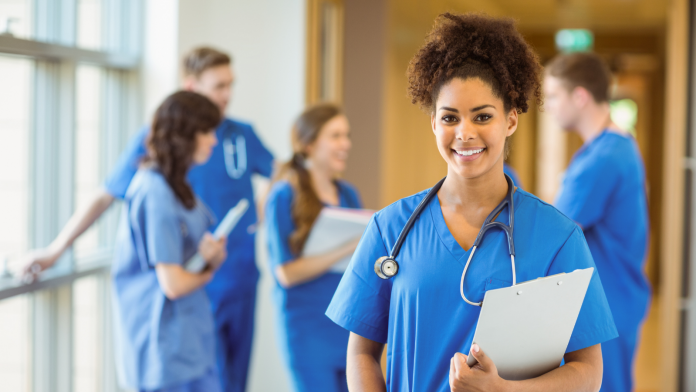 Medical school applications surged by a record-breaking 17.8 percent for the 2021-2022 academic year, according to new data from the Association of American Medical Colleges (AAMC). 
In comparison, applications for 2020-2021 declined by 0.6 percent from the previous year.
Acceptance and matriculation rates have also increased. Acceptance rates were up 2.6 percent, and first-year enrollment grew by 1.9 percent.
This year's entering class of medical students also broke records for diversity. 
For the first time since the AAMC began tracking race and ethnicity, the majority of new students are non-White by a thin margin of 0.3 percent. The racial demographics of the application pool are as follows:
White: 49.7 percent
Asian American: 25 percent
Black: 11.7 percent
Hispanic and Latinx: 11.7 percent
Native American: 1 percent
"We are especially encouraged by the growth in applications and new enrollments by students in racial and ethnic groups that are underrepresented in medicine," Geoffrey Young, PhD, AAMC's senior director of Transforming the Health Care Workforce, said in a press release.
Many medical schools offered application fee waivers and other forms of assistance during the pandemic, making the application and enrollment processes more accessible. News sources have also reported that more students have been inspired to pursue careers in medicine to combat health disparities exacerbated by the pandemic. 
Sandra Quezada, MD, associate dean for admissions at the University of Maryland School of Medicine (UMSOM), told AAMC in a press release that "most of the people who applied had been thinking about it for years" and were inspired by recent societal events. UMSOM experienced a 28 percent increase in applications. Other schools seeing significant growth include St. Louis University School of Medicine, where applications rose 39 percent.
For the third year in a row, women made up the majority of new applicants and students. They comprised nearly 57 percent of the application pool and 55 percent of matriculants. By comparison, the number of men entering medical school declined for the sixth year in a row.●
This article was published in our January/February 2022 issue.