Before Anya Evmenova, PhD, of George Mason University (GMU) became an award-winning special education professor, one of her most influential teachers wasn't an instructor but a second grader. 
In 2001, Evmenova left her home in Saratov, Russia, for East Carolina University in Greenville, N.C., to pursue her master's degree, knowing little about the field she planned to enter. She decided to visit a nearby elementary school, and in one of the classrooms a student with multiple disabilities was given a communication device.
The device was called GoTalk, an apparatus with four programmable buttons that, when pushed, relayed simple messages. As the other students in the room repeated back to the teacher a recurring line in their reading lesson, the second grader with the GoTalk joined the chorus by pressing a button. 
"She was participating at the perfect time," Evmenova says. "It was a breathtaking, groundbreaking experience, and that's how I first saw the power of assistive technology." 
A Repertoire of Choices
In addition to her teaching and research at GMU, Evmenova is the associate director of the university's Global Online Teacher Education Center, the center's co-coordinator of digital learning, and co-developer of its Online Teaching Initiative. She received GMU's Teaching Excellence Award for Technology-Enhanced Teaching in 2016, the inaugural GMU Online Teaching Excellence Award in 2018, and the John Toups Presidential Medal for Faculty Excellence in Teaching in 2023.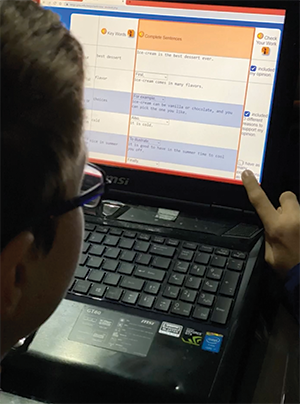 As her career has evolved, so have communication devices. Instead of requiring special equipment, assistive technology today makes use of apps on everyday devices like cell phones, tablets, and laptops. Special education students no longer have to stand out in a classroom. 
The transition to personal devices also helps Evmenova practice her passion for Universal Design for Learning (UDL), which recognizes that everyone — not just people with diagnosed disabilities — learns differently. Her undergraduate and graduate students may choose from among several formats — including video with captions, MP3 audio, or written text — for every lesson, based on what they feel works best for them.
"I get stories like 'I usually watch your videos, but this week I was on a train to see my family in Boston, so I listened to the MP3 on my phone,'" she says. "While it's important to do this for every class, it's even more important in an asynchronous online setting because it allows you to build engagement."
The principles of UDL include not only presenting content in multiple ways but also giving students numerous methods for responding. Evmenova may let them pick either a group project or independent work. She may offer not just one but a variety of case studies to choose from, depending on a student's interests. One case study might focus on teaching math to elementary school students, another on language arts and high schoolers, and yet another on middle schoolers and science. To complete the assignment, some students will turn in a paper while others might create video presentations. Students set their own goals and monitor their progress.
Secrets to Her Fundraising Success

 
Evmenova's commitment to research matches her dedication to teaching. During her career of nearly two decades, she's raised more than $14 million in federal and local grants. The funds supports her work around developing and implementing new ways to teach students with various abilities and needs.  
While she might have in mind a multimillion-dollar project involving more than a dozen schools and 1,000 students, she often begins with a smaller-scale effort with perhaps one school and a dozen or so participants.
She credits much of her fundraising success to a mentor from her doctoral program. He told her to think of the grant proposal process as a gamble, and that even the best ideas don't always get funded.  
"I remember when we wrote our very first grant, and when it came back as a rejection, I was like, 'OK, this is it, I'm done, on to the next thing,'" Evmenova says. "And he was like, 'No, no, no — we need to try again.'"
That second attempt might involve incorporating feedback and resubmitting to a different agency. Evmenova says applying for a diverse array of grants also boosts her chances of success. 
Most of the time, she doesn't wait for grant money to begin her research. While she might have in mind a multimillion-dollar project involving more than a dozen schools and 1,000 students, she often begins with a smaller-scale effort with perhaps one school and a dozen or so participants. Then she incorporates the results of that small investigation into a grant proposal for the larger study. 
"When you can already show proof of concept, that can contribute to getting the grants as well," Evmenova says.  
Even if a project isn't funded, she continues the pilot study, "because I'm still interested in developing the idea," she says. 
The grant money also allows Evemenova to hire graduate research assistants. At the same time, she's mentoring 10 doctoral students. As with her other students, she encourages them to set and monitor their own goals. 
"That way, it's like they have ownership of something," Evmenova says. "They hopefully never feel they are just helping me but that they are doing their own work as we all work together toward a single goal."●
This article was published in our September 2023 issue.