Nearly a decade ago, Rose Wong became the face of the movement for transgender students at single-sex colleges after she was denied acceptance in 2013 to Smith College, an all-women's institution. By sharing her rejection letter with the media, Wong spearheaded a nationwide trend of historically women's colleges (HWCs) expanding their admissions to accept members of the transgender and gender nonconforming community. 
Now, many traditional single-sex schools openly admit these students, but few appear to offer unique programs or initiatives to recruit, retain, or support them.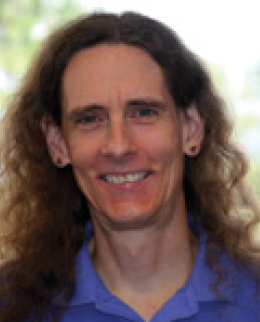 "Many historically women's colleges have become more trans-inclusive in their admissions policy without making other institutional changes to support trans students," says Genny Beemyn, PhD, director of the Stonewall Center at the University of Massachusetts, Amherst and coordinator of Campus Pride's Trans Policy Clearinghouse.
Beemyn, who uses the pronouns they and them, says HWCs can improve by offering more gender-inclusive restrooms and housing, providing spaces for transgender women to play sports, and educating faculty and staff about misgendering students with the she/her pronoun assumption. Beemyn says the struggle for schools to be more inclusive "reflects a legacy of cisnormativity and the failure of cis administrators to understand the needs of trans students" as well as a failure to include these students in the process of making these institutions more inclusive.
Some HWCs have recently taken unique steps to become more welcoming. At Barnard College, the Office of Diversity, Equity, and Inclusion launched a webpage in 2021 titled "Trans@Barnard" that provides resources such as housing accommodation requests and updated name forms. The college's Center for Engaged Pedagogy developed a guide and offers workshops for faculty on gender inclusion in the classroom. In response to feedback solicited from the campus community, Barnard also hired a LGBTQ+ Outreach Coordinator to support students, according to Jennifer Rosales, PhD, vice president for inclusion and engaged learning and chief diversity officer. 
"Student Experience and Engagement hosts monthly meetups for students of color; students who identify as lesbian, gay, bisexual, transgender, queer, intersex, and asexual (LGBTQIA); and students who identify as queer students of color," she wrote in an email to INSIGHT. "The meetups are a space to connect, build relationships, and share experiences and resources with others who share these identities."
Gender Nonconforming
and Nonbinary Students
Still Face Exclusion
Many single-sex schools adopted inclusive transgender admissions policies in the years following Wong's rejection from Smith College, including each of the prestigious Seven Sisters colleges. However, several of the written policies apply only to transgender women, excluding transgender men as well as nonbinary and gender-fluid applicants. 
Recently, nonbinary students at Hollins University, a HWC in Virginia, pushed for the school to openly admit gender nonconforming and questioning students.
A Hollins applicant "must affirmatively identify herself as a woman and her application materials must support this self-identification," according to the school's website. "If the applicant is concerned about discrepancies in her application materials, she can speak with an admission counselor or address any concerns in the essay or personal statement."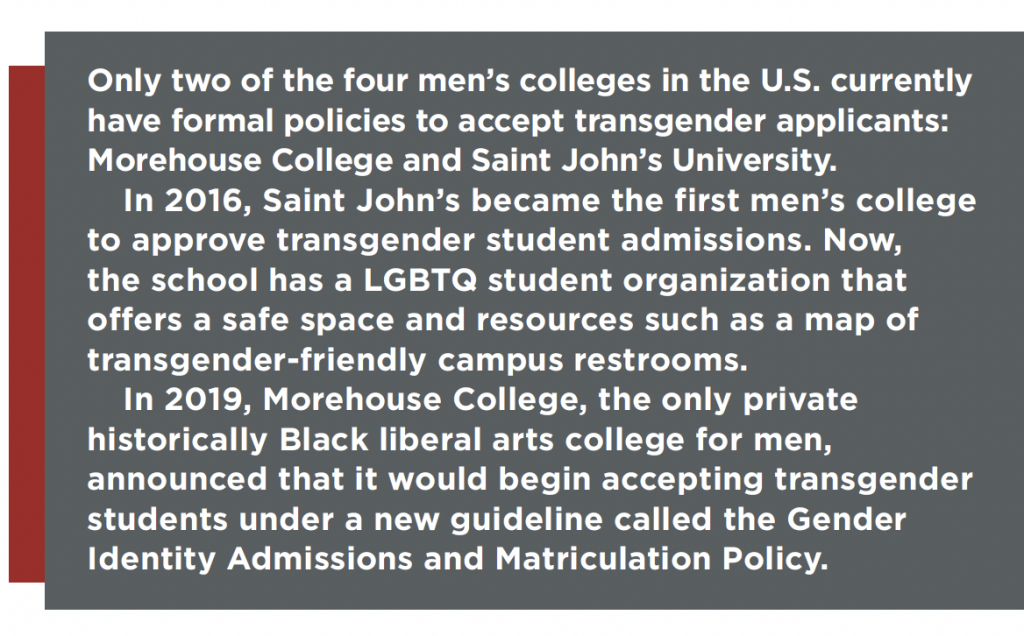 This type of policy — which is inclusive of transgender students but not those who do not conform to the gender binary — is typical of HWCs, Beemyn says.
"Most [HWCs] admit trans women, even if all of the student's documents do not have an 'F' on them [for female], but far fewer explicitly admit nonbinary students who were assigned female at birth, and only a few admit trans men," they explain.  
Beemyn commends Mount Holyoke College, a HWC in Massachusetts, as having a particularly inclusive admissions policy. It considers any applicant who is not a cisgender man.
"To me, [Mount Holyoke] best captures the mission of historically women's colleges as institutions that support individuals who are oppressed because of their gender," they say.
The first HWC to accept transgender women and nonbinary applicants was Mills College in Oakland, California, in 2014. The decision was the product of a cross-departmental committee of faculty, staff, and students that helped identify best practices for transgender and gender-fluid inclusion in college life, according to the school.
Beemyn says Mills is "definitely one of the best" when it comes to providing institutional support for LGBTQ students.
"More than most historically women's colleges, [Mills] has thought through what it means to be admitting trans women and nonbinary students who were assigned female at birth," they say.
To become more inclusive, HWCs need to clearly explain transgender, nonbinary, and gender nonconforming policies on their websites "so that students know what they can expect there and can compare institutions," Beemyn recommends. 
"We have the first generation of out trans students at many historically women's colleges," they add. "The colleges should listen to these students about what they need and what should be changed, as they are in the best position to know."●
Mariah Stewart is a senior staff writer for INSIGHT Into Diversity.
This article was published in our May 2022 issue.