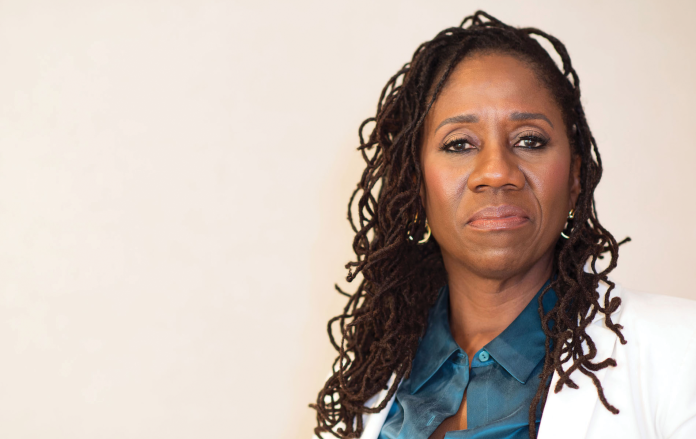 Sherrilyn Ifill, JD, civil rights lawyer and scholar, has been appointed the inaugural Vernon E. Jordan, Jr., Esq. Endowed Chair in Civil Rights at Howard Law School. As part of that role, Ifill will launch the school's 14th Amendment Center for Law & Democracy.
Ifill recently served as the seventh president and director-counsel of the NAACP Legal Defense & Educational Fund Inc. (LDF). During her nine years of leadership with the LDF, Ifill became a leading voice in race and civil rights discussions across the nation. 
The new Howard institute will be a multidisciplinary center focused on promoting the vision of equality espoused by the 14th Amendment of the U.S. Constitution as the central source of America's post-Civil War identity. It features a collaboration of institutions in law, business, and the arts, including the Charles Hamilton Houston Center at Harvard Law School and the Harvard Radcliffe Institute. 
"At this moment of democratic crisis in our country, we must return to the 14th amendment and its powerful and pragmatic conception of a post-Civil War America grounded in the values of equality, justice, and a reimagined vision of citizenship," Ifill says in a statement. "That vision includes a clear-eyed confrontation with the stubborn persistence of White supremacy and its ongoing threat to the promise of our new country."
Ifill served as professor at the University of Maryland School of Law for 20 years, where she taught civil procedure and constitutional law and created innovative clinical offerings. In 2021, she was appointed to President Biden's Commission on the Supreme Court. She is a recipient of the Radcliffe Medal, the Brandeis Medal, the Thurgood Marshall Award from the American Bar Association, and the Gold Medal from the New York State Bar Association.
Ifill's appointment honors the late Vernon Jordan Jr., Esq., a Howard University graduate who served as a business leader and civil rights activist. Jordan participated in many impactful Civil Rights Movement efforts, including serving on the legal team that successfully challenged segregation at the University of Georgia. Throughout his career, he worked with the NAACP, Southern Regional Council, Voter Education Project, LDF, United Negro College Fund, and the National Urban League.●
This article was published in our July/August 2023 issue.