Traditionally, the academic study of music has largely focused on Eurocentric, classical music, which perpetuates historical inequities. To ensure music students gain a more inclusive education, universities are beginning to expand their areas of study. 
Two prominent efforts to diversify music in academia are the new University of Arkansas' (UA) Arkansas Center for Black Music and the creation of the George Walker Center for Equity and Inclusion in Music at the University of Rochester's (UR) Eastman School of Music (Eastman).
Arkansas Center for Black Music
Founded earlier this year, the Arkansas Center for Black Music is a collaboration between the UA Department of Music and the African and African American Studies program. The focus is on eliminating systemic racism in music education by promoting research, development, and dissemination of Black music, including gospel, jazz, and hip-hop. Faculty and staff will help to advance such studies in the field by teaching scholars about the music's impact and significance. The center will also host events tied to Black music, such as the Black Music Symposium and the UARK Jazz Festival.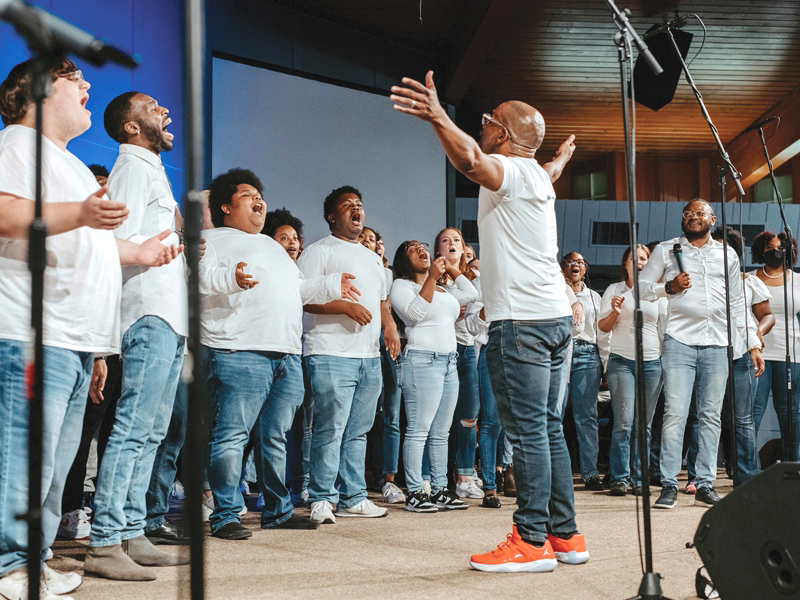 As part of its mission, the center will explore the history of Black and African diaspora music, particularly gospel, and its widespread influence on modern music genres. Despite this undeniable stature, most music originating from Black communities has been sidelined in the academic space, says Jeffrey Murdock, PhD, founding director of the Arkansas Center for Black Music and director of choral studies at UA.
"Black sacred music has influenced the lives of Black Arkansans for centuries," he says. "But historically, the performance of most music of African origin hasn't been deemed eligible for quality academic study."
In conjunction with the center's creation, UA also launched a three-year, summer-only master's degree in Black sacred music. Focusing primarily on gospel music, the program will prepare students and working professionals for numerous career paths in the music industry, such as music educators, film composers, and church worship directors. Both the center and master's degree program were funded by a $848,000 donation from the Alice L. Walton Foundation.
George Walker Center for
Equity and Inclusion in Music
The George Walker Center for Equity and Inclusion in Music at UR, launched in the spring of 2022, is a driving force behind efforts to make music more inclusive and diverse on campus and throughout the broader music education community. The center will primarily serve as a space for students to connect through affinity groups and discuss important issues regarding diversity, equity, and inclusion, says Crystal Sellers Battle, DMA, director of the center and the inaugural associate dean of equity and inclusion at Eastman. 
"There's a belief here that 'eat, sleep, music' is how you operate — and students tend to skip the sleep part," says Sellers Battle. "I have a rule [that] we're not going to practice in this space; we're going to use it to unwind and rejuvenate. It's also going to address the needs of affinity groups. There may be nights when we're really focused on LGBTQ+ energies, or when our Black Students' Union is reserving the space for an affinity moment. But I'm also trying to convey that the George Walker Center is a space for all. And in being a space for all, it's going to bring some people together who wouldn't necessarily have been together otherwise."
As it continues to grow, the center will also host events focused on equity in music education, such as the upcoming Context Conference: Contextualizing Equity and Inclusion in November, which will feature conversations on classroom innovation, curriculum shifts, community engagement, and recruitment and retention.
The center supports UR's goals to expand musical offerings, facilitate conversations regarding diversity, and support equitable change through the Inclusion at Eastman Committee. These efforts will help dispel the notion that only one form of music is considered "correct" to study within academia, says Sellers Battle.
"What is really challenging in the very nature of the study of music and a higher education process is that it was built on the idea that one form of music, and one which makes up a very small portion of the world's music, is superior to any other," she says.●
This article was published in our June 2023 issue.