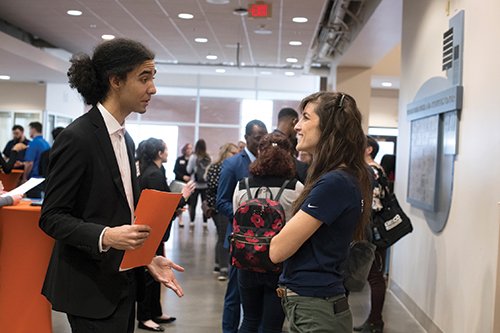 In February, the Rochester Institute of Technology (RIT) hosted its biannual Affinity Reception, providing dozens of corporate recruiters a unique opportunity to network with underrepresented students.
The reception, described by the university as a "reverse career" event, effectively switches the roles of employers and prospective graduates. Students from affinity groups and other diverse campus organizations set up tables and booths where potential employers can come speak with them about "their talents and career aspirations," states a university press release.
It also gives students the opportunity to interact with recruiters in a more informal setting than traditional career fairs.
[Above: Mychael Hunt, a fourth-year game design and development major, speaks with Diana Solt, a recruiter from L3Harris Technologies, at the RIT Affinity Reception. Photo credit: A. Sue Weisler/RIT.]
The campus organizations Women in Computing, the Society of Hispanic Professional Engineers, the ALANA (African, Latin, Asian, and Native American) Collegiate Association, and others participated.
"Many companies come to RIT looking for not just engineers or not just a specific type of engineer; they are looking for diversity for their workforce. So this event allows them to look beyond ethnicity, but also in gender and diversity," the press release states.
Geico talent manager Frank Caruana said that the unique event helps his company meet the demand for diverse, highly skilled workers, adding that six RIT alumni are already participating in the company's emerging leadership program, according to the release.