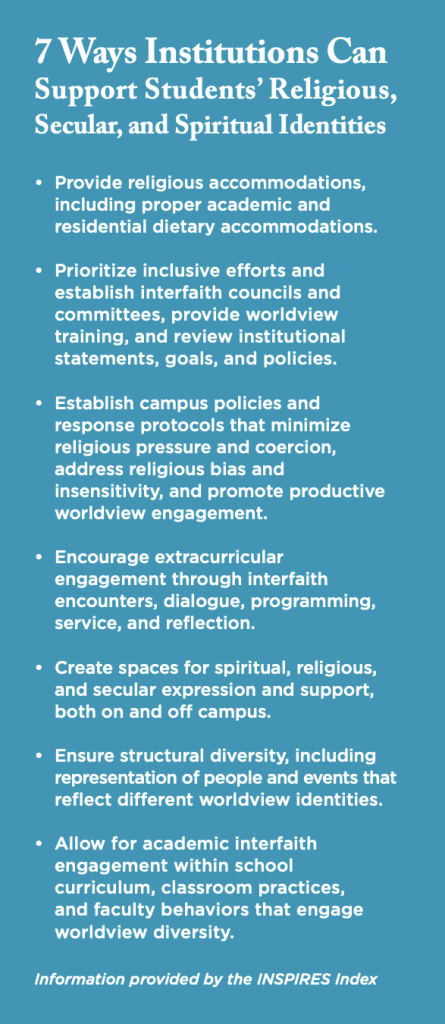 While conversations that touch on worldview identities — including secular, spiritual, and religious beliefs — are prickly subjects on college campuses, discussion of these topics is essential to promote religious diversity and affirm student self-identity.
Higher education institutions can assess how well they support students with varying worldview identities using the newly created Interfaith, Spiritual, Religious, and Secular Campus Climate Index (INSPIRES Index).
The index questions are based on students' input about what makes a university supportive and welcoming. The survey measures seven categories — religious accommodations, institutional behavior, efforts to reduce negative engagement, extracurricular engagement, space for support and expression, structural diversity, and academic engagement. Campuses are then given a one- to five-star rating.
Matthew Mayhew, PhD, co-principal investigator at INSPIRES and the William Ray and Marie Adamson Flesher Professor of Educational Administration at The Ohio State University (OSU), launched the program in collaboration with North Carolina State University. The project is funded by the Arthur Vining Davis Foundations, which support organizations and projects with religious purposes, among others.
The inaugural cohort of 185 colleges and universities completed the survey during the 2021-2022 academic year. Just over 60 additional institutions have been recruited for 2022-2023. In the first year, 92 percent of institutions received a three-star rating or lower, and 8 percent received four stars. No university has received five stars.
A variety of factors contribute to a reluctance to discuss religious topics on campus, Mayhew says, including the ingrained concept of separation between church and state as well as the current political climate. For example, as critical race theory continues to be demonized, faculty are increasingly hesitant to introduce ways of thinking about religion as it interfaces with race. 
In addition, instructors may be afraid that bringing religion into the classroom will lead to reprimands from their institutions, he says. Recently, an adjunct instructor filed a lawsuit against her former employer, Hamline University, after she was fired for showing classical work depicting Muhammad in her art history class. 
Musbah Shaheen, a fourth-year PhD student, graduate research associate at OSU, and INSPIRES Index researcher, says that along with the undercurrent of tension between religion and politics, he attributes avoidance of religious dialogue to the notion that beliefs can be construed as subjective and not academic. 
"We don't like to talk about it," Shaheen says. "It's kind of taboo. I call it the 'collective cringe' when you ask people to talk about religion."
Mayhew says these conversations are critical, however, so that students feel supported in finding and practicing a worldview identity, which gives them a sense of purpose and can provide meaning and guidance in one's career pursuits.
"Oftentimes, students turn to their religious, spiritual, and secular identities to make meaning of not only what's going on in the classroom and beyond the classroom, but to help support them through their college journeys," Mayhew says.
That holds true for Shaheen, whose dissertation focuses on individuals who identify as Muslim and queer and on the intersection of these identities, which he himself shares. 
When Shaheen first entered college, he saw himself as an ex-Muslim. As he started going to meetings led by the university's Interfaith Council, he reclaimed his identity through open conversation and exploration and became a leader in the interfaith space.
Like those included in his research, Shaheen has faced many challenges with his identity, including receiving unwanted and unsolicited opinions from others about his beliefs as well as fear of rejection in the Muslim community.
However, Shaheen says, at college he no longer feels the need to pretend to be someone he's not, and if he hadn't gone to school, he doesn't know if he would have discovered his identity.
To create a more inclusive environment, INSPIRES Index researchers recommend that universities provide adequate religious accommodations for students, including time off for religious holidays and taking fasting cycles into account when assigning coursework and scheduling exams.
Also, faculty are encouraged to be transparent with students on the first day of class if they lack expertise when it comes to providing religious accommodations. Although it still puts the onus on a student to tell their instructor what they need, supportive actions such as these can have an impact, Mayhew says.
Beyond the classroom, schools can bolster student support by providing training on spiritual, secular, and religious identities to academic advisers, health center staff, career counselors, residence life staff, mental health and wellness counselors, and other student services staff.
INSPIRES researchers recommend universities establish a bias response team. They can also create a process for students to report incidents, notify students as soon as they occur, and track incidents by location.
Institutions can also positively encourage interfaith engagement in extracurricular activities, provide spaces for multifaith purposes, and foster active interfaith student organizations.
Incorporating religious studies and theology in coursework as well as offering majors in religious, interfaith, and theology studies are also proactive measures.
To learn more about the INSPIRES Index and for additional recommendations on how campuses can support religious, spiritual, and secular diversity, visit inspiresindex.org.●
This article was published in our March 2023 issue.