Diversity Champions exemplify an unyielding commitment to diversity and inclusion throughout their campus communities, across academic programs, and at the highest administrative levels. INSIGHT Into Diversity selected institutions that rank in the

 

top tier of Higher Education Excellence in Diversity (HEED) Award recipients.

In 2013, the field of veterinary medicine gained national attention for being ranked as the least diverse profession based on federal demographic data. 
Nearly a decade later, the discipline no longer holds that distinction, but it remains almost 90 percent White. 
Increasing the representation of people from different backgrounds has been a guiding principle for Willie M. Reed, DVM, PhD, dean of the Purdue University College of Veterinary Medicine (PVM). Since taking the helm in 2007, Reed has led the college in creating a diversity, equity, and inclusion (DEI) strategic plan, a diversity action committee, the Office of DEI, and more.
In that timeframe, enrollment of underrepresented students has risen from six percent to more than 20 percent due to a host of recruitment, retention, and support efforts. PVM has also introduced outreach programs and other DEI endeavors that serve communities and veterinary schools nationwide. 
"Everybody at [PVM] has agreed that this is something we need to do because it is good for the profession and good for society in general," Reed explains. "We have had a lot of people work on this and pull together to make sure that diversity is front and center." 
Latonia Craig, EdD, assistant dean for inclusive excellence at PVM, agrees that the college's success in becoming the forerunner of DEI in veterinary medicine is thanks to the united efforts of the campus community. The students, faculty, and staff at PVM know that improving DEI in the field ultimately results in improved animal and human health overall, she explains.
"It's not just the [DEI] office, but truly the folks in our college are always trying to do better, and they're constantly trying to figure out how to do DEI right," Craig says. "It is a part of who we are. DEI is in the very fabric of the college because of this teamwork and because of Dean Reed's leadership." 
DEI Training and Education
As part of its mission to support DEI across the entire PVM community, the college offers a multitude of opportunities for students, faculty, and staff to learn about these principles. Educational opportunities range from brief online discussions to in-depth trainings and certification. 
Some of the more recent offerings developed by the Office of DEI include the Virtual Learning Cafés. These hour-long sessions launched in fall 2020 following the May 2020 murder of George Floyd. 
"My office received an overwhelming request for a space to engage in critical dialogue," Craig explains. She surveyed the PVM community on what topics they most wanted to address and developed the cafés as monthly online meetings during Purdue's common lunch hour so that everyone who wanted could attend. Initial sessions focused on cultural competency, implicit bias, engaging in difficult dialogue, and more. The events were so popular that the Office of DEI was inspired to make them a regular addition to their educational options.
No café has had fewer than 60 participants, and some have swelled to more than 130, according to Craig. This enthusiasm represents the passion and dedication of the PVM community when it comes to supporting DEI, she says.
PVM also offers the Certificate for Diversity and Inclusion in Veterinary Medicine program. Developed by PVM, the American Veterinary Medical Association, and the Association of American Veterinary Medical Colleges, the program allows individuals from veterinary institutions across the U.S. to learn about their role in supporting DEI in veterinary medicine. Five separate trainings are tailored for the following:
Faculty and faculty administrators at veterinary colleges

Interns, residents, and non-faculty educators at veterinary colleges
Staff members of veterinary colleges and practices
Pre-veterinary and current DVM students
Practicing veterinarians and veterinary technicians
Earning certification requires a series of online modules on topics such as microaggressions, generational diversity, and the history of diversity in veterinary medicine. Participants must also complete community service hours, participate in DEI-related experiences, and submit a capstone paper upon finishing the modules. 
Since PVM first introduced the program in 2012, more than 3,000 people have enrolled in the training, which continues to grow in popularity every year, Craig says. 
PVM's decision to help create and operate this virtual program for people both on their campus and across the country is just another example of how the school has assumed responsibility for ushering in DEI values to the veterinary profession, according to Craig. 
"We want to ensure that when individuals go in to see a veterinarian, regardless of whether or not they share the same physical makeup or background, they receive the best level of care," she explains. "When you go to see a veterinarian and you feel like there is not a sense of belonging or a community of care, that can really affect whether you continue seeing that vet, and the one who ends up suffering in that scenario is the animal. We want to be able to challenge this [issue] and provide individuals with tools to address it." 
VetaHumanz
One of the most innovative and expansive outreach efforts at PVM is the League of VetaHumanz, a 2021 recipient of the INSIGHT Into Diversity Inspiring Programs in STEM Award. This program empowers diverse veterinary professionals and students across the U.S. to serve as role models who educate underserved youth about veterinary medicine and the connections between animal and human health.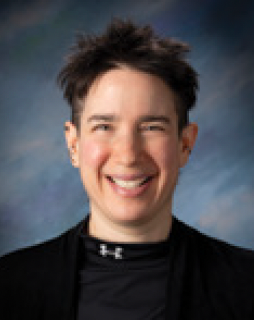 The program was founded by Sandra San Miguel, DVM, PhD, the associate dean for engagement and a professor at PVM. While the college has offered educational outreach programs for years, the league officially launched on January 1, 2020, as a result of more than a decade of support from the Science Education Partnership Award program of the National Institute of General Medical Sciences, a part of the National Institutes of Health.
The league consists of teams of role models — many of whom adopt a superhero name and don capes — that travel to K-12 schools and community centers to deliver educational programming developed by PVM. They include veterinarians, related professionals, and students from DVM programs across the country as well as industry and nonprofit partners.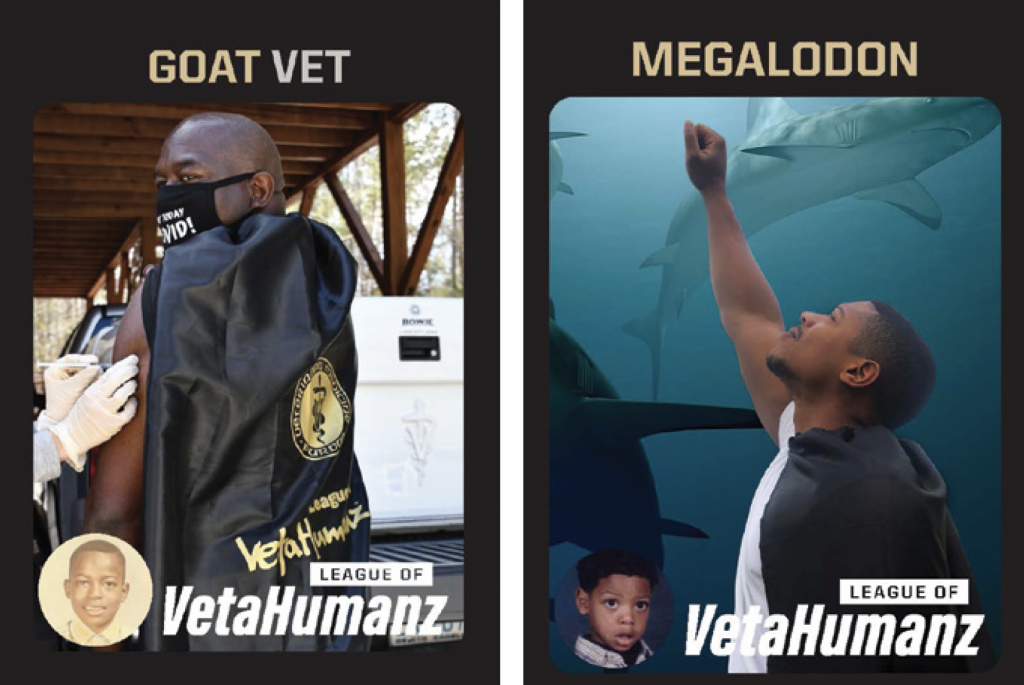 The college provides all training and materials, including curriculum and resources developed by PVM scholars and content experts. San Miguel explains that the program was inspired in part by an experience she had working with elementary students, during which a young boy of color lamented that he could not become a veterinarian because none of the children's books about the profession showed people who looked like him. 
"That moment changed my life and my career," San Miguel says. "We started making books and games and resources where every kid could find a role model they could relate to, and we started engaging our students and veterinary professionals to get out there." 
Rather than serving as one-time educational sessions, VetaHumanz programs consist of multiple visits to classrooms, after-school programs, and more so that the team members develop relationships with the children they are instructing. The sessions provide a myriad of benefits for young people by engaging them in STEM, teaching them about healthy choices, and boosting self-confidence and self-efficacy. 
Team members experience their fair share of benefits, too. 
"We designed this program to benefit children, but we found that it had a tremendous impact on our role models and veterinary students," explains San Miguel. PVM is currently conducting research on these effects, such as becoming more comfortable communicating with people from different backgrounds and age groups. "[Students] have improved their cultural competencies, and they are reporting improved well-being. Veterinary college is quite stressful, and they say going out in the community reminds them why they want to be a veterinarian." 
The growing program has also expanded to offer SuperPower Packs for young people unable to participate in VetaHumanz's in-person programs. These free kits provide books and other resources featuring diverse veterinary superheroes and are focused on special themes, such as vaccines or emergency medicine, that affect human and animal health. 
"These kids are seeing educational pathways, and they're also learning about healthy choices for themselves and their animals," says San Miguel. "Hopefully, we get them interested in STEM and science, and if they want to be veterinarians, that's fantastic, but we also just hope we can reduce health disparities." 
Vet Up!
In 2018, PVM received a $3.18 million grant from the Health Resources and Services Administration of the U.S. Department of Health and Human Services to launch Vet Up! The National Health Careers Opportunity Program Academy for Veterinary Medicine. The three-part program is also a 2021 recipient of INSIGHT's Inspiring Programs in STEM Award. It offers extensive outreach, recruitment, and support for prospective and current veterinary students who are underrepresented in the profession. 
Vet Up! is designed to provide "opportunities and support for equity-minded individuals from disadvantaged backgrounds to enter the veterinary profession and serve society by advancing public health, ensuring food safety, or serving rural areas," according to the PVM website. 
The program's first section, Vet Up! Champions, focuses on high school juniors and seniors, first- and second-year college students, and adult or nontraditional learners. An annual cohort of 26 members completes a 12-month curriculum that includes regular online interactions with PVM faculty and practicing veterinarians, lessons on a wide variety of topics affecting the field, and a two-day stay on campus that includes hands-on experiences with animals. 
This section provides crucial exposure to veterinary careers for people who may otherwise not have access to or knowledge of the field's many opportunities, says Craig, who serves as the Vet Up! program director and project investigator. The college has found that it is important to start engaging with students as early as possible so they can begin planning their path to veterinary education, she adds. Thus, Vet Up! Champions teaches participants about setting goals early in their educational pursuits, overcoming obstacles, preparing a competitive veterinary school application, and more. 
The second component of the program, Vet Up! College, launched in 2019 and provides a six-week summer residential experience at PVM for 26 undergraduates from disadvantaged backgrounds. Students have come from across the U.S., including Hawaii and Puerto Rico, to participate in this exceptional opportunity.
"They come to campus and live the life of a DVM student for six weeks," Craig explains. "They take courses, we equip them with study strategies, and they get hands-on clinical experiences with animals."
Being able to work directly with PVM faculty and animals has a tremendous influence on Vet Up! participants, she says. Applicants to veterinary school often need to have firsthand experience with animals in order to be considered competitive, but many from disadvantaged backgrounds have not had this exposure, she explains. 
PVM keeps in touch with each Vet Up! College member via an outreach coordinator who tracks where each student is in the veterinary pipeline. More than 60 percent of Vet Up! College participants have been accepted into DVM programs across the U.S., according to Craig. Even those who choose to pursue other avenues continue to receive support from the college, whether it be assistance with applying to other postgraduate degrees or career guidance. 
"Our commitment to them is that we will work with them until they get their degrees, and that is a promise," Craig says. "While we want [participants] to come to Purdue, we are also interested in diversifying the profession, so we want them to be positioned for success regardless of where they choose to go."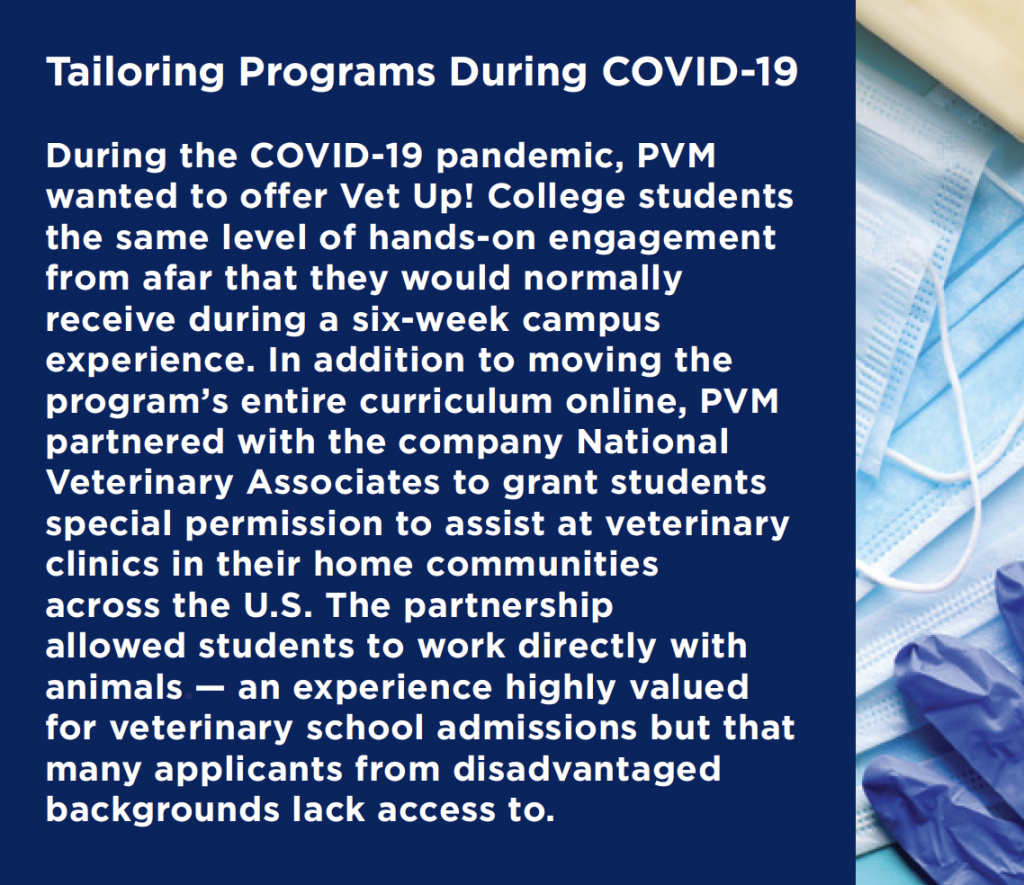 In the third section of the program, Vet Up! DVM Scholars, nine students from disadvantaged backgrounds receive intensive academic, social, and financial support after matriculating at PVM. The extensive services provided include daily group study sessions, regular meetings with mentors and faculty, the development of personal wellness plans, and more. Financial support includes scholarships in the first and fourth year of the DVM program and stipends to offset the cost of field experiences. The program is funded in part by the company National Veterinary Associates. 
The scholars are required to participate in multiple leadership and DEI-related experiences. These involve monthly activities with student organizations, study abroad and other multicultural opportunities, completion of the Student Certificate for Diversity and Inclusion in Veterinary Medicine, and more. 
Floyd Williams Jr., a fourth-year DVM student and Vet Up! College residential counselor, says the outreach and support efforts of Vet Up! were invaluable to him as an undergraduate. While attending the historically Black Prairie A&M University, Williams participated in PVM's two-week Access to Animal-Related Careers program, which would later become part of Vet Up! In a class on equine surgery, he got to meet with a veterinarian mentor and, he says, "be treated for the first time like a clinician."
"That course alone really made me fall in love with Purdue and how they teach here," Williams explains. "I don't even see myself working with horses, but that day I felt like an equine surgeon. It really just highlighted why I wanted to go into medicine and gave me the feel of what I wanted to do."
The program also inspired him to want to be a mentor to others, which is why he later joined the Vet Up! College program as a residential counselor. The experience taught him leadership, teambuilding, and a variety of other skills that have been invaluable in clinical rotations as he learns how to work with clients and other veterinary professionals from various backgrounds, Williams says. 
Developing the extensive opportunities available through the Vet Up! program is "one of the best things [PVM] could possibly have done," he adds, because it raises awareness of veterinary medicine for students of color who may otherwise never see themselves represented in this field. "This is already a very hard profession, and knowing that you're potentially going to be the only person who looks like you do can be intimidating," explains Williams. "Representation is a good part of these programs because it really shows students that this is an option because someone who looks like them was able to succeed in this environment."●
Mariah Bohanon is the senior editor of INSIGHT Into Diversity.
Purdue University College of Veterinary Medicine is a 2021 INSIGHT Into Diversity Diversity Champion and a 2017, 2020, and 2021 recipient of the INSIGHT Into Diversity Health Professions Higher Education Excellence in Diversity (HEED) Award.
This article was published in our May 2022 issue.