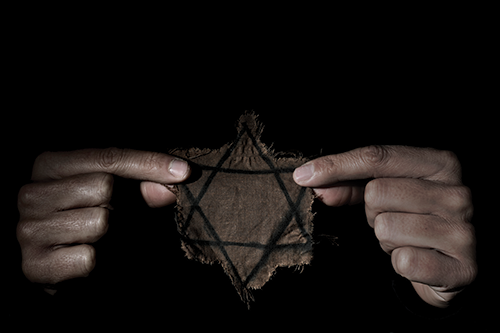 On January 19, 2020, 380 University of Montana faculty and staff received an email containing anti-Semitic propaganda. Two days later, the Syracuse University Department of Public Safety received reports of a swastika in a campus library. On January 22 in Boston, a student found a cluster of swastikas adorning the walls of a stairwell in a residence hall at Emerson College. The very next day, an unknown person graffitied a bathroom at Marshall University in West Virginia with a violent message against Jewish people.
These instances represent a small sample of the nationwide increase in anti-Semitic events. The most recent audit by ADL, formerly known as the Anti-Defamation League, lists 1,879 such incidents in 2018, the third-highest year on record since it began tracking anti-Jewish hate crimes in the 1970s.
Even with these increasing numbers, "curricula at most policy schools rarely address contemporary anti-Semitism," says Jodi Benenson, PhD, an assistant professor at the University of Nebraska Omaha School of Public Administration.
Benenson and two of her public affairs colleagues wrote about this curricular gap in the August 2019 issue of the Journal of Public Affairs Education (JPAE). Her co-authors are Jamie Levine Daniel, PhD, an assistant professor in the Paul H. O'Neill School of Public and Environmental Affairs at Indiana University-Purdue University Indianapolis, and Rachel Fyall, PhD, assistant professor at University of Washington School of Public Policy and Governance.
All three professors are Jewish and were inspired by their own struggles to broach the subject of anti-Semitism with students. When Fyall contacted Levine Daniel to discuss possible classroom approaches for talking about the 2018 Tree of Life Synagogue mass shooting in Pittsburgh that left 11 people dead and two injured, Levine Daniel says she told Fyall, "I have no idea, and if I don't know how to talk about it, how could I expect anyone else to?"
All three went looking for resources on this topic and discovered that virtually none existed. They found only one mention of anti-Semitism in the JPAE archives; in a survey of three other popular journals related to public administration and nonprofit management, the term appeared only 10 times.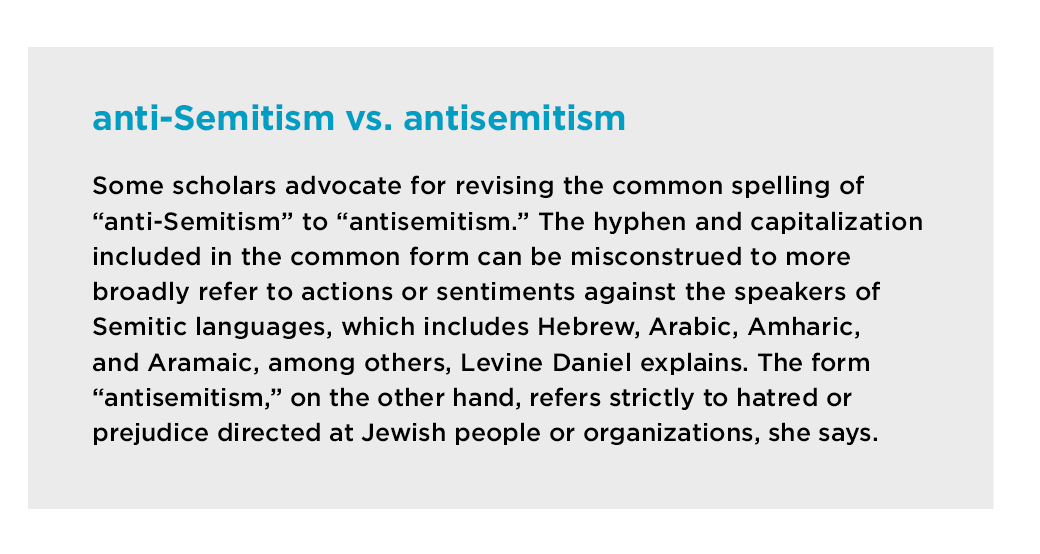 Furthermore, when anti-Semitism was discussed in these journals, it was almost exclusively in connection with the Holocaust, Levine Daniel says. Discussing this form of prejudice only in relation to a historical tragedy helps sustain the misconception of a post-anti-Semitic, post-racial society when in reality, anti-Jewish attitudes and hate-based incidents have been occurring at unprecedented rates, she says.
According to a 2016 ADL survey of more than 1,500 adults to measure anti-Semitic beliefs, 14 percent were categorized as having extreme prejudice, meaning that they agreed with over half of the anti-Semitic index statements used in the survey.
To emphasize how significant these numbers are, Levine Daniel points out that Jewish people in the United States make up about two percent of the population. Based on the ADL survey, these numbers mean that though "you may have people who are Jewish in your class, you're actually more likely to have someone who is anti-Semitic and/or harbors other [prejudices] toward other groups of people," she says.
Benenson says that while she believes students are becoming increasingly aware of how anti-Semitism "manifests today," this does not mean they "are always clear on its definition and its connection to their personal and professional lives."
After the Tree of Life Synagogue shooting, Benenson, Fyall, and Levine Daniel decided to provide their classes with optional online reading materials explaining historic and contemporary anti-Semitism, followed by a mini-lecture and classroom discussion. Non-Jewish students reported that they had had few previous opportunities to learn about this topic, and Jewish students said they appreciated the chance to have frank discussions with peers.
A single classroom conversation, however, is not enough to help students draw parallels between this subject and their future careers. In their August 2019 article "Talking about antisemitism in MPA classrooms and beyond," Benenson, Fyall, and Levine Daniel provide course-specific suggestions for incorporating this topic in multiple lesson areas for students pursuing a master's of public affairs (MPA) or related degrees.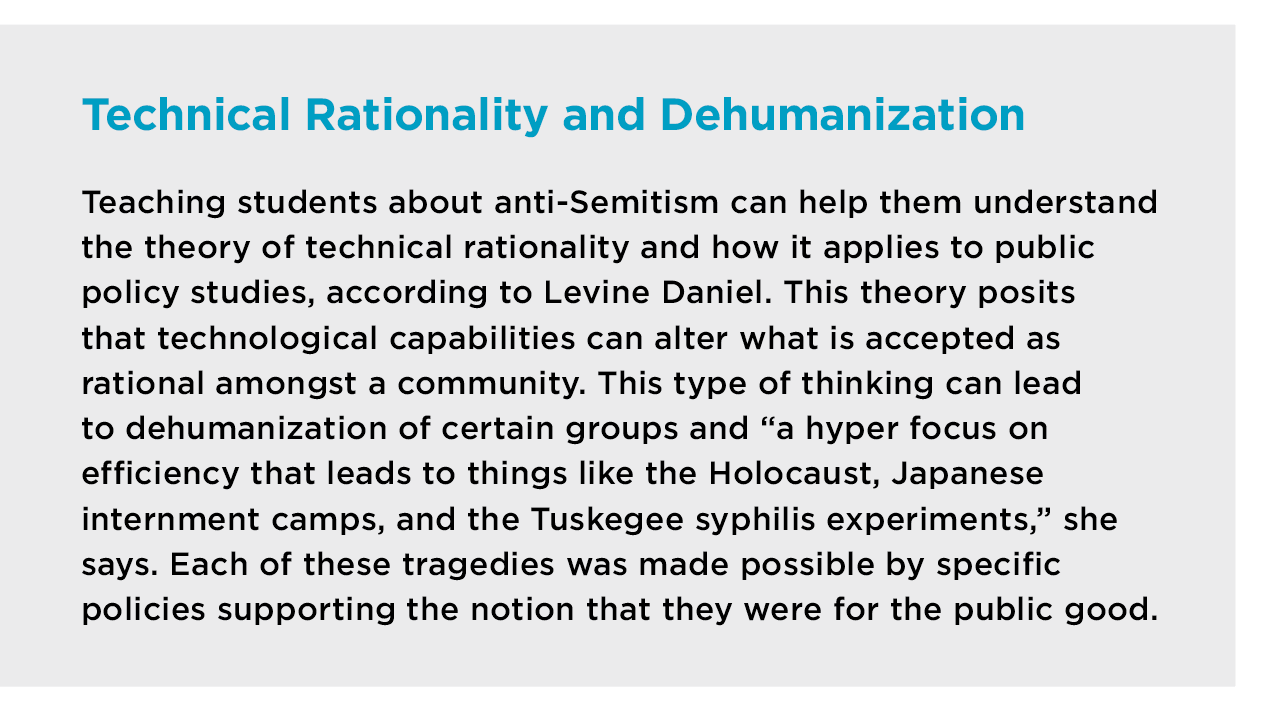 When teaching nonprofit management, for example, instructors can touch on community mobilization in response to anti-Semitism, the article suggests. In human management classes, they can incorporate lessons on recognizing anti-Semitism in the workplace and the importance of inclusive policies that allow employees of all faiths to take time off for religious holidays. Lessons on research methods can include discussions on data collection and tracking of anti-Jewish attitudes and hate crimes.
When it comes to teaching public policy, professors can have their classes explore how lawmakers attempt to intervene in social hatred and prejudice. The authors give the 2017 House Judiciary Committee hearing on anti-Semitism on college campuses as an example extremely relevant to students. The committee recommended that the U.S. Department of Education adopt "a clearer definition of what constitutes harassment toward Jewish students to ensure that future investigations into anti-Semitic acts are clearer to conduct."
The article also provides specific readings for helping those in public management courses "uncover the stereotypes, prejudices, and policy design targeting Jewish people and People of Color, highlighting the important role social constructions play in influencing the policy agenda, the selection of policy tools, and the legitimization of policy choices."
Levine Daniel stresses that informing students about "anti-Semitism is important on its own," but that it is also "part of a wider picture of institutionalized, structured racism and othering."  Teaching people to understand anti-Semitism within this broader context can help create ethical and culturally competent public policy leaders who are prepared to navigate difficult conversations, she says.
"Our students are guiding organizations, serving as leaders, delivering programs and services to increasingly diverse communities, and they're working with increasingly diverse staff to do it," says Levine Daniel. Public affairs, administration, and policy students must therefore be able to critically analyze "any sort of mechanism that gets to decide who is a worthy citizen and who is not."
Benenson agrees that omitting anti-Semitism from discussions of diversity and equity is especially harmful when it comes to public affairs and policy classrooms. Those majoring in this discipline are the "next generation of leaders in the nonprofit and public sectors," she says, and thus will be uniquely positioned to develop policies that can help protect targeted populations and eliminate hate.
Natalie Monzyk is a contributing writer for INSIGHT Into Diversity. This article ran in the March 2020 issue.