"Why not choose a career that is more recognizable and pays really well?" is a question Richard Barke, director of undergraduate studies at Georgia Tech's School of Public Policy, says his students often hear from family and friends.
[Above: Georgia State University public policy students talk to one another between classes. (Photo courtesy Georgia State University)]
It's a false perception "that public policy bachelor's degrees don't lead to desirable, well-paying careers," Barke says. Approximately 30 percent of graduates from his program go on to law school, and for those who don't, the largest employment opportunities are in management consulting. A recent article by Gregory Lewis, PhD, in the Journal of Public Affairs Education concludes that graduates who hold a bachelor's degree in public administration earn more on average than graduates with competing degrees, such as those in communications, psychology, criminal justice, and education.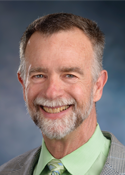 Public administration majors are also "strikingly diverse," according to the article by Lewis, who is chair of the public management and policy program at Georgia State University's Andrew Young School of Policy Studies. He analyzed data from the United States Census Bureau's American Community Surveys (ACS) for 2009-2014 and concluded that, when compared with other degrees — including business, economics, sociology, and criminal justice — public administration programs have some of the highest percentages of black and Latinx graduates.
The versatility of public policy degrees draws diverse students, says Sandra Rothenberg, PhD, chair of Public Policy in the College of Liberal Arts at the Rochester Institute for Technology. "A bachelor's of science degree allows students to develop skills in policy analysis, communication, and advocacy that can be applied to the student's own area of interest," Rothenberg says. "We have had students concentrate in a range of topics, including public management, economics, health policy, energy and environmental policy, cybersecurity, criminal justice, and law."
Despite these positive aspects, enrollment in undergraduate public administration programs has until recently remained "low, but stable" at about 0.2 percent of college students born after 1945, according to Lewis. He writes that the data doesn't point to a "surge in demand," but does make a case for encouraging undergraduate programs, arguing "the evidence suggests that the [undergraduate] program helps develop a more diverse public service and if earnings are a reasonable proxy for quality, a more effective one."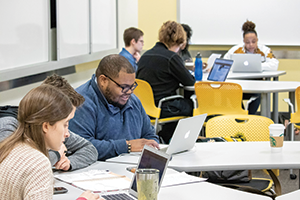 A Network of Schools of Public Policy, Affairs, and Administration (NASPAA) undergraduate survey found increasing interest in bachelor's degree programs. Of member schools who responded to the survey, 23 percent were considering creating an undergraduate program, and 64 percent already offered an undergraduate major in public administration, policy, or affairs. NASPAA is a membership organization of graduate education programs in public policy, public administration, and public and nonprofit management.
Barke has seen growing interest in the public policy undergraduate degree at Georgia Tech, as well. His bachelor of science program has doubled in size over the past four years, surpassing the master's program. He also says there are distinct differences between the career paths of undergraduate and graduate students.
Graduate students, Barke says, are more likely to already have a career in mind, whereas undergraduates are still figuring out their path. "Some want to be policy analysts," he says. "Some want to work in the NGO (non-governmental organization) sector. Many are keeping law or MBA school as an option, and too few, we think, plan to work in government."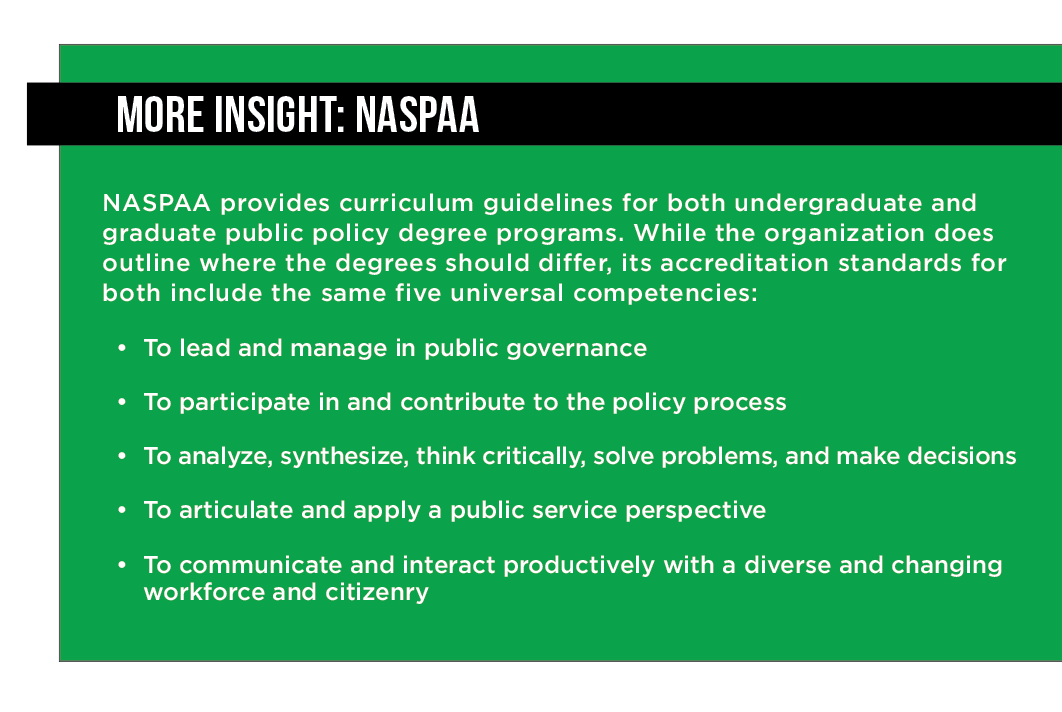 In his analysis, Lewis found that the top occupations for public policy or administration graduates who stopped at the bachelor's degree level went into management or administration or became police officers, detectives, or private investigators. Others went on to complete professional or doctoral degrees to become lawyers or physicians. 
Regardless of what the most common career goals are, NASPAA recommends that undergraduate programs provide "the flexibility to meet both the needs of students without fixed career objectives and the needs of the person already in the public service who wish to enhance their skills or prepare for different roles" as well as "adequate preparation for entry into graduate study in related fields."
Georgia Tech prepares its undergraduates by requiring at least one internship for academic credit. Barke says many students complete second or third internships, a degree component that gives them "wide experience and perspectives on careers." Students are also required to complete a capstone project solving problems provided by businesses, government organizations, and NGOs.
The word is getting out about the value of their undergraduate program, Barke says. In the past five years, some of the top management consulting firms in the U.S. have begun recruiting Georgia Tech public policy bachelor's degree graduates.
The students Barke sees coming into the undergraduate program are looking for a path that allows them to couple their analytical skills with human-oriented work. "They say they want to make contributions to society," he says, "but by being evidence-based analysts that can look at problems from a variety of perspectives." For these students, Barke believes, an undergraduate degree in public policy is an excellent choice.
Alice Pettway is a contributing writer for INSIGHT Into Diversity. This article ran in our March 2019 issue.