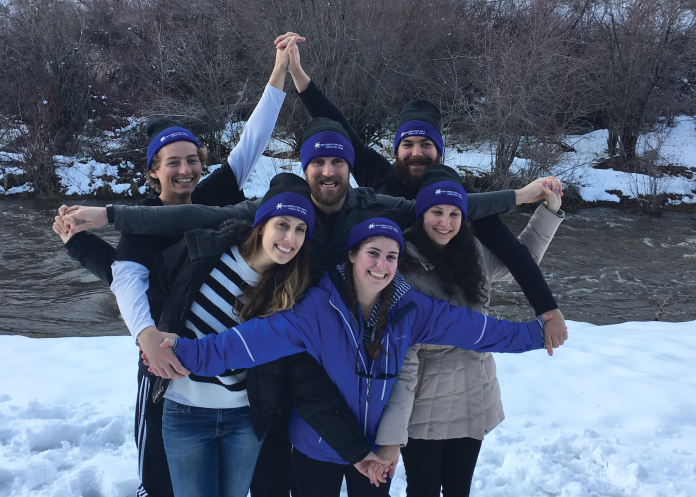 An increase in antisemitism has university administrators ramping up their efforts to safeguard Jewish students. 
During the 2020-2021 school year, the ADL (formerly the Anti-Defamation League) and Jewish campus organization Hillel International documented 244 antisemitic incidents — a nearly 35 percent increase from the year before and a staggering 804 percent rise from seven years ago.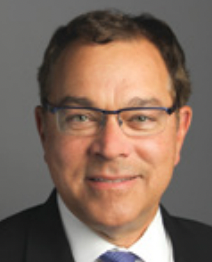 "The situation is not good, and it's getting worse, fast," says Mark Rotenberg, Hillel's vice president of university initiatives. 
Antisemitism Takes Many Forms
Name-calling (in person and online), vandalism, and, less frequently, physical assaults, are all examples of antisemitism, says Rotenberg. One reason for the increase in incidents is a national culture of growing hostility toward all marginalized populations, and another is the social isolation created by COVID-19, he says. The pandemic left students with fewer opportunities to interact face to face with people who are different from themselves. Over social media, students are less likely to engage in discussion and more likely to attack one another, he says.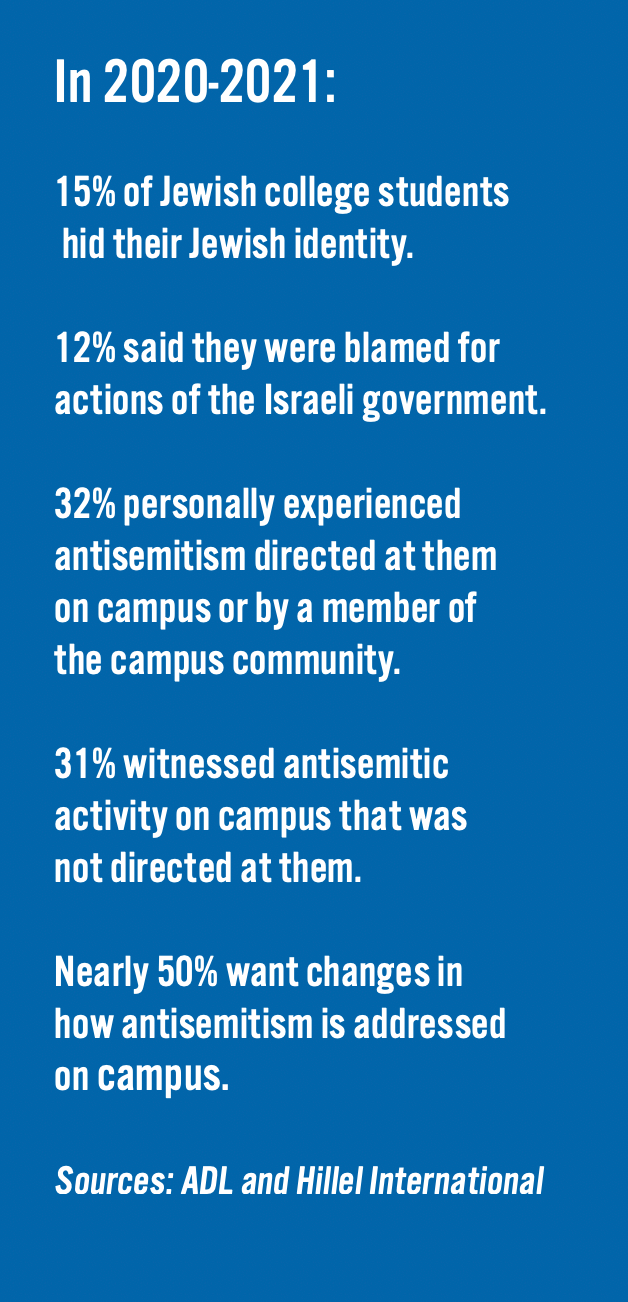 The current political environment, along with the rise of right-wing extremist groups, has also led to the increase in hostility. Other factors include mounting anti-Israeli sentiment and anti-Zionism, defined by the ADL as opposing the right of Jewish people to an Israeli homeland. According to the ADL, criticism of Israel crosses over into antisemitism when all Jewish people are held accountable for the actions of the state.    
Ian Katsnelson, a 2022 graduate of the University of Illinois Urbana-Champaign (UIUC), finds this type of antisemitism especially disturbing. During his time at UIUC, he endured numerous slurs and saw more than one swastika defacing campus buildings, Katsnelson says.
But he was even more troubled by what he calls "modern antisemitism." Katsnelson recalls a proposed UIUC student government resolution supporting Black Lives Matter, which included urging the university to divest from companies that do business with the Israeli government. Even though Katsnelson wanted to stand behind the Black Lives Matter proposal, the language around Israel led him to reject the resolution. 
"When Jewish students across the country have to decide between our identity and our desire to support domestic civil rights and progressive ideals, we're put into a 'Sophie's Choice' situation," Katsnelson says. 
For Jewish students to feel a sense of belonging on campus, Katsnelson believes administrators must fully embrace their right to feel safe from all forms of antisemitism. 
'Opportunities for Learning'
Helping universities meet this benchmark is a goal of Hillel's Campus Climate Initiative. The program provides data-mining tools to determine the scope of the problem, training opportunities, and action planning, such as an annual meeting at which university administrators can learn from one another.
Applications for universities to enroll in the next cohort open in March and run through May. The basic program is free for participants. 
"We need to enlist the help of higher ed administration," Rotenberg says. "This cannot be a situation where Jewish students are on their own having to solve these problems."
UIUC is one of 40 institutions participating in the Hillel initiative. Like many others, UIUC sees combating antisemitism as part of its overall mission to provide an inclusive experience for all marginalized students. 
One strategy is to streamline the process of reporting antisemitic incidents. Through a new office called Campus Belonging, and in cooperation with the campus Hillel office and other local Jewish organizations and institutions, UIUC encourages students to report them using an online system. The goal is for students to receive a response within 72 hours, says Sean Garrick, vice chancellor for diversity, equity, and inclusion (DEI). 
"We don't hold it up to a yardstick to prove if there is bias," Garrick says. "We take the report as it's given." 
The DEI office refers incidents such as assault or vandalism to campus or local police. For actions that don't involve possible crimes or violations of school policy, the university reaches out to all parties. Garrick says on several occasions, DEI staff have helped students accused of antisemitism understand why their comments or actions were hurtful and threatening. 
"Especially on a college campus with young people involved, we want to create opportunities for learning," Garrick says. 
Holding events is another way to create educational possibilities. UIUC has twice invited two scholars and writers, one Israeli, the other Palestinian, to discuss their differences and similarities in a public forum. Listening to these exchanges, students, as well as faculty, can observe productive debate. 
"Universities are where we go to create the world as we would like it to be," Garrick says. "The only way for us to do that is if everyone feels fully invited." 
For more information on the Hillel Campus Climate cohort, visit hillel.org/campus-climate-initiative.●
This article was published in our March 2023 issue.