The MGH Institute of Health Professions was founded in 1977 as the degree-granting arm of Massachusetts General Hospital in Boston, Massachusetts, and offers prelicensure programs in nursing, physical therapy, physician assistant studies, occupational therapy, speech-language pathology, and genetic counseling in addition to PhD programs in rehabilitation sciences and health professions education. Approximately 1,600 students come from all over the world to live in one of the nation's leading healthcare and research hubs and to learn with faculty who are both clinicians and academicians.
Core to the mission of MGH Institute of Health Professions is "educating graduates to be exemplary leaders in health care for a diverse society." As a private, nonprofit institution dedicated to postbaccalaureate studies in health professions, the Institute, as it more commonly called, has long made visible its commitment to that guiding principle through a formal Diversity Council, visiting speakers, and monthly recognition celebrations. Yet, in late 2017, students challenged the Institute leadership to address more explicitly the harms of racism that they saw pervading both their classroom and clinical settings.
[Above:
The MGH Institute of Health Professions PPP events include panel discussions on diversity, equity, and inclusion in healthcare.]
One precipitating factor for the students' challenge came in December 2017 when The Boston Globe published a critical examination of health disparities that exist in Boston neighborhoods and hospitals. Several students of color and allies reflected on how they too were experiencing the noxious effects of systemic racism in some of their clinical experiences, classroom interactions, and case study examples. They felt that despite the outward signs of acceptance for diversity, the Institute was not addressing the underlying issues of power and privilege that contributed to disparate health and educational outcomes.
A group of students met with the recently installed president to share their concerns that the Institute was not living up to its mission. The president assured the students that she would engage the Institute's Diversity Council, which she chaired, to develop a response. As an early sign of affinity with the students' focus on systemic racism, the Diversity Council voted to change its name to the Diversity, Equity, and Inclusion Council (DEI Council) and recruited student representatives. Next, the DEI Council considered how to infuse the concepts of power and privilege into every academic program.
The DEI Council decided to introduce an orientation activity that would provide common language around the dynamics of racism and its impact on the provision of healthcare. The president tasked a small subcommittee of the council to design an activity for the September 2018 entering cohorts. The subcommittee proposed a half-day event titled "What is the Institute's Role in Health Care? Exploring the Impact of Power, Privilege, and Positionality." Through pre-readings, reflection, and panel discussion, students would confront the structural causes of healthcare disparities and begin to examine their own role in combating them (Figure 1).
The first version of what came to be known colloquially as "PPP" took place in September 2018, with 100 Master of Science in Nursing and 60 Master of Science in Speech-Language Pathology students. Feedback from an electronic survey revealed strong satisfaction with the experience. Ninety-five percent of respondents agreed or strongly agreed that the event was an effective part of their orientation. Students' written comments expressed how much they appreciated engaging with difficult topics on their first day of orientation. Some wrote that it affirmed their decision to attend the Institute. At the same time, students suggested ways that the event could be more streamlined and cohesive. 
The DEI subcommittee continued to analyze feedback and plan for the next offering. Because new cohorts enter the Institute three times a year and the DEI Council agreed on the importance of introducing the "PPP" themes afresh for all entering students, the event has occurred five times since the initial pilot. Each time, the organizers have made improvements in response to feedback and reflection. Changes include the following:
● Limiting the panel to three participants with brief individual interviews, allowing for more interactive time between students and panelists through group question and answer
● Adding an interactive poll using Mentimeter whereby participants use mobile devices to indicate their familiarity with key concepts
● Dividing students into smaller breakout groups to share with interprofessional colleagues how they interpret the themes
● Identifying and training a cadre of faculty and staff facilitators to guide student small group discussions
● Converting the evaluation to a paper format for completion at the end of the event, increasing response rates to nearly 100 percent
Since September 2018, 764 students have discussed power, privilege, and positionality as their introduction to the Institute. Routinely, more than 90 percent of respondents rate the activity as effective in orienting them to their future professions. Interactive polling at the beginning and end of the presentation demonstrates significant increases in familiarity with the terms "power," "privilege," and "positionality." Students' qualitative comments reveal how the event changed their approach to healthcare:
● "This helped me truly understand how patients perceive me as I walk into a room."  – January 2019
● "I assumed that if I treated everyone the same, then I would be including all types of people, but that is not the case. Taking the time to ask my patient what we can accomplish together, rather [than] asking what I can do for them." – June 2019
● "I was not familiar with positionality until today. I now understand that it revolves around a person's identity and how there will be moments where it can be attacked or offended due to assumptions made by today's norms." – January 2020
What has the Institute learned about making its mission visible that can inform other institutions of higher education with a similar goal?
● Students come to postbaccalaureate studies already curious about the relationship between their own identities and the professions they prepare to enter. Far from alienating them, explicit discussion about systemic racism at the outset of their studies establishes a common framework for fostering difficult conversations.
● Specific institutional investments are required to convey the authenticity of commitment. A full explanation of the goals of the event to academic program leaders was important to engage them in the event and build excitement for integrating this content in their programs following orientation. In addition, financial support was needed for a printed color program, paid honoraria to panelists, and refreshments. Engagement of multiple departments, including Information Technology, Communications, and Student Services, was essential to create a polished presentation.
● Student feedback stressed the importance of skilled facilitators for enhancing the small group discussions. Faculty and staff volunteers received training in debriefing and leading difficult conversations before assuming their roles as facilitators. Recruiting and preparing facilitators has the additional benefit of familiarizing more stakeholders with the concepts of power, privilege, and positionality so they can provide continuity after orientation ends.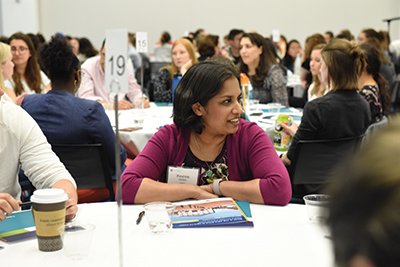 The success of PPP has raised expectations for future work. Once students hear about how the Institute's mission to serve a diverse society informs their education, they begin to look for evidence of the commitment in coursework, clinical experiences, and co-curricular activities. While creating a consistent message among trained volunteers for a four-hour activity is feasible, disseminating the principles across hundreds of faculty, staff, and clinical preceptors requires even more concerted effort. The COVID-19 pandemic has forced the orientation for summer 2020 incoming students to migrate to an online format, and PPP will evolve as well. The planners are preparing facilitators to lead virtual breakout rooms and have updated the pre-readings to include context on how the pandemic has disproportionately affected people of color.
Mission statements tend to live on websites or in strategic plans, far removed from students' everyday experience. Systemic racism, however, permeates their daily lives, and they naturally look to their institution to assist in responding. Through an orientation activity that names and defines the concepts underlying systemic racism, the MGH Institute of Health Professions has taken a first step in demonstrating how its mission statement can contribute to optimizing the learning environment. Continuing these efforts into the learning and training experiences of students will better prepare them to work towards decreasing healthcare disparities among all groups.
Peter S. Cahn, PhD, is associate provost for academic affairs and director and professor of the Center for Interprofessional Studies and Innovation. Emile R. "Mike" Boutin Jr., EdD, is assistant dean for Faculty and Student Success in the School of Health and Rehabilitation Services. Paula Milone-Nuzzo, PhD, is the president and John Hilton Knowles Professor of MGH Institute of Health Professions. MGH Institute of Health Professions is a 2017, 2018, and 2019 Health Professions Higher Education Excellence in Diversity (HEED) Award recipient. This article ran in the May/June 2020 issue.