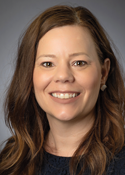 Early in the development of the Texas Christian University and University of North Texas Health Science Center (TCU and UNTHSC) School of Medicine curriculum, which is grounded in learner-centered pedagogy, the importance of having coaching faculty for medical students emerged.
Jacqueline Chadwick, MD, inaugural vice dean for Educational Affairs, constructed the role of the Physician Development Coach along with Jennifer Allie, PhD, the senior associate dean for Faculty Affairs and Development. "One of the benefits of starting a new medical school from scratch," Chadwick says, "is to put in place all the elements we can think of to ensure student success, both professionally and personally.  With burnout, depression, and suicide at alarming rates among students, residents, and physicians, we decided to formalize a coaching environment for every student, not just those struggling." 
[Above: The first cohort group of Physician Development Coaching faculty] 
Coaching faculty function outside of formal educational and assessment activities and serve as a guide for the four-year academic journey. The coaches play an integral role guiding students' academic progression as well as the formation of their professional identity. "While mentoring and advising have historically been utilized to support student progression through medical school," Allie says, "these practices focus on the expertise of the faculty rather than on the student."
The International Coach Federation (ICF) defines coaching as "partnering with clients … to maximize personal and professional potential." Medical education has recently begun to embrace coaching as a practice for reducing stress and improving student and practitioner performance.
Using individual-centered discussions, coaches work with students to promote positive behavior change and inspire them to move towards action, an approach that aligns with ICF competencies. This type of coaching is a learner-centered practice that encourages students to take ownership of their actions and identify a way forward.
Liselotte Dyrbye, MD, from the Department of Medicine at Mayo Clinic, says medical educators can encourage a growth mindset focused on continuous improvement by providing opportunities for student-driven change and development. This practice is essential to success as a medical practitioner.
Additionally, Dyrbye says coaching provides a framework for establishing trust and a positive relationship to minimize stigmas associated with seeking help. By giving students a guide, coaching can increase self-awareness as well as help them create goals that lead to tangible results. Fostering humanism is integral to the purpose of coaching. Students who participate in coaching have the opportunity to debrief and reflect on their experiences.
The first cohort of seven physician development coaches was recruited in summer 2017. Allie and Chadwick hosted a retreat with them later that year. During the retreat, through an Appreciative Inquiry process, the role of the Physician Development Coach at the School of Medicine was further constructed. The coaching faculty were asked to respond to the following prompts: 
Describe a high-point experience with a coach or mentor as a medical student or resident.
How would having a similar role to the Physician Development Coach positively impact your own medical school journey?
What are the core factors that make coaching meaningful to medical students?
What three wishes do you have for graduates from the School of Medicine who experienced the Physician Development Coaching program?
From this retreat, and with the coaching role further defined, Allie set to work on creating a comprehensive development program for the coaching faculty at the School of Medicine. 
Faculty members also need training and skill development in coaching methodologies. To this end, the School of Medicine Office of Faculty Affairs and Development partnered with the Office of Organizational Performance at UNTHSC to deliver development training.
Working with Jessie Johnson, PhD, director of Organizational Learning and Performance and assistant professor, Allie developed a nine-month coach training curriculum grounded in coaching competencies as described by the ICF, integrating the competencies outlined in the School of Medicine Compassionate Practice communication framework.
Johnson is a certified coach accredited through ICF, and she was instrumental in implementing and managing the UNTHSC coaching program for staff and leadership. She collaborated with professional and master level coaching staff Thomas Moorman, EdD, Dan Wilson, and Sarah Smith.
Johnson invited them to meet with the School of Medicine to explore the opportunity to build a health profession coaching faculty development program. From these early conversations, the curriculum took shape. Johnson identified a total of seven certified coaching professionals who would serve as core coaching faculty.
The program was designed to teach techniques that support student growth throughout their medical continuum. It employs the development of longitudinal communities of practice to allow optimal faculty engagement in coaching as a pedagogical instrument.
"Each of the coaches has a purpose aligned with helping students navigate the sometimes difficult terrain that future physicians encounter along their path to a medical degree," Johnson says. "I have been struck by their vulnerability as they share their own challenges from medical school as well as their excitement for collaborating to find ways to ensure our students have resources to overcome similar setbacks." 
This curriculum ensures that coaches are prepared with the resources they need to support medical students through their academic career and guide them in their professional identity formation using an empathetic coaching methodology.
Through a partnership with accredited coaching professionals, we hope the development of a longitudinal formal coach training program coupled with an empathetic communication framework.— Compassionate Practice.— is paramount to the physician development coaches' ability to evoke the optimal performance, well-being, and humanism of our medical students.
The first cohort is slated to complete their training in June. Atul Gawande, MD, a surgeon, writer, and public health researcher says, "Coaching done well may be the most effective intervention designed for human performance."
Lisa McBride is the assistant dean of Diversity and Inclusion and professor of Medical Education at the TCU and UNTHSC School of Medicine in Fort Worth, Texas. She is also a member of the INSIGHT Into Diversity Editorial Board. Jennifer Allie is senior associate dean for Faculty Affairs and Development at the TCU and UNTHSC School of Medicine.