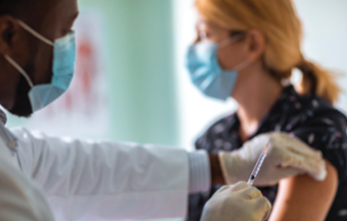 Special Report: Nursing and Pharmacy Schools
Nursing and pharmacy students step up to combat COVID-19 and prepare the nation for a healthier tomorrow.
Pharmacy schools across the country are gearing up to assist in the distribution of the newly approved COVID-19 vaccine as it becomes available for public use. 
The University of Missouri-Kansas City School of Pharmacy (UMKC Pharmacy) recently announced that certified pharmacy students will support local clinics and hospitals with their immunization efforts.
Medical professionals in the Kansas City-area reported that students will be vital in administering the vaccines, according to a December 11 article on UMKC's website. Traditionally, third year UMKC Pharmacy students earn immunization certification to assist in administering annual flu vaccines. This certification will now also apply to COVID-19 vaccinations. 
Due to the anticipated high demand of the vaccine, many smaller community pharmacies will have to heavily rely on student assistance. 
"This vaccine is going to hit, and people will still need their medications, so it's going to be an additional workload. We normally staff up for flu season, so it's kind of that staffing up, except we figure that this is going to be a very concerted effort, very quickly," UMKC Pharmacy professor Sarah Oprinovich states in the December 11 article.
So far this year, UMKC Pharmacy students have participated in 160 clinic immunization events and administered more than 5,500 flu shots. 
Students at The University of North Carolina at Chapel Hill Eshelman School of Pharmacy will also be assisting in local coronavirus vaccination efforts, the school recently announced. 
Immunizations are one of the most important aspects of pharmacy education, and now that the COVID-19 vaccine is available it will be more important than ever, Angela Kashuba, the school's dean, recently told ABC 11. Student pharmacists can also play a significant role in combating vaccine misinformation and convincing the community to receive the vaccine, she said.
"Pharmacists absolutely are playing a huge role in trying to stem the epidemic," Kashuba stated. "… Vaccine instruction this year is absolutely critical and our students are highly engaged in the process."