Across the United States, many low-income areas are facing an often-overlooked health care crisis: the loss of community pharmacies and the vital resources they provide. 
These businesses have closed at an increasing frequency in recent years. Between 2009 and 2015, one in eight pharmacies in the U.S. shut down, according to a recent analysis published in JAMA Internal Medicine. Most closures occurred at independently owned drugstores located in low-income urban areas. These neighborhoods often become what are referred to as pharmacy deserts. Akin to the U.S. Department of Agriculture's definition for food deserts, the term refers to areas with a poverty rate of at least 20 percent and where at least a third of the population lives more than one mile away from a pharmacy.
The Consequences of Pharmacy Closures
The loss of a community pharmacy can significantly affect health care access for underserved populations. 
"Neighborhoods that lose a pharmacy or are pharmacy deserts — which are disproportionately Black, Hispanic/Latino, or immigrant — are not only less likely to have access to medications, but also essential services," says Dima M. Qato, PharmD, PhD, the Hygeia Centennial Chair and an associate professor at the University of Southern California Titus Family Department of Clinical Pharmacy. 
In addition to selling essential items like hygiene and baby products, drugstores offer immunizations, diagnostic testing, and access to over-the-counter medications that may be lifesaving. These include emergency contraceptives and naloxone, a drug that reverses the effects of an opioid overdose.
In her previous role as an assistant professor at the University of Illinois Chicago College of Pharmacy, Qato led a three-year research project on pharmacy closures in Chicago's West and South Sides, which are primarily home to low-income Black and Latinx communities. The research confirmed that vulnerable patients suffer significant negative health consequences when local pharmacies go out of business. Closures are associated with, for example, significant declines in older patients who take essential medications for heart disease and other conditions. 
The coronavirus pandemic has exacerbated health disparities in pharmacy deserts, as these businesses play an integral role in combatting community spread. They provide sanitation supplies and personal protective equipment, and pharmacists are often responsible for administering COVID-19 tests. Without these services, people in lower-income neighborhoods are at an even greater disadvantage when it comes to reducing the risk of infection. 
Despite the disproportionate rates of coronavirus infection in underrepresented communities, the federal government has yet to develop a plan to ensure the vaccine is distributed in these areas. Instead, organizations like the National Urban League are collaborating with health care providers to determine potential distribution plans.
Why Pharmacies Are Closing
Business competition is one of the leading factors in pharmacy deserts becoming more common. Small community drugstores must vie against powerful retail chains such as CVS, Rite Aid, and Walgreens for customers. They have also faced increasing competition over the last decade from the rise in online drug retailers. 
Qato states in a March 2020 article in Pharmacy Today that pharmacy benefit managers (PBMs) are another detriment to community drugstores. PBMs are third-party companies that negotiate prescription drug prices between insurance plans, drug manufacturers, and pharmacies. Medicaid and Medicare prescriptions receive lower reimbursement rates from these negotiations compared with those for private insurers. Thus, pharmacies that mostly serve publicly insured populations — which tend to be lower-income — often make less profit than those that serve privately insured patients, Qato explained.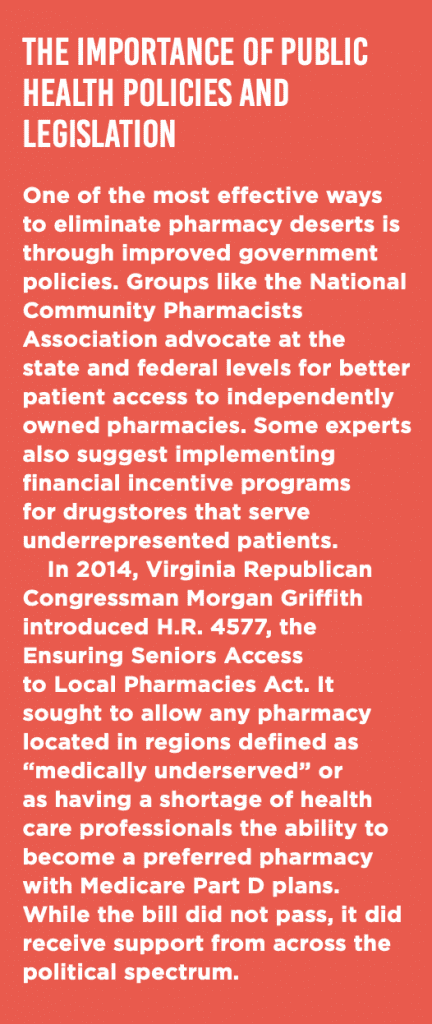 The health insurance industry has also contributed to the rise in pharmacy deserts by partnering with retail drugstore chains to offer customers lower prescription drug prices. Independent pharmacies are often excluded from these partnerships, known as preferred pharmacy networks, especially in urban areas, according to Qato.
How Pharmacy Schools Can Help
Colleges and universities have the power to serve as vital resources for communities that lack access to pharmaceutical services. The Albany College of Pharmacy and Health Sciences, for example, operates two nonprofit pharmacies in local underserved neighborhoods. Under the supervision of licensed pharmacists, students are able to develop clinical skills while providing vital care to people in need.
The University of Wisconsin-Madison's MEDiC program offers free clinics throughout the city to meet vital health care needs, including pharmaceutical services. Other pharmacy colleges and schools across the country have similar outreach programs in which PharmD students gain real-world experience while helping to mitigate the loss of community pharmacies.
Qato believes that pharmacy schools that want to take an active role in combating health disparities should offer programs that explicitly address pharmacy deserts and closures. "[Schools] can ensure PharmD students and residents, as well as faculty pharmacists, have practice sites that extend medication access and other services to [underrepresented] neighborhoods," she says.
Lisa O'Malley is the assistant editor of INSIGHT Into Diversity.