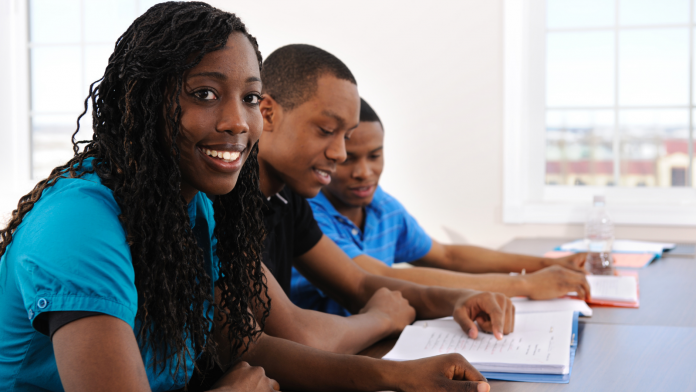 More than 400 students from area high schools in Fort Worth, Texas, were surprised with acceptance letters to Paul Quinn College during a basketball event in February. But in a new admissions approach, the historically Black college is also admitting the students' family members.
Paul Quinn is a faith-based institution and is considered the nation's only federally designated urban work college. It is defined as a four-year liberal arts school that requires students to participate in a "comprehensive work-learning service program for all four years of enrollment," according to the Work Colleges Consortium.
"Every Pell Grant student that is admitted with a 3.0 or better will get to bring TWO members of their family with them to the college," Paul Quinn officials recently tweeted. "With this new admissions approach, we are ending the cycle of intergenerational poverty. One student will no longer be disproportionately responsible for the hopes, dreams, and financial resources of their family. We are creating paths for the entire family to succeed."
Family members who are selected to enroll must meet basic admissions criteria and can pursue an online bachelor's degree or certificate in a new credentialing program at the school called PQCx. Paul Quinn President Michael Sorrell told The Texas Tribune that the school directs family members toward online education because of the anticipation that they are already working in jobs that would make full-time, in-person learning unsustainable.
Sorrell has referred to the admissions approach as a "village program" that lifts financial burdens from low-income and marginalized students.
"We believe that higher ed's hero narrative for first-generation and Pell Grant students is doing more harm than good," Sorrell said in a press statement. "That is why our new admissions philosophy is so important. It weds common sense to compassion and produces success for the people who deserve to win."
The admissions strategy is part of a partnership between Paul Quinn and five Fort Worth Independent School District (FWISD) institutions: Dunbar High School, Eastern Hills High School, O. D. Wyatt High School, Young Men's Leadership Academy, and Young Women's Leadership Academy.
"Paul Quinn is showing [students] their dreams can be realized," FWISD Superintendent Kent Paredes Scribner said in a press release, "and their families are also welcome to come and learn alongside them."●
This article was published in our April 2022 issue.