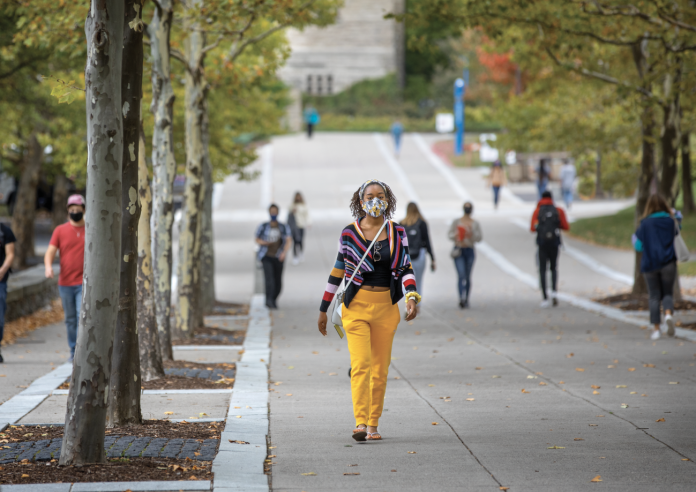 After more than a year of declining enrollment at U.S. colleges and universities, some higher education institutions are seeing an admissions boom.
Common App, which operates an online application portal for more than 900 institutions, reported in March that the number of students applying to start college in fall 2021 had increased 2 percent from the previous year. While such growth may seem minuscule, a breakdown of the data reveals that the COVID-19 pandemic has had some surprising — and possibly long-lasting — effects on higher education admissions.
Notably, students are submitting applications to a greater number of schools than in the past. Colleges and universities using the Common App portal have reported an increase of 11 percent in application volume, with more selective institutions experiencing the greatest growth in student interest, especially from underrepresented groups. Large, highly selective, private institutions experienced a 20 percent rise in applications from first-generation students and a 24 percent increase from racially and ethnically underrepresented students. By comparison, less selective private institutions of similar size experienced a decrease of 4 percent in first-generation applicants and only a 2 percent increase in racially or ethnically underrepresented students, according to a March report.
Experts attribute this trend in part to the fact that nearly 600 colleges and universities eliminated ACT and SAT requirements during the pandemic. Test-optional admissions policies have become more popular in recent years, and many schools chose to go this route in 2020-2021 due to the difficulty of scheduling in-person exams. Consequently, more students set their sights on schools that would normally only accept applicants from the highest tiers of ACT and SAT scorers. Less than half — or 46 percent — of applications submitted through the Common App portal included entrance exam results this year compared with 77 percent last year. First-generation, low-income, and racially and ethnically underrepresented students were more likely than other applicants to omit these scores.
Ivy League institutions that have test-optional policies as well as the financial capacity to support low- and middle-income students have seen some of the most significant rise in applications. Brown University, which did not require entrance exams this year and provides full funding for students with demonstrated need, experienced a 27 percent spike in applications for the 2021-2022 academic year.
"We've seen a generally upward trend in applications for the undergraduate class in recent years, but the marked increase this year is largely a result of the pandemic's effect on high school students and the admission process," says Brian E. Clark, a spokesman for the university.
The surge in student interest means that Brown, one of the nation's most selective institutions, accepted only 5.04 percent of applicants for the incoming class of 2025 — a nearly 3 percent decline from the previous year. Yet having a larger, more diverse applicant pool has allowed the university to increase its student diversity. More than half, or 55 percent, of the class of 2025 are students of color compared with 36 percent for the class of 2024. Nearly 20 percent are first-generation, and 69 percent intend to apply for financial aid, according to Clark.
"In a year when the pandemic has impacted the finances of students and families across the globe, the potential for financial aid that meets full demonstrated need may have been a prominent factor for many in considering where to apply," he says.
Clark also credits the rise in applications to Brown's pivot to virtual recruiting strategies during the pandemic, which allowed the school to reach more students and to increase geographic diversity. Online recruitment efforts included virtual information sessions and live tours guided by current students.
Cornell University, a fellow Ivy League institution that adopted test-optional admissions during the pandemic, has experienced an even greater spike in applications. Nearly 67,400 students applied for fall 2021 — a 31 percent increase from fall 2020 and a 37 percent increase from fall 2019.
Shawn Felton, executive director of undergraduate admissions, attributes such drastic growth in part to the university's support for low- and middle-income students. Cornell is one of the largest U.S. institutions to conduct need-blind admissions and to meet 100 percent of students' financial needs. "Many staff members have worked additional time and overtime [this year] to make sure we could thoughtfully and thoroughly review all applications and provide need-based financial aid awards to our newly admitted students," Felton explains.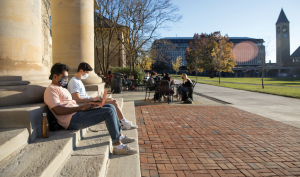 In lieu of entrance exam scores, the university gave greater consideration to other areas of student success. According to Felton, Cornell admissions staff focused on transcripts, letters of recommendation from high school counselors and teachers, and student essays. 
The university does not yet have demographic information for the class of 2025, but according to Felton, it is evident that the applicant pool this year was more diverse than in the past. First-year students of color and those from foreign countries were two groups that saw notable increases.
"Although we will be looking into exactly how the application pool changed this year, per our change in admissions test policy and our expanded online and virtual engagement opportunities, we do already know that the applicant pool for fall 2021 was more diverse in any number of ways," says Felton. Cornell will continue its test-optional policy during next year's admissions cycle for fall 2022 first-year applicants, but the university has not yet made any definitive plans regarding entrance exam requirements for fall 2023 applicants and beyond.
"I think we are hoping to look at all the data we will have collected over these last two years and also consider the broader admissions landscape while thinking critically about the information we want and need in order to select the first-year class," Felton explains.
Ivy Leagues are not the only elite institutions to see a rise in popularity. Top-ranking institutions ranging from small liberal arts colleges to large public universities have also seen an increase in the overall number and the diversity of applicants.
Grinnell College, a private liberal arts institution with an enrollment of 1,700 students, received 10,040 applications this year compared with 8,000 the year prior. The rural Iowa school eliminated entrance exam requirements during the pandemic and introduced a new diversity recruitment effort, the Laurel Scholarship and Mentorship program, that offers college preparation and full-tuition funding for Black students from the Chicago area. Grinnell's incoming class of 2025 is projected to be 30 percent students of color — a significant increase for the predominantly White institution. Only 23 percent of students admitted in 2019 were from underrepresented racial and ethnic backgrounds.
The University of California, Los Angeles (UCLA), a top-ranked public university with an enrollment size of 31,500, saw several historic gains in diverse admissions this year. UCLA received nearly 30 percent more applications for fall 2021 compared with the year prior, with increases of 48 percent in Black applicants and 33 percent in Chicano and Latinx applicants. In addition, Pacific Islander first-year applicants grew 34 percent, and Native American applicants increased by 16 percent.
UCLA instituted a test-optional admissions policy during the pandemic that it plans to maintain until 2024. Without ACT or SAT scores, the university now conducts a comprehensive review of 13 factors, including GPA, academic performance in light of a student's life circumstances, unique talents such as athletic or artistic skills, and achievements in special projects.
The school has received national recognition for its economic diversity and for growing socioeconomic mobility, and spokesman Ricardo Vasquez attributes this continued success to the university's approach to diverse recruitment.
"The significant increases in applications from underrepresented students are partly the result of our robust outreach efforts and our partnerships with high schools and community-based organizations, including faith-based organizations, particularly in underserved communities," Vasquez says.
In addition, UCLA oversees the Center for Community College Partnerships, which works to establish academic partnerships with local community colleges that serve large populations of disadvantaged students. By fostering relationships with administrators and helping to diversify curricula at these colleges, UCLA has been able to bolster the diversity of its transfer applicant pool — which saw a 10 percent increase this year.
The university may see even greater diversity in the near future due to upcoming changes in its entrance exam policies. The University of California system, including UCLA, announced in May it will develop its own standardized test to replace the ACT and SAT by 2025.
As of April 28, more than 1,400 colleges and universities have stated they will not require ACT or SAT scores in 2022, according to FairTest: the National Center for Fair & Open Testing.
For critics of standardized tests, the transition is long overdue. Research from as early as the 1990s has shown that a student's high school GPA is a more accurate predictor of college success than SAT or ACT test scores. In fact, each incremental increase in GPA is associated with an increase in the odds of graduating from college, according to a 2020 study in the journal Educational Researcher.
Furthermore, the study found that colleges that have test-optional policies have experienced up to a 4 percent increase in Pell Grant recipients, a 12 percent increase in first-time underrepresented students, and an 8 percent increase in first-generation students.
However, while test-optional policies and targeted recruitment have increased diversity at some of the nation's most prominent colleges, there is still a long way to go in ensuring that higher education admissions are equitable. Though the increase in applications this year has helped create more diversity at elite institutions, it has also made admissions more competitive. Nearly one in five high school seniors who applied to college for fall 2021 say they have been waitlisted by at least one institution; 29 percent of waitlisted seniors are students of color.
Many education experts say that the current admissions cycle reveals how eliminating standardized testing during the pandemic could have positive effects when it comes to creating a more equitable and effective higher education system. Jenny Rickard, Common App's president and chief executive, recently told The Boston Globe that now is the time "for the more selective institutions to impact social mobility in the way that they have been striving to do. This is the year."●
Lisa O'Malley is the assistant editor and Mariah Bohanon is the senior editor of INSIGHT Into Diversity.
This article was published in our June 2021 issue.