According to the U.S. Census Bureau, just 46.1 percent — less than half — of Americans between the ages of 18 to 29 voted in the 2016 presidential election. In order to maximize young voter participation, several recent college graduates have banded together to create Voteology, a nonpartisan online platform that aims to improve voter participation by helping students discover where their votes have the most impact. 
With the assistance of Voteology's algorithm, students can input their home and college addresses to determine in which location their vote will be most effective. The algorithm makes this strategic call by calculating electoral data such as the margin of the last presidential election in a student's home voting district and their university's district, and whether any U.S. Senate seats or governorships in those districts are up for grabs. 
The inspiration for the tool came from the idea that students aren't necessarily apathetic towards voting.— they simply need to know their individual vote has power, according to Voteology co-founder Juliana Bain. "The controversial 2016 election of Donald Trump when I was a freshman in college revealed a great need and opportunity; my peers, irrespective of their political orientation, didn't feel like their votes mattered, and they did not vote," she explains.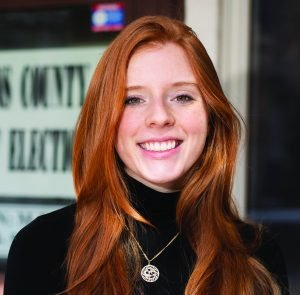 "Our nearest-term mission is welcoming the next generation into political empowerment," Bain says. 
To reach potential voters where it matters most, the Voteology team is targeting their outreach efforts in four swing states — Wisconsin, Michigan, Florida, and Pennsylvania.— as well as states with large student populations, including North Carolina, Virginia, and Arizona. The team is represented at nearly 20 campuses and, as of September, has had nearly 1,000 registrants. Bain says the number of users continues to grow daily. 
Using their social media savvy, the Voteology team is also leveraging popular platforms like Instagram and TikTok to spread their message about the importance of civic participation and awareness. 
Registering students on college campuses is a challenge during the pandemic. Many who register to vote using their college address may end up voting in their home districts if their campus shuts down due to a rise in COVID-19 cases. Furthermore, some states have laws that discourage students from registering or from casting a ballot. 
While deadlines and mail-in ballot regulations differ by state, Bain says students who register before their state's given deadline should also be able to request a mail-in ballot. 
Voteology hopes to keep students informed of the election process no matter their location. In addition to its algorithm, the platform offers links to information about candidates, deadlines, polling locations, and more. The team has also developed informational packets for campus resident advisers to share and has launched a campus ambassador program to enlist students who are passionate about their cause. 
Voteology also has plans beyond the election. The group has already obtained nonprofit status and is scaling up its model to address equality in American democracy. 
"Longer term, the big-picture vision is to draw attention to the disparity in the empirical values of votes across districts and states, which today is due to gerrymandering and electoral-college driven inequality," Bain says.
To learn more about Voteology, visit voteology.org. Learn more about laws that attempt to disenfranchise student voters in INSIGHT's August 2018 article "Use it or Lose it: Ohio's Voter Purge Law Targets College Students, Marginalized Groups." 
This article was published in our November 2020 issue.