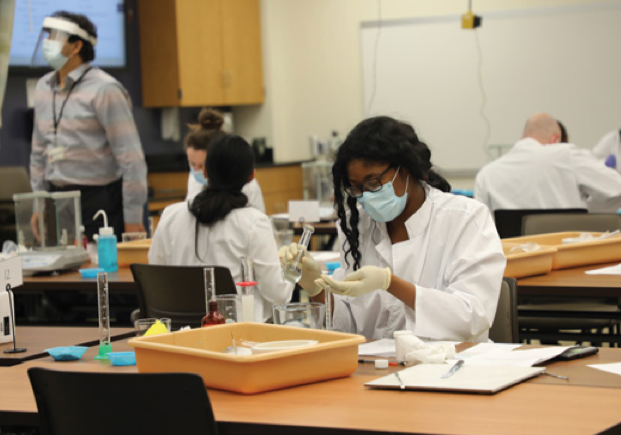 Though the COVID-19 pandemic has disrupted educational models across nearly all disciplines, health care education programs have been tasked with the unique challenge of figuring out how to provide necessary hands-on medical training while keeping students, faculty, and patients safe.
For most nursing and pharmacy colleges, this challenge requires continually restructuring their educational models in accordance with changing COVID-19 hospitalizations and as more information about the virus becomes available. Thanks to the teamwork and ingenuity of faculty, staff, students, and local health care partners, many of these institutions have thus far been successful at overcoming such exceptional hurdles. 
The University of Maine School of Nursing
At the University of Maine School of Nursing (UMaine Nursing) in Orono, faculty and students have had to adapt to several restructures since March, when most U.S. colleges began shutting down their campuses. At the time, the faculty understood that their greatest challenge would be determining how their students could complete the nearly 750 direct care clinical hours and 200 simulation and laboratory hours that are required to graduate, says Kelley Strout, PhD, the school's director and an associate professor. 
Before devising a plan for going forward, however, they knew that ensuring their students were prepared for the months ahead came first. 
"When [the faculty] met initially, we decided that our number one priority, no matter what, above academics and grades, was going to be students," Strout says. "We're putting our students' circumstances first and foremost, and our priority is being compassionate and providing emotional support for students during the transition."
Faculty and staff consulted with students to determine if they had essentials such as food and housing as well as computer and internet access they needed for remote learning. The school then moved all classes — in addition to clinicals and simulations.— entirely online. 
It soon became apparent, however, that some in-person hands-on experiences would still be necessary for clinical and laboratory hours.
"When [the faculty] met initially, we decided that our number one priority, no matter what, above academics and grades, was going to be students," Strout says. "We're putting our students' circumstances first and foremost, and our priority is being compassionate and providing emotional support for students during the transition."
When the university resumed in-person classes in the fall, nursing faculty decided to tweak the traditional timeframe for students to complete simulation labs. Rather than spacing these experiences out over the course of the semester, students spent six to 12 hours in labs each week before the end of September. This reduced the chances that they would have to continue labs online in case a COVID-19 outbreak forced the university to once more shut down campus, Strout explains.  
When it came to clinicals, the school resumed in-person hours under a traditional timeframe. These on-site experiences are crucial for nursing education, especially when it comes to preparing students for an epic health crisis like COVID-19. 
"So far, our approach … is that we will keep students in clinicals," Strout says. "If not, we may have an issue on the back end where we don't have the workforce that we need to respond to the pandemic."
Because clinicals are arranged in partnership with local health care organizations, UMaine Nursing has worked closely with local hospitals and clinics to determine the best course of action when it comes to keeping students and patients safe. Necessary measures include ensuring each student is provided with plenty of personal protection equipment (PPE).— some of which has even been 3D printed by UMaine's engineering students, Strout says.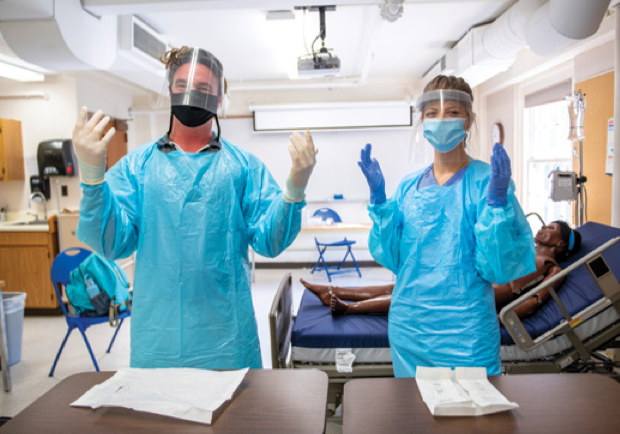 The school also anticipates positive reform going forward from the pandemic. Condensing lab hours so that these requirements are completed within the first several weeks of the semester received unprecedented positive feedback from students. 
Though there will probably be some changes in future semesters, Strout says that the school will likely offer this approach to completing lab hours post-COVID-19. 
The Oregon Health and Science University School of Nursing
At the Oregon Health and Science University School of Nursing (OHSU SON) in Portland, clinicals have also resumed in person. Given local infection rates, however, all classes and simulation labs remain online. 
Unlike UMaine Nursing, which is located in a relatively small community, OHSU SON is situated in a metropolitan area with approximately 2.5 million people and in a state with escalating infection and mortality rates. In the two-week period after the Thanksgiving holiday, for example, Oregon's COVID-19 death toll rose by 87 percent, according to The New York Times. 
"Every step of this has been challenging. I think the continually evolving nature of the pandemic… has required that everybody has to deal with a lot of information coming in almost every day," says Susan Bakewell-Sachs, PhD, OHSU SON's dean, vice president for Nursing Affairs, and a professor. 
The high risk of exposure means that limiting unnecessary in-person interactions as much as possible just makes the most sense, she says. Yet OHSU SON and its local health care partners have decided that some on-site training is crucial for maintaining educational standards for future nurses. Students are currently completing in-person clinical hours, and the school plans to continue holding remote courses and labs through the spring semester. 
"One of the critical aspects of this has been nursing programs working very closely with their clinical partners to, wherever possible, make joint decisions," Bakewell-Sachs explains. "We've always recognized the importance of academic practice partnering, but when you have this kind of an unfolding scenario, it just really emphasizes that."
Medical College of Wisconsin School of Pharmacy
Many colleges of pharmacy are taking similar approaches when it comes to balancing safety and educational standards. 
At Medical College of Wisconsin School of Pharmacy (MCWP) on-site labs and clinicals had to be cancelled last spring because there were not enough supplies available to keep students safe from exposure to the virus. 
"When the pandemic first hit, many practice sites closed to students. This was largely due to the need to preserve [PPE] for front line health care workers," explains Sara Revolinski, PharmD, director of Experiential Education and an assistant professor at the college. 
MCWP moved all instruction online until PPE became more readily available, at which time it began sending students to complete clinicals at practice sites where help was most needed to aid with the pandemic and staff shortages. "Student pharmacists provide valuable health care services and are an integral part of the health care team," Revolinski says. 
One silver lining of the pandemic for the school has been an increased focus on telehealth. The school recently added more training in this area as it grows in popularity.
"As I anticipate an increasing focus on telehealth in the coming years, which is being accelerated by the COVID-19 pandemic, we plan to continue to enhance our telehealth instruction as this skill will be highly relevant to health care provision upon graduation," says Revolinski.
Erik Cliburn is a senior staff writer for INSIGHT Into Diversity.