Although anxiety, burnout, and other mental health issues have long been concerns for the health care fields, the emotional toll from the COVID-19 pandemic has caused many nurses and pharmacists to consider leaving their professions. As of May 2021, more than 22 percent of nursing professionals said they were thinking about switching careers or retiring, according to a report by the management consulting firm McKinsey & Company. Additionally, a September 2020 study in the Journal of the American Pharmacists Association found that nearly 75 percent of community pharmacists reported meeting at least one of the criteria for burnout. Pharmacists experiencing these conditions are 2.5 times more likely to leave their current job, according to the American Pharmacists Association.
At the same time, both of these professions are suffering from critical staffing shortages. Areas that were already underserved are having an especially hard time finding nurses and pharmacists to fill open positions. Rural regions make up 60 percent of the areas experiencing health care worker shortages, as reported in June 2021 by the federal Health Resources and Services Administration.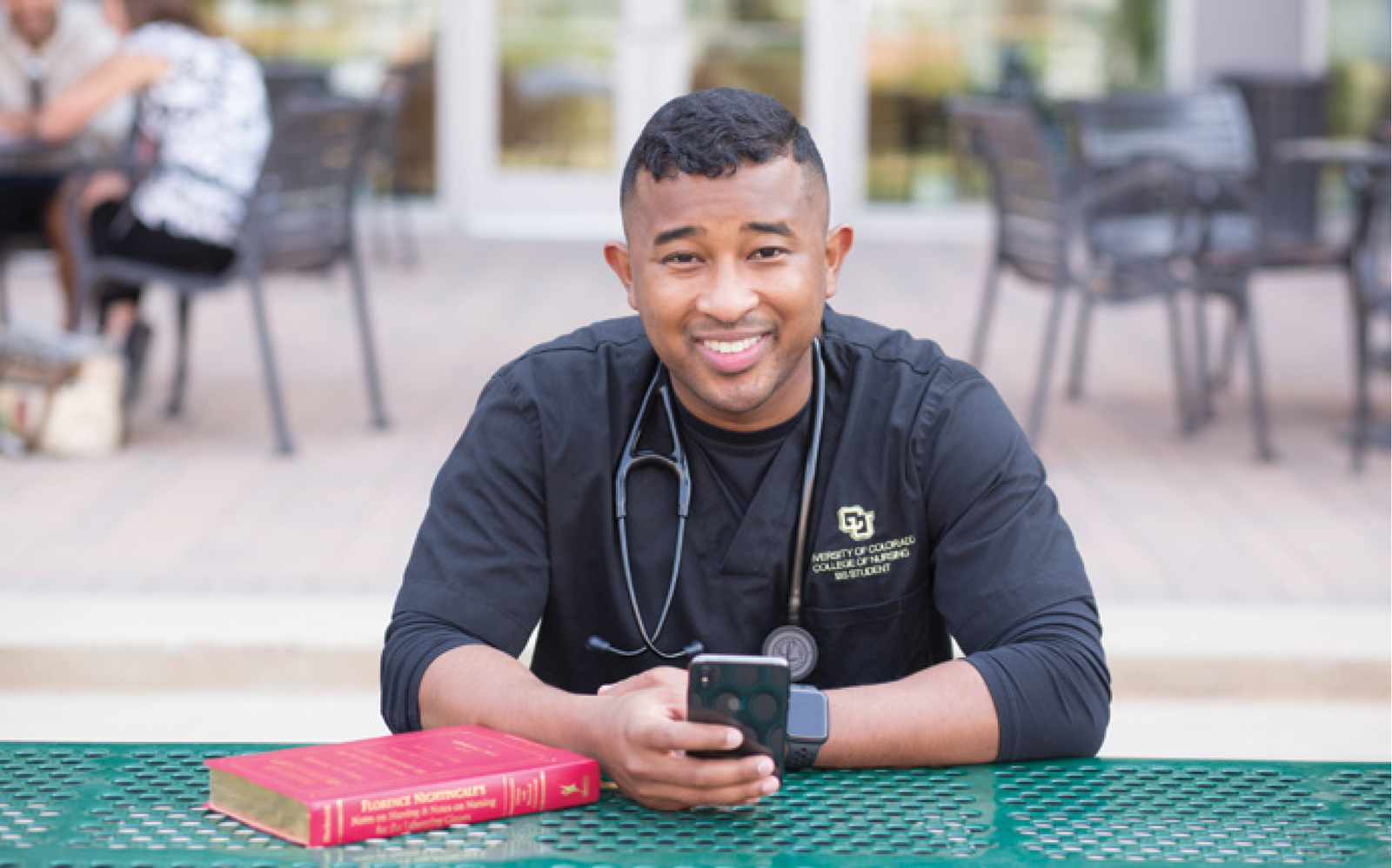 This issue is also having a significant impact on populations that are already underserved and have difficulty accessing quality health care, including low-income, Black, Native American, and Latinx people. Staff at safety-net health centers, which provide care regardless of a patient's insurance status, are experiencing high levels of stress due to insufficient resources and large patient loads, according to research by the Association of Clinicians for the Underserved. In addition, low literacy rates, poverty, and other socioeconomic challenges faced by these patients increase the workload for clinicians who are already overburdened, the study states. 
In order to prevent these shortages from worsening and to ensure high-quality care, nursing and pharmacy schools are pioneering new strategies to recruit students and equip them with self-care and resiliency skills to decrease the likelihood they will end up leaving their careers.
Nursing Schools
Even prior to the pandemic, the nursing field was facing a critical labor shortage, largely due to many in the profession reaching retirement age. In 2017, a Health Affairs study estimated that 1 million of the 3.8 million registered nurses in the U.S. will leave the workforce by 2030. A growing population, especially of older Americans, has also increased the need for more professionals to fill these roles. 
National organizations such as the American Association of Colleges of Nursing (AACN) are acutely aware of the pressing need to graduate more nurses, says Susan Bakewell-Sachs, PhD, chair of the AACN Board of Directors and vice president for nursing affairs, professor, and dean at Oregon Health & Science University School of Nursing.
Although the AACN reported a nearly 6 percent increase in enrollment for entry-level baccalaureate nursing programs in fall 2020 and 4.1 percent and 8.9 percent for master's and DNP programs respectively, Bakewell-Sachs explains that many schools lack the facilities and staff to admit more students. More than 80,000 qualified applicants were turned away from nursing programs last year, according to AACN data.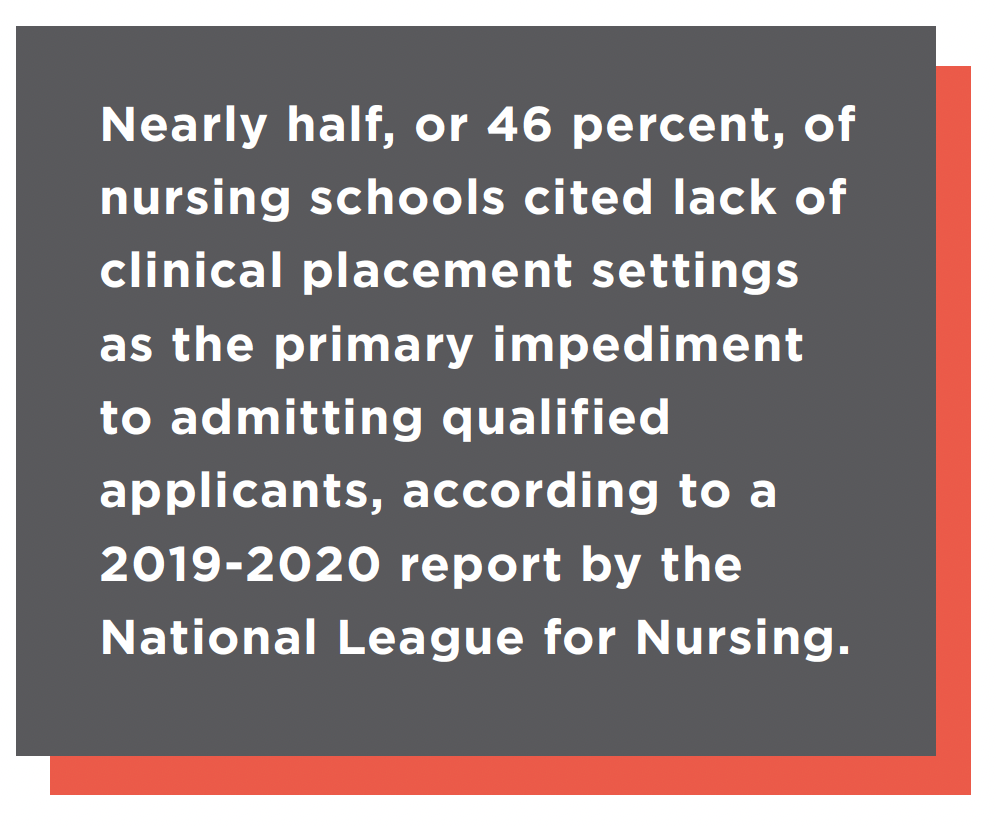 The association is also encouraging schools to offer accelerated postbaccalaureate and entry master's programs. Both require individuals to already have a bachelor's degree and take only 12 to 15 months to complete rather than a full two years; they also help diversify the profession by attracting students with different life experiences and drawing more men to the profession, helping to bring these roles to a field that is nearly 88 percent women, according to the U.S. Bureau of Labor Statistics. 
To address burnout and stress for students' time in school and later in their career, the AACN introduced new core competency expectations for nursing education that are intended to "promote diversity and retention in the profession, self-awareness, avoidance of stress-induced emotional and mental exhaustion, and re-direction of energy from negative perceptions to positive influence through leadership opportunities," according to the association's website. In an email to INSIGHT, AACN chief communications officer Robert Rosseter explains that these expectations require nursing graduates to be able to do the following: 
Demonstrate healthy, self-care behaviors that promote wellness and resiliency

Contribute to an environment that promotes self-care, personal health, and well-being

Evaluate the workplace environment to determine level of health and well-being


Engage in guided and spontaneous reflection of one's practice
The challenge ahead is for faculty to determine what these healthy, self-care behaviors will look like and how they are to be assessed, according to Rosseter. 
Some schools are focusing on mental health to build students' resiliency. Following the onset of the coronavirus pandemic, instructors at the University of Colorado College of Nursing (CU Nursing) conducted a student survey after becoming concerned about the mental health toll that juggling academic studies with clinical work on the frontlines was taking on their graduate students. 
The results, which were published in the July/August 2021 issue of Nurse Educator, showed close to a quarter of the 222 respondents reported experiencing increased levels of stress, anxiety, and depression. Nearly 24 percent had "clinically concerning scores" for depression and anxiety, close to 10 percent had a possible diagnosis of post-traumatic stress disorder, and more than 6 percent had high enough scores that the stress levels could potentially suppress their immune system functions.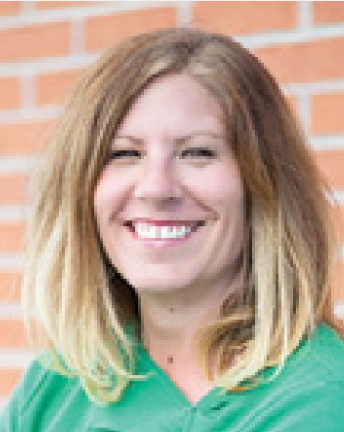 "There was essentially an underlying prevalence of post-traumatic stress [in students] as well as ongoing emotional changes," says the study's author, Laura Rosenthal, DNP, who serves as associate professor of clinical teaching and assistant dean of the DNP program at the college.
CU Nursing had already been working to incorporate mental health into its training, but the pandemic has accelerated this process, Rosenthal says. Over the next two years, the school plans to overhaul its curriculum and determine how faculty can permanently and successfully address self-care and resiliency by bringing in mental health experts and others who will help them implement evidence-based practices into the curriculum.
"We want to help [students] be successful in maintaining resiliency and go out in the workforce as leaders who can help others within the profession who maybe haven't had that training or education," Rosenthal says.
Pharmacy Schools
National pharmacist organizations are also seeing burnout among their members, as many pharmacists are also dealing with a surge in demand for COVID-19 vaccinations and tests. 
The American Association of Colleges of Pharmacy (AACP) expressed their concern about the shortage, with President Stuart Haines stating in a recent press release that it "affects interactions with patients — you see an increase in medical errors and it can have an impact on relationships with patients as well as teammates. Recognizing that if we invest in well-being, it's not just for our own personal and professional growth but thinking about how that translates into improved patient outcomes."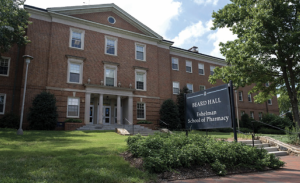 In 2021 the AACP introduced a new focus on "well-being for all" in its strategic plan that aims to support the mental health of its members, fellow health care professionals, patients, and caretakers. As part of this effort, pharmacy schools will begin integrating more training on wellness and resiliency in their curricula, according to the press release. 
The association had recommended that schools educate students on how to manage angry patients and potentially unsafe situations, provide formal training on behavioral health awareness, offer strategies for handling personal financial issues, and more.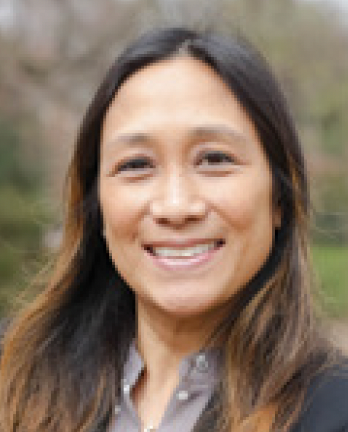 Pharmacy schools can support students in this manner by implementing assessments on the well-being of the campus community, according to Suzanne Harris, PharmD, director of well-being and resiliency at the University of North Carolina Eshelman School of Pharmacy (UNC Pharmacy). The school administered its first survey on student and employee well-being in March 2021. It plans to expand this into a longitudinal study that measures progress and can help determine which campus supports should be enhanced.
Harris also collaborates with internal partners in the pharmacy school, UNC's health professions schools, and other colleges of pharmacy to share and learn best practices.
Another critical component is providing training on how to spot signs of mental distress in peers and colleagues, she says. Recently, UNC Pharmacy introduced mental health first aid training to teach participants how to respond to a crisis and connect individuals to resources. 
For pharmacy schools looking to undergo similar efforts, Harris says it is important to stay positive and driven as implementing new policies and practices can be a long and arduous process, especially in a pharmacy program that is heavily driven by data and science.
"We have to understand that [information] published in the literature as evidence-based interventions for well-being is growing, but it's still pretty sparse," she explains. 
It is also necessary to find champions among an institution's senior leadership team, as changing a school's culture requires a top-down approach, Harris says. Students need to see the importance of well-being modeled by faculty and administrators in a way that is sincere and genuine. This can be achieved by establishing year-round, mandatory programs on mental health instead of only holding a few events throughout the year, she explains. Creating a dedicated position such as hers can also help schools stay on track with their goals. 
UNC Pharmacy's efforts appear to be paying off so far, based on feedback from students, faculty, and staff.
"What I sense from the data that we gathered so far is that people do feel that we're moving in the right direction by the fact that we have established an infrastructure within our school," she says. "We do know that there's more to be done, but that we're moving in the right direction for listening, paying attention, and then using that information to set our priorities as we continue to move forward."●
Lisa O'Malley is the assistant editor of INSIGHT Into Diversity. 
This article was published in our January/February 2022 issue.