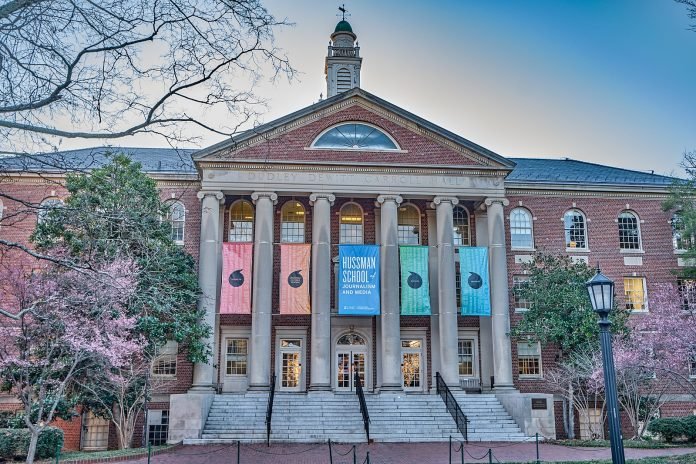 Nikole Hannah-Jones will not join the University of North Carolina at Chapel Hill (UNC Chapel Hill) without tenure, according to a letter from her legal team addressed to the school's leaders.
Hannah-Jones, a MacArthur Fellowship "Genius Grant" recipient and Pulitzer Prize-winning investigative journalist who spearheaded The New York Times' 1619 Project, is set to join UNC's Hussman School of Journalism in July — but not "without the protection and security of tenure," according to the legal letter.
Critics who oppose Hannah-Jones' work, including the journalism school's namesake Walter E. Hussman Jr., allegedly raised concerns over her appointment last year. Hussman, an Arkansas newspaper publisher and a multi-million dollar UNC donor, argued in an email to the dean of the journalism school that Hannah-Jones' journalism principles are biased and a departure from traditional impartial standards, NPR reports.
As a result, the UNC Chapel Hill Board of Trustees decided to decline to vote on Hannah-Jones' tenure approval and instead offered her a five-year fixed contract with an option for review.
"Since signing the fixed-term contract, Ms. Hannah-Jones has come to learn that political interference and influence from a powerful donor contributed to the Board of Trustees' failure to consider her tenure application," her legal team's letter states. "[S]he cannot begin employment with the [u]niversity without the protection and security of tenure."
In response to the board's failure to approve her tenure, Hannah-Jones threatened to sue the school for discrimination. Now, her legal team says she "cannot trust that the [u]niversity would consider her tenure application in good faith during the period of the fixed-term contract," according to the letter.
The African American faculty and staff that comprise the UNC Black Caucus reported last week that 70 percent of its members were considering leaving the university over its treatment of Hannah-Jones. More than half were actively looking for new positions, the caucus reports.
70% of attendees at today's #unccbc meeting are considering leaving the university. More than 60% are actively job searching outside of the institution.

— UNC Black Caucus (@UNCBlackCaucus) June 16, 2021