As students and faculty come together on campuses across the U.S. to protest Russia's invasion of Ukraine, their right to publicly assemble and demonstrate may hang in the balance. In recent months, some state and federal conservative lawmakers have proposed contentious anti-riot laws in response to demonstrations for the Black Lives Matter movement and other social justice causes. 
Such laws may pose unique problems for colleges and universities as student activism is on the rise, according to research by education consulting firm EAB. 
"We saw thousands of people taking to the streets, and we also saw a lot of conservative lawmakers feeling threatened by that," Judith Scully, a Stetson University law professor and racial justice advocate, told WUSF Public Media in September. "And their response was to propose legislation that would limit the ability of individuals to actually exercise their First Amendment rights to protest."
More than a dozen states have enacted nearly 40 such laws since 2017 that deter demonstrators from exercising the right to peaceably assemble, according to the International Center for Not-For-Profit Law (ICNL). The legislation ranges from new felony classifications, larger fines, updated definitions of rioting, the prohibition of protests near gas pipelines and other "critical infrastructure," and the release of police accountability in the event of a death or injury during a protest, ICNL reports.
In Iowa, for example, three bills are currently pending that increase the penalties for protest-related actions such as obstructing sidewalks, streets, or other public spaces. The proposed legislation introduces new felony offenses for intentionally defacing or altering public property, including monuments or statues, and also strengthens legal protections for drivers who injure protesters that block roadways.
The Iowa American Civil Liberties Union has condemned the bills, saying they would allow the government to halt progress on racial justice issues and are "wholly inconsistent" with the U.S. and Iowa Constitutions.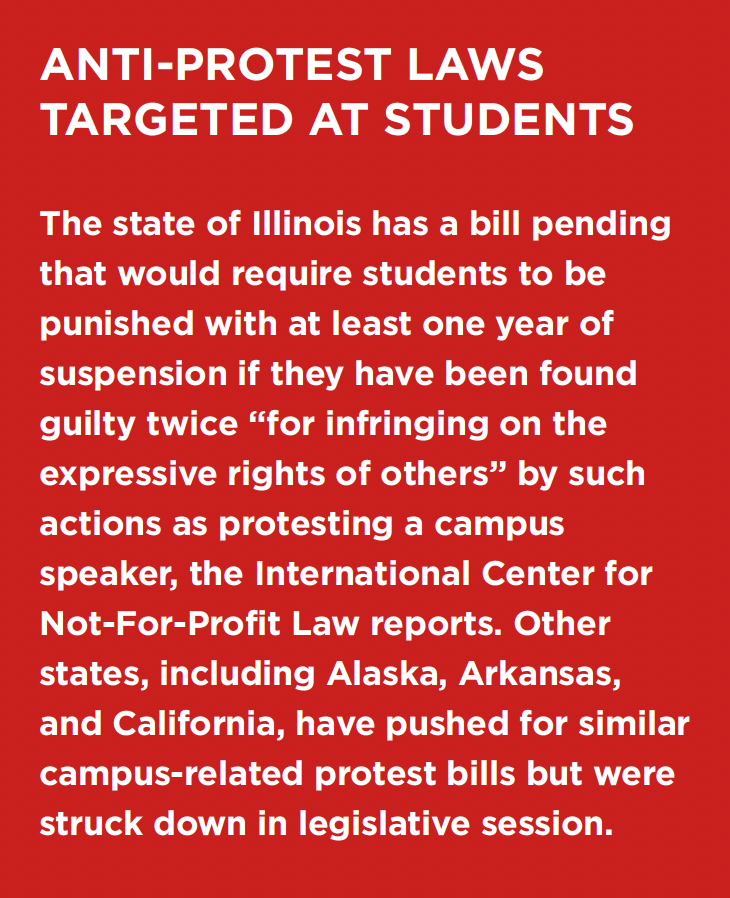 In an effort to see how colleges and universities, which generally uphold rights to freedom of expression, are responding to the new anti-riot laws, INSIGHT contacted more than 10 higher education institutions in states where protest-related legislation is pending, proposed, or has passed.
Only the University of Iowa responded, referring INSIGHT to the school's webpage on free speech, which offers links to state policies and other information.
"Spontaneous and unorganized outdoor demonstration activities may occur unscheduled so long as such activities occur without prior promotion, solicitation, or purposeful attempt to attract or solicit the public," the page states.
One of the strictest pieces of recent anti-riot legislation is Florida's "Combating Public Disorder Act." Republican Gov. Ron DeSantis touted the bill as "the strongest anti-rioting, pro-law enforcement piece of legislation in the country" when he signed it into law in April 2021. The bill includes increased penalties for existing crimes committed during what is deemed a "violent assembly," misdemeanor charges for destruction of public or historic memorials, and a legal defense for drivers who run over a protestor if they say they felt threatened.  
"It's going to be very dicey figuring out how this law gets applied without starting to really strip peaceful gatherings for the purposes of speech," Howard Wasserman, a professor at the Florida International University College of Law, told the website Law360.
Only a few months later, in September, a federal judge blocked the legislation, saying that it was unconstitutional and "encourages arbitrary and discriminatory enforcement." 
"Its vagueness permits those in power to weaponize its enforcement against any group who wishes to express any message that the government disapproves of," Chief Judge Mark Walker wrote in his dissent. "If this court does not enjoin the statute's enforcement, the lawless actions of a few rogue individuals could effectively criminalize the protected speech of hundreds, if not thousands, of law-abiding Floridians."
In October, a spokesperson for the governor told media outlets that DeSantis will file an appeal. In the meantime, Florida currently has another protest-related bill pending that was introduced in January 2022 and gives law enforcement the authority to designate "special event zones" and require protest organizers to pay "all relevant costs and fees associated with designating and enforcing" the zones.
Nationwide, nearly 50 anti-riot bills are currently pending.●
Mariah Stewart is a senior staff writer for INSIGHT Into Diversity.
This article was published in our April 2022 issue.