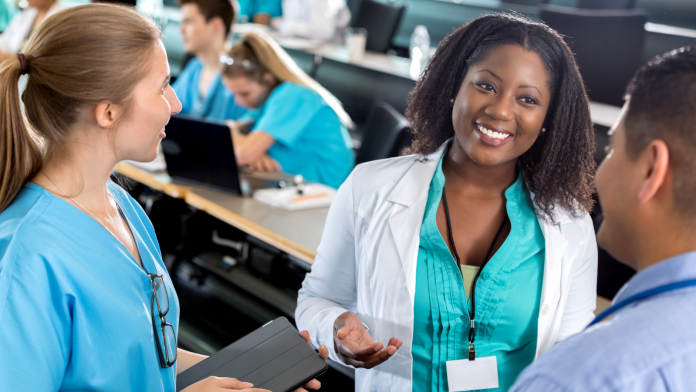 The health fields in the U.S. has a long history of institutional racism and discrimination. Now, amid growing calls for racial justice, a nationwide program aims to rectify this problem starting with medical schools. 
The Anti-Racist Transformation in Medical Education (ART in Med Ed) initiative, which launched in October, brings together a cohort of 10 medical colleges in the U.S. and one in Canada in order to shift racist mindsets and cultures through community-led programs, discussions, and more. 
"There is a long history [in medicine] that needs to be addressed, dismantled, and reconciled," says Leona Hess, PhD, a principal investigator of ART in Med Ed and director of strategy and equity education programs at the Icahn School of Medicine at Mount Sinai (ISMMS). "Every institution has systemic racism, but I think medicine is a very significant place to start."
Spearheaded by ISMMS, the project aims to develop broad strategies that can be adopted and customized by any health care school that wants to advance anti-racism policies. It is divided into six phases over three years, during which each cohort's members will collaborate to find the most effective policies. The phases include a cohort introduction, dialogue and goal framing, self-directed learning, coaching and outcome mapping, establishing a community of practice, and in-person site visits. 
ART in Med Ed officials selected schools for the cohort that vary in geographic location, institutional resources, and student and employee demographics. They also chose institutions that are at different stages of implementing anti-racist policies and practices, whether just beginning to introduce diversity, equity, and inclusion (DEI) efforts or having long held these values as core to their campus-wide missions. Such cohort diversity will be key to determining which anti-racist strategies are most effective, says David Muller, MD, a principal investigator and dean for medical education at ISMMS.
Member institutions include the following:  
Columbia University Vagelos College of Physicians and Surgeons

David Geffen School of Medicine at the University of California,
Los Angeles

Duke University School of Medicine

East Carolina University Brody School of Medicine

The George Washington University School of Medicine & Health Sciences

The Ohio State University College of Medicine

University of Arizona College of Medicine-Phoenix

University of the Incarnate Word School of Osteopathic Medicine

University of Minnesota Medical School

University of Missouri-Columbia School of Medicine


University of Saskatchewan College of Medicine
Because the cohort was so recently formed, many members are still developing their specific anti-racism goals and intended outcomes. The program is founded on ISMMS's methodology of change management, which Hess defines as a guiding discipline that supports organizational development by "follow[ing] a structured process and employ[ing] tools that are customized, targeted, system-focused, and research-based." ISMMS's method focuses primarily on creating long-term, systemic change among the entire campus community rather than addressing individual issues. 
"It's an approach that has more to do with trying to transform a culture as opposed to trying to fix problems," Muller says, explaining that this process centers on "understanding the ways people think, behave, and act." ISMMS first developed this methodology when launching its Racism and Bias Initiative in 2015. Its work has advanced to make ISSMS a more equitable space where discussing race and racism is acceptable and encouraged, according to Hess
and Muller.
Early in its anti-racist planning, ISMMS concentrated on language use and how discussions centered on racism and White supremacy culture can help shift attitudes. Hess and Muller recognized that prior discussions about racism were often considered taboo and therefore discouraged among administrators and faculty. Since then, they have noticed that people are much more receptive to change when community-led dialogues on race are taking place — something they hope to see replicated in other ART in Med Ed schools.
Creating campus-wide change requires community-led efforts across all areas of an institution rather than through a top-down, siloed approach, according to Hess and Muller. This shift toward broad collaboration can often be intimidating to those used to working in separate departments and divisions, but it is vital to achieving large-scale transformation, says Jennifer Dias, a student at ISMMS and co-investigator of the ART in Med Ed program.
"Being connected to the purpose of this change and what we're all trying to accomplish as a community, not just in these individual stakeholder groups, is really important and central to what we're trying to do," Dias says. 
Because ART in Med Ed is seeking to address anti-racism so broadly, the hope is that the overarching framework will be adaptable for any institution.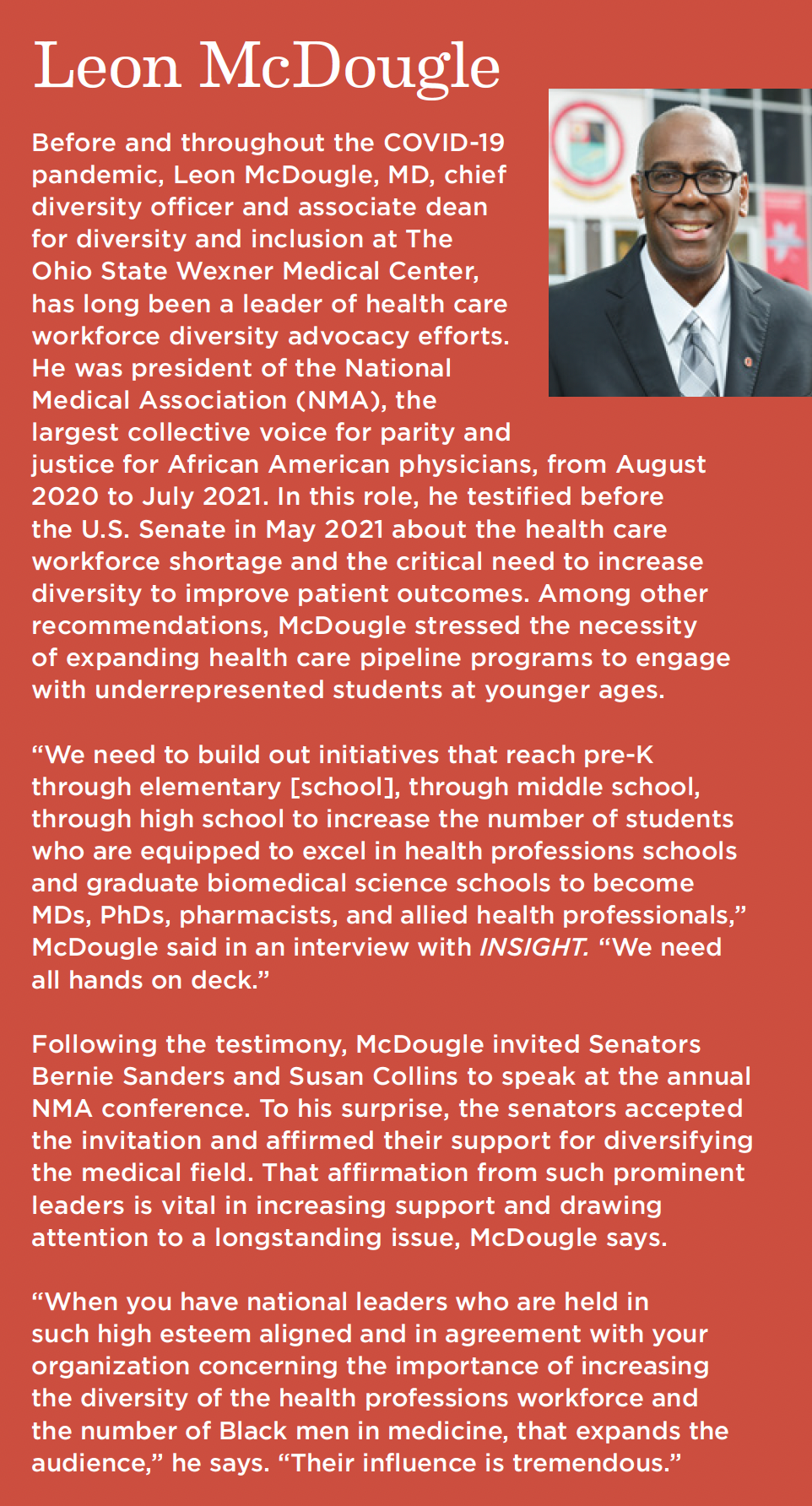 "The goal [of the initiative] is to work together to build an anti-racist culture to support learner development, staff development, faculty development, and grow an environment where everyone can thrive," says Leon McDougle, MD, chief diversity officer and associate dean for diversity and inclusion at The Ohio State Wexner Medical Center and the former president of the National Medical Association.
The Ohio State University College of Medicine (OSUMC), which is part of the medical center, is one of the ART in Med Ed pilot participants that has long worked to support DEI and anti-racism. The school has focused largely on increasing diversity within health professions fields through admissions policies and providing support to underrepresented students. 
McDougle sees the ART in Med Ed initiative as a perfect fit with OSUMC's long-term goals of addressing racism, bias, and the lack of diversity within medicine. With the COVID-19 pandemic highlighting major health disparities nationwide, this is an important time for institutions to work together to become pillars for change in their communities, he says. 
"I think with the COVID-19 pandemic pulling off the cover of racism and exposing the inequity related to the social determinants of health, medical students and the [American Association of Medical Colleges] have become even more aware of [this need]," he says. "As anchor institutions, we need to meet the community and partner with the community to help address these national priorities and advance health equity."●
Erik Cliburn is a senior staff writer for INSIGHT Into Diversity. The Icahn School of Medicine at Mount Sinai is a 2016-2020 recipient of the INSIGHT Into Diversity Health Professions Higher Education Excellence in Diversity (HEED) Award. The Ohio State University College of Medicine is a 2017-2021 recipient of the Health Professions HEED Award. 
This article was published in our January/February 2022 issue.