The Pharmacy Access Initiative, a new interactive mapping tool designed by researchers at the University of Southern California (USC) and the National Community Pharmacists Association (NCPA), will serve as an important resource for policymakers in identifying and addressing where there is a shortage of pharmacies.
The tool comes at a crucial time when the role of pharmacies in community health continues to grow, especially through immunization services and walk-in clinics. Unfortunately, as the map demonstrates, pharmacy deserts are predominantly located in communities of color and low-income neighborhoods, a significant factor in inequitable health outcomes, says the project's director, Dima M. Qato, PharmD, PhD, the Hygeia Centennial Chair and associate professor at the USC School of Pharmacy. 
"[Pharmacies] don't just dispense medications," she says. "Seventy percent of COVID vaccines in the country were provided at a retail community pharmacy. Pharmacies are access points for other types of health services, including immunizations, prescribing contraception, HIV prevention, and [obtaining] buprenorphine and naloxone for opioid use disorder. They are really integral not just for treating conditions but for preventing disease."
As an example, Qato's research into pharmacy-related health inequity in underserved Chicago and Los Angeles neighborhoods found that people are much more likely to stop taking critical prescription medication if their local pharmacy closes.
"Predominantly Black and Hispanic neighborhoods have fewer pharmacies, and they are also more likely to experience closures. Closures impact medication adherence," says Qato. "We found that people who have filled a prescription at a pharmacy that subsequently closed are more likely to discontinue their prescription drugs."
The ultimate objective of the Pharmacy Access Initiative is to help policymakers and public health officials prioritize funding and resources to protect "critical access pharmacies" and promote the opening of new pharmacies in shortage areas. Additionally, the tool was designed to ensure transparency and accountability among various stakeholder groups, including public health agencies, state pharmacy boards, and pharmacy retailers.
"Reimbursement is the main issue in pharmacy closures that contribute to pharmacy deserts," says Ronna Hauser, PharmD, NCPA's senior vice president for policy and pharmacy affairs. "States are making it more obvious that they want to help pharmacies succeed and continue to stay open in these underserved areas."
One of the critical components of the Pharmacy Access Initiative was the creation of a pharmacy shortage area designation, says Qato. Though federal designations exist for medically underserved areas (MUAs) and health professions shortage areas, no such classification has been designated for pharmacies. Currently, policy related to pharmacy access uses the MUA label, despite not necessarily having a direct correlation. The existing MUA designation has a higher distance threshold than Qato's standards, which considers income and low vehicle-ownership levels, so pharmacy shortage areas are often overlooked in policy decisions.
Using the initiative's standards, approximately 25 percent of neighborhoods in the United States are pharmacy deserts, many of which are communities of color.
"Importantly, many pharmacy shortage areas aren't areas that are already medically underserved," she says. "A lot of policy around pharmacy access targets MUAs, because that's the only designation they have to work with. We know now that many of these MUAs are not pharmacy shortage areas [and vice versa]. So you're missing the neighborhoods that really need to be targeted in terms of pharmacy access policies, programming, and intervention."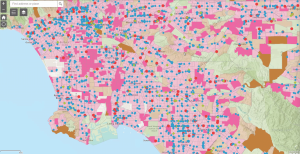 Using the initiative's standards, approximately 25 percent of neighborhoods in the United States are pharmacy deserts, many of which are communities of color. That percentage increases when considering that Medicaid and Medicare recipients must use certain pharmacies, says Qato.
The tool provides a comprehensive overview of access across the country. The map incorporates relevant pharmacy data from 2018 and 2020 for policymakers at neighborhood, municipal, county, state, and federal levels. Users can toggle numerous layers and options, such as comparing pharmacy openings and closures over the two years, along with the contrast between MUA and pharmacy shortage area designations. The primary goal of the mapping tool is to provide important information, and it was designed to be user-friendly and accessible for public health officials and lawmakers throughout the country.
"We wanted it to be quick, simple, and have the key message visually apparent and easy to understand," says Qato.
The goal for the Pharmacy Access Initiative going forward is to secure more funding, incorporate 2022 data, and eventually open the map to the public, Hauser says. The researchers also aim to add more data sets, including specific services offered and which pharmacies accept Medicare and Medicaid.●
This article was published in our January/February 2023 issue.