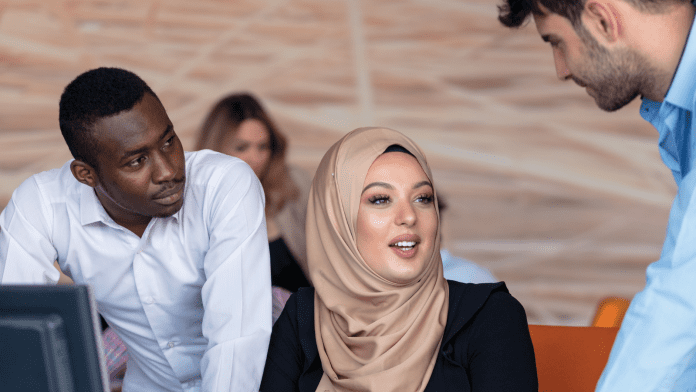 Within hours of taking office on January 20, President Joe Biden swiftly worked to undo some of the damage caused by the Trump administration's foreign travel and immigration policies. Most notably, Biden signed an executive order to reverse a travel ban on visitors from several Muslim-majority countries and issued a memorandum to preserve the Deferred Action for Childhood Arrivals (DACA) program.
It was an uplifting moment for international students, college recruiters, and university leaders — all of whom have felt the detrimental effects of President Donald Trump's policies and were eager for signs that Biden's election might signal a reversal of the downward trend in international enrollment.
"Thriving nations in the international community, including the United States, depend on a pipeline of talent from around the world, and yet, recent trends indicate that the United States is losing this valuable academic resource," says Rachel Banks, senior director of public policy and legislative strategy at NAFSA: Association of International Educators. 
In addition to the executive actions Biden already issued on his first day in office, the president has since called for expanding visas for skilled workers and eliminating caps on the number of recent PhD graduates in STEM fields.
"Under a Biden administration, there is potential to return to or create new policies that welcome international students and scholars," explains Banks.
A Downward Trend
Even prior to the COVID-19 pandemic, foreign enrollment in U.S. colleges and universities had been stagnant or on the decline for several years in a row. As explained in the December 2019 issue of INSIGHT, the discussion around declining international enrollment "has focused in large part on the effects that the Trump administration's anti-immigrant sentiment has had on international students. Visa processing delays and the racial profiling of STEM students and scholars, for example, have contributed to a significant drop in Chinese students, who account for nearly a third of international enrollment."
Then, COVID-19 took its toll. Travel restrictions and campus closures upended study abroad programs around the world. In the U.S., the pandemic's effects on international enrollment were exacerbated by political strife. Nearly 40 percent of prospective international students said they were considering alternate study destinations for the 2020-2021 academic year because of the political climate in the U.S., according to a survey by World Education Services (WES).
Global perceptions of the Trump administration's response to the pandemic also caused foreign students to shy away. In August, 73 percent of student respondents in the WES survey reported extreme or moderate concern that they or their dependents would contract COVID-19 while in the U.S.
In all, international enrollment in American colleges and universities plunged a staggering 43 percent in fall 2020, according to the International Institute of Education.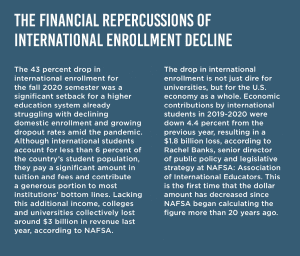 Moving Forward
Despite the setbacks of COVID-19 and the detrimental effects of the Trump administration's foreign and immigration policies, optimistic colleges and universities have continued to recruit students from around the world. As with many other aspects of higher education during the pandemic, doing so has required continuous innovation and taking full advantage of online capabilities.
"Virtual campus tours and college fairs are happening in every corner of the country," says Joann Ng Hartmann, senior director of International Enrollment Management-International Student and Scholar Services and Volunteer Engagement at NAFSA.  College recruiters have also increased their social media presence as a means of garnering international student interest, according to Hartmann. For example, some schools have been hosting Facebook and Instagram Live events for foreign students who may be interested in learning more about studying abroad.
The University of Texas at San Antonio (UTSA) is one institution taking a virtual approach.
"With the transition from in-person to online recruitment, we knew it was really important to remain creative in how we reach our prospective and admitted international students," says Lynn Barnes Jr., senior vice provost for strategic enrollment at UTSA.
Over the course of the pandemic, the university developed a variety of virtual opportunities for students to learn about UTSA, including information sessions, one-on-one meetings, and question and answer events.
"We also work with high school college counselors and participate in recruitment fairs to broaden our network of potential students," says Barnes. "At the same time, we continue traditional forms of outreach through email correspondence and mass email campaigns to reach as many prospective students as possible."
To widen its outreach, UTSA also worked with other colleges and universities to develop the Study Texas Virtual Fair, an online recruitment event that allowed students to gather information on more than 30 higher education institutions. Each school presented information on topics relevant to foreign students, such as scholarships and student life. More than 350 potential students from around the world participated in the event, which took place in November. 
At Cornell University, the Office of Undergraduate Admissions has been hard at work creating new virtual recruiting opportunities with international students.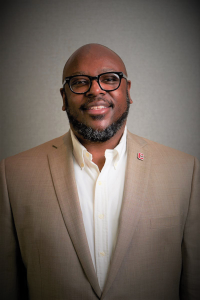 "We've increased our engagement in creative ways we never imagined, and the results have been extraordinary," says Shawn L. Felton, senior director of undergraduate admissions at the university.
In May 2020, the office launched the "Virtual Visit" hub, where prospective students, families, and college counselors could have instant access to an array of virtual engagement opportunities and programming. Resources include pre-recorded information sessions and student panels, student blogs, virtual campus tours, online chat hours with admissions staff,
and more.
Cornell also hosted live virtual information sessions for potential students last summer and fall.
"We decided to focus the events in ways that would allow us to speak to the particular concerns that students in a given school, country, or region might have," Felton says. 
The programming included specialized sessions for students in different locations, including Asia, Africa, Europe, and Central and South America. The admissions team took special care in ensuring the events were scheduled according to each region's time zone to guarantee maximum engagement.
The events proved to be a major success, with attendance numbering well above 1,000 students, Felton says.
In addition, Cornell undertook extensive planning and preparation to provide multiple options for foreign students over the course of the pandemic. International students who were unable to come to campus due to travel restrictions and visa delays were given the option to study remotely through Cornell's in-residence Study Away programs. Administered by the Office of Global Learning, Study Away allows foreign students to take Cornell classes remotely from a campus in their home country or region. The opportunity enables them to share in co-curricular activities with their classmates from afar while enjoying access to local higher education facilities and resources.
Because of the work of Felton and his team, enrollment projections for 2021 are optimistic. The university hopes to see a large percentage of students, especially international students, return to campus for in-person learning, he says.
Still, experts caution that universities alone cannot restore the nation's previous popularity among foreign students and scholars and despite Biden's preliminary victories in changing immigration guidelines, there are still challenges ahead. Undoing some of the Trump-era policies that discouraged or outright banned foreign students from the U.S. will likely require a lengthy bureaucratic process.
Furthermore, any immigration policies the Biden administration proposes will need to be "well-crafted and implemented" in order to regain the confidence of international students, Banks says.
"Only then," she explains, "will we have a United States where these bright students are able to fully contribute to our campuses and communities.●
Lisa O'Malley is the assistant editor of INSIGHT Into Diversity. This article was published in our March 2021 issue.