A new alliance connecting colleges and universities with some of the country's leading private sector employers aims to revolutionize outcomes for underrepresented students while addressing workforce needs. 
The Higher Education-Industry Coalition is led by INSIGHT Into Diversity, Johns Hopkins University, New York University, and Diversity Best Practices (DBP), a division of Working Mother Media whose membership consists of more than 200 organizations ranging from Fortune 1000 companies to not-for-profit and higher education institutions. Rice University has also become an integral partner in the coalition.
In a discussion with its members, DBP realized "the need to bridge the gap between higher education and corporations, [who were] both striving for the same end goal but from different perspectives," Deborah Tsai-Munster, the group's executive director, says. "Higher education is looking to provide opportunities for students to find meaningful, successful careers and corporations are looking to hire talented students for meaningful, successful careers. Both entities are still challenged to place, support, and retain underrepresented graduates." 
A recent survey led by DBP and INSIGHT Into Diversity of higher education and industry diversity leaders shows that a major division exists between the two sectors when it comes to their perceptions of career readiness. 
"Right now, so many higher education institutions are doing a substantial amount of work to encourage underrepresented students to attend college and to support them through graduation," Holly Mendelson, co-publisher of INSIGHT, says. "At the same time, companies are committing more and more resources to ensuring they have diverse, inclusive workplaces. However, each is often operating in its own realm and not bridging the gap that exists between the two." 
The coalition plans to create partnerships between industry and higher education institutions in the hopes of improving employment outcomes for underrepresented students and making changes in curriculum that will focus on providing skills needed in today's global workforce. 
A number of studies in recent years have found that many companies believe new college graduates are underprepared for the workforce, especially with regard to soft skills such as communication and teamwork. 
In a 2016 survey of 76,000 employers, research website PayScale found that 60 percent feel that new graduate hires lack critical thinking skills. Bloomberg NEXT and the National Association of Colleges and Employers have each found that approximately four in 10 companies believe recently hired graduates do not have the interpersonal skills necessary to succeed in the modern workforce. 
Insufficient career training by colleges is even more detrimental for underrepresented students, who often contend with multiple barriers to success. 
The coalition's research shows that administrators in both sectors believe these students are disadvantaged when it comes to employment prospects, yet only one in three colleges and universities has programs dedicated to career readiness for diverse students. Less than half of companies surveyed have campus partnerships or recruitment strategies in place to cultivate relationships with underrepresented students as prospective employees. 
Shifting demographics indicate that higher education and business cannot continue to overlook these issues. College enrollment is more ethnically and racially diverse, and first-generation, low-income, and nontraditional students are the new norm. Meanwhile, American industry faces a worsening "talent gap," one that can be filled by improving college-to- career readiness for students of color and others who have traditionally faced barriers to the workplace. 
The coalition plans to "collaborate to address these barriers, identify best practices, and take action," Tsai-Munster says. "There are many best practice organizations that have implemented support programs and accountability measures that we can learn from and expand to higher education. Conversely, there are higher education and student needs that corporate can address such as sponsorship and first-generation mentoring."
There is also a lack of communication between business and higher education when it comes to equipping students with the cultural competency and inclusive leadership skills employers seek, according to DBP. 
"If companies are truly committed to diversifying their workforces, they will need to think differently about how and where they recruit," Mendelson says. "They should understand that colleges that are committed to diversity and inclusion are the ones that can offer graduates who are truly prepared to be the next generation of leaders." 
A recent study by the American Association of Colleges and Universities found that only 34 percent of its member institutions mandated diversity studies and experiences for students. There is also little consensus across higher education on which diversity- and inclusion-related skills are most relevant for today's students, according to coalition research. The same holds true when comparing the priorities of higher education and industry. 
In July, INSIGHT Into Diversity co-owners Lenore Pearlstein and Holly Mendelson, DBP leadership, and representatives from industry, government, and higher education institutions convened for the inaugural meeting of the Higher Education-Industry Coalition.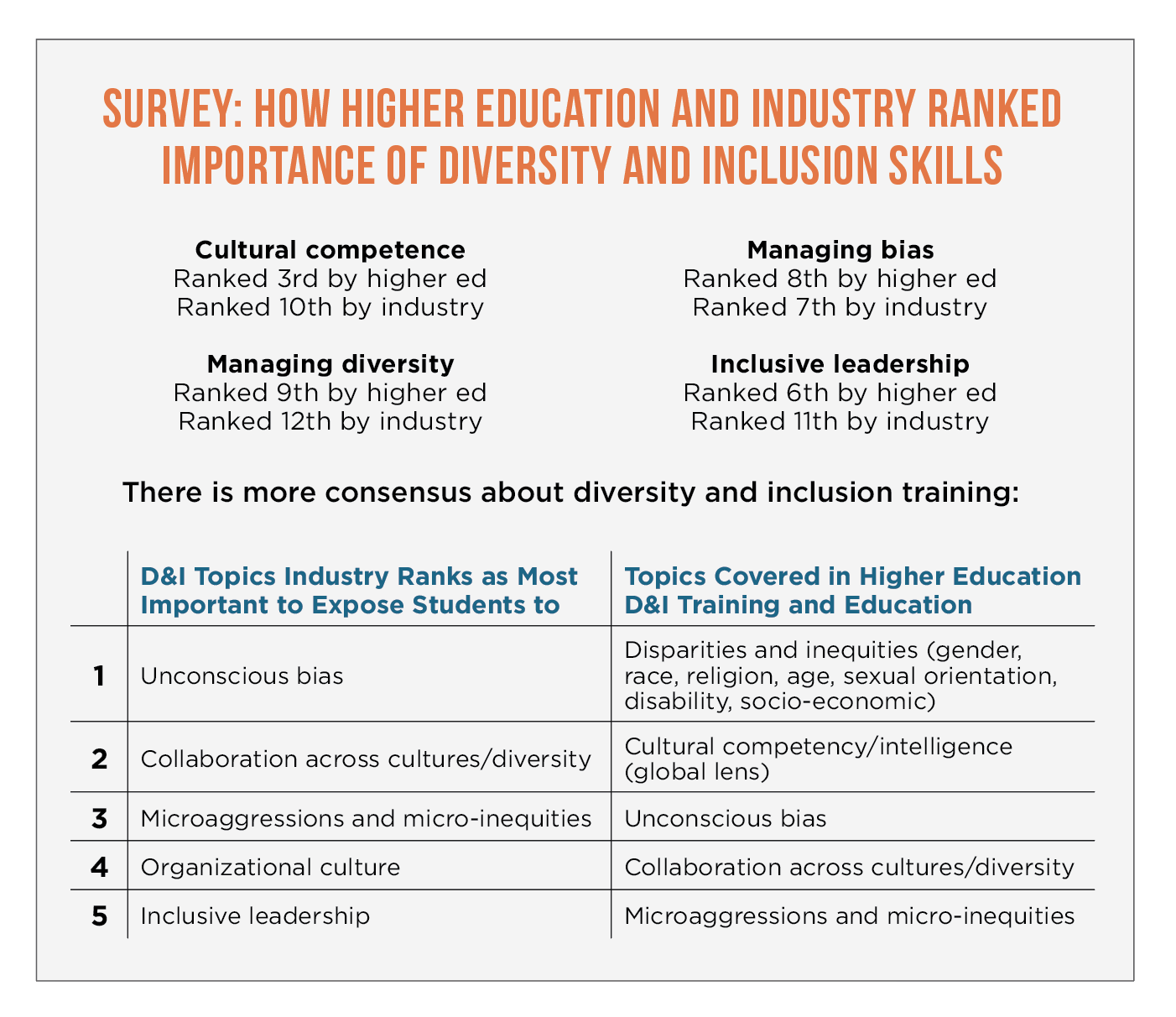 Attendees discussed potential next steps for creating cross-sector programs that support disadvantaged students, such as offering professional- student mentoring, providing student internships, innovating employment recruitment approaches, making changes to curriculum, and more. INSIGHT 's Higher Education Excellence in Diversity (HEED) Award is an important tool to measure progress in this area, Mendelson added. 
"We know the hard work that colleges and universities are doing — especially those who apply for our HEED Award — to close the graduation gap for underrepresented students," Mendelson says. "The Higher Education-Industry Coalition gives us, and the companies and schools that will be participating, the opportunity to ensure those students are career-ready, use their degrees to obtain gainful employment with organizations that are committed to diversity and inclusion, and are successful in their careers."
Mariah Bohanon is the associate editor of INSIGHT Into Diversity. This article ran in our September 2019 issue.