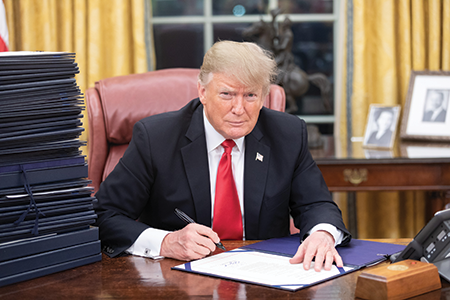 This week, President Trump issued an order that prohibits federal government agencies, including uniform services and contractors, from hosting and participating in critical race theory training.
The order titled "Executive Order on Combating Race and Sex Stereotyping" was made in an effort "to promote economy and efficiency in Federal contracting, to promote unity in the Federal workforce, and to combat offensive and anti-American race and sex stereotyping and scapegoating."
The Department of Treasury and specific contractors like Argonne National Laboratories and Sandia National Laboratories — energy, technology, and engineering labs — were called out in the decree for having training materials that described racism as being "interwoven into every fabric of America" and using statements like "color blindness" and the "meritocracy" as "actions of bias." One training asked individuals to acknowledge their privilege to each other.
According to Trump's decree, the training "perpetuates racial stereotypes and division and can use subtle coercive pressure to ensure conformity of viewpoint. Such ideas may be fashionable in the academy, but they have no place in programs and activities supported by Federal taxpayer dollars."
This month, Trump launched a movement to defund critical race theory, saying that certain diversity trainings are "divisive, un-American propaganda." In a memo written last week, the president said teachings on White privilege are a destructive ideology that creates division and misrepresentations of the country's history.
The Office of Federal Contract Compliance Programs will establish a hotline and investigate complaints that contractors are implementing prohibited trainings. If contractors don't comply, they risk termination, suspension, or the possibility of being ineligible for further government contracts.
Federal grant recipients must also comply with the order and commit to not using federal funds to promote the decree's anti-critical race theory concepts. Universities that receive government funding have the potential to be affected by the order.
WilmerHale, an international law firm, suggests universities applying for federal grant money carefully review conditions of such grants to determine whether they include any restrictions on the use of federal funds to promote concepts discussed in the order.