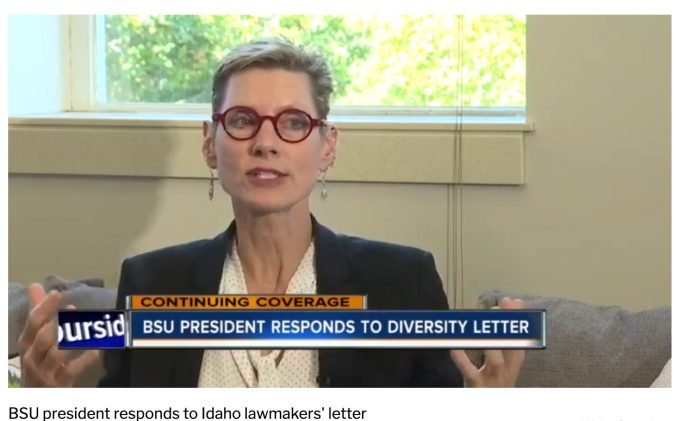 Marlene Tromp, the new president of Boise State University (BSU), recently responded to politicians who have pushed for funding cuts to the school's diversity and inclusion initiatives.
Just days into her new position as the seventh president of BSU in July, Tromp was welcomed with a letter from 38 Idaho Republican lawmakers criticizing the university's diversity and inclusion efforts.
In the letter, lawmakers condemned inclusive activities and spaces such as gender-based centers, Black graduations, and LGBTQ programs as "antithetical" and said the initiatives create distance between students.
Tromp came to the defense of the initiatives by providing the larger context about the benefits diversity and inclusion bring to campus life.
Tromp told Idaho Press she was "fortunate" to receive the controversial letter and invited the lawmakers to talk. Tromp wants to give lawmakers insight on the bigger picture and understand  what's "at the heart of their concerns," local ABC news station KIVI reported.
So far, Tromp has spoken with approximately a half-dozen of the lawmakers who endorsed the letter in addition to other Idahoans, according to Idaho Press.
"I think universities can have a role to play in this moment, where we are so politically polarized," Tromp told Idaho Press. "We can look for meaningful solutions together to common problems," she continued.
Rep. Barbara Ehardt (R-Idaho Falls), who wrote the letter, called Tromp "kind and gracious" and said their conversation was "fantastic," Idaho Press reported. House Majority Leader Mike Moyle (R-Star) described his discussion with Tromp as a "good conversation."
The letter came in response to then interim BSU president, Martin Schimpf, who wrote a newsletter to staff highlighting the school's diversity, equity, and inclusion endeavors. Tromp, who taught women's studies and conducted research in culture studies, says she was able to give more context to Schimpf's newsletter, Idaho Press reports.
"Because Dr. Schimpf was sharing information internally with faculty and students who'd asked for more support from those programs, he didn't outline the whole range of programs that are available, because that wasn't what his message was meant to do," Tromp told Idaho Press. "It was a response to a certain query. So, a lot of people came away thinking those were the only kinds of support networks we have."
BSU has one commencement ceremony for all students and the other event are in place to help students feel included on campus, Tromp told Idaho Press. BSU has over 200 clubs and organizations to support student life on campus and aims to help all students thrive academically, Tromp said.
Mariah Stewart is a staff writer for INSIGHT Into Diversity.