Advocates Push for Accurate Pronunciation

 
It took approximately 20 years in the United States for Joana (pronounced Sho-ah-na) Dos Santos to hear their name pronounced correctly. Now, they advance a movement aimed at correctly pronouncing the names of others who are also struggling to embrace their self-identity and feel included.
Dos Santos is a diversity, equity, and inclusion (DEI) coach and the former chief diversity, equity, and inclusion officer at Taubman College of Architecture and Urban Planning at the University of Michigan. Ever since they arrived in the U.S. from Uruguay, Dos Santos had navigated life with an anglicized name — even they anglicized it. Every time Dos Santos made an introduction or others used their name, Dos Santos says it felt like a painful cut, a reminder that they didn't belong.
"Every time I said my name, it was hard because I don't even know how to pronounce it in English," Dos Santos says. 
About five years ago, while still at Taubman, Dos Santos attended a DEI workshop where the facilitator asked everyone to pronounce their names in the way they are intended. When Dos Santos said their name, their colleagues realized they had incorrectly pronounced it for a long time. As everyone in the office began to speak the true pronunciation of Dos Santos' name, they felt the wounds from each incorrect pronunciation begin to heal. 
"I felt like a whole part of me was seen again," Dos Santos says. "I connected with an old part of my identity that I thought I had lost. I cannot even describe the feeling of somebody pronouncing the name in the way that you want it … they see you in a whole different light."
Of course, Dos Santos isn't alone in their experience. Many people are called a name other than their own by those who are indifferent or uneducated. Others don't hear their name at all, as people often avoid verbalizing names due to fear of embarrassment from mispronunciation.
The profound shift in Dos Santos' life came from the launch of Taubman College's Phonetic Name Initiative. In the first year, nametags were made for every student. The campus community was encouraged to attend a welcome event and write their intended name pronunciation. Such workshops are still held in classrooms, and faculty and students are encouraged to wear phonetic nametags to meetings.
"At the same time we started having conversations about the Phonetic Name Initiative, I was like — 'Oh my God, everything's coming together!' Not only are my colleagues learning about my name, but there's also this energy at the college to pronounce people's names in the way they were intended," Dos Santos says. "I was the first test case."
The pandemic moved the initiative online. On Zoom, the campus community is encouraged to use the phonetic name pronunciation feature and include their pronouns. NameCoach, a tool that allows people to voice-record their names and set up a profile, was also used to accurately learn names, with an audio link included in email signatures. Other NameCoach integration tools are used on Canvas, an online learning management system.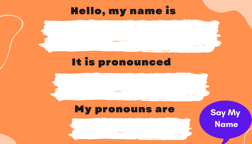 A campaign like the Phonetic Name Initiative operates in Coventry, England. Jane Bryan, PhD, a reader at the University of Warwick School of Law, founded the Say My Name project. After having difficulties in pronouncing student names and feeling her uncertain approach was disrespectful, she searched for self-improvement.
Bryan conducted a university-wide survey and received 850 responses. More than half of the students and faculty reported experiencing routine mispronunciation of their own names and nearly half the respondents said they work or study with someone whose name they are unsure how to pronounce.
The Say My Name project brought attention to the issue at Warwick. Students now use audio name badges in their email signatures, name pronunciation door hangers with respectful articulation guidelines, and phonetic nametags. The project has expanded beyond the university, as Bryan has spoken at an international symposium, published blog posts, and, more recently, worked with the city of Coventry to advance a community initiative.
Bryan is inspired by a similar program based in California called the My Name, My Identity Campaign, created by the Santa Clara County Office of Education in partnership with the National Association for Bilingual Education. It has spread across the U.S., with educators signing a pledge to pronounce students' names correctly. Both the Say My Name project and the My Name, My Identity Campaign offer online name pronunciation training and additional resources to the public.
Bryan and Dos Santos have advice for anyone struggling to pronounce names correctly.
The first thing someone should do if they are unsure of a pronunciation is to simply ask the other person how to pronounce their name. It is reasonable to ask a second or third time if you forget; however, it's important to try to make a concerted effort to remember the pronunciation, Bryan says.

Prior to meeting someone, Bryan recommends looking up their name pronunciation on Google, NameCoach, or NameShouts. Users should be aware that pronunciations often vary, and it is polite to check with the person to ensure what is correct.
People should avoid drawing unwanted attention as they seek proper pronunciations because it can make others feel ostracized, Bryan says. Also, there is generally no need for commentary about a name, which includes asking intrusive questions. Making someone feel as if they are different or exotic can be alienating, and asking someone what the meaning behind their name is could be insulting, cautions Dos Santos.
Using a nickname that is easier to remember than the individual's intended name is hurtful and wrong, Bryan says. It's also important to avoid deadnaming someone or calling them by a name they do not identify with for various reasons — such as if someone has changed their legal name, Bryan and Dos Santos advise. Memorizing people's pronouns is also equally important, Dos Santos says. 
A common mistake made by people struggling with pronouncing a name is to avoid using it altogether. Often, individuals notice when their name isn't being used and it impacts their feelings related to visibility and connection, Bryan says.
For those who want to have their own name spoken correctly, Dos Santos says it's a right, not a dream, to have one's name pronounced the way it's intended, and people should not feel compelled to conform, to please, or to make the situation easier for other people.
Dos Santos and other DEI experts are calling for people to commit to learning the pronunciation of others' names. Saying someone's name out loud, in the way it is intended, shows respect for their culture, background, and experiences, and it signifies they are worthy of one's time, Dos Santos says. 
Dos Santos wants everyone to feel as complete as they feel now.●
This article was published in our January/February 2023 issue.